Top 5 things to do this weekend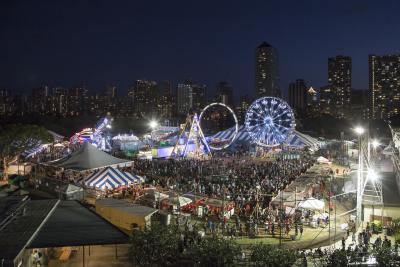 It looks like event season is in full swing! This weekend, get your fill of cinema under the stars, family fun at Iolani Fair, Hawaiian artisans at Night + Market, a a charity walk and the inaugural Honolulu Beer Week.
Ward Village Courtyard Cinema
Thursday, Apr. 14
6 p.m.
Ward Village Courtyard, 1240 Ala Moana Blvd.
In collaboration with HIFF, Ward Village treats us to a free screening of "Yayoi Kusama: I Love Me," a documentary about the artist behind Ward's new art installation (you know, those pink ladybug-like monuments). The film captures Kusama's creative process as she diligently works to complete her new series of 50 large monochrome drawings. Just don't forget to register for your free tickets.
25th Annual Iolani Fair
Friday, Apr. 15 – Saturday, Apr. 16
12 – 10 p.m.
Iolani School, 563 Kamoku St.
Get ready to go out of this world at the 25th annual Iolani Fair! This year, enjoy the Keiki Country petting zoo and pony rides and a variety of EK Fernandez rides and games. Whether for nostalgia, the family fun atmosphere or the finger-lickin' ono grinds, you'll want to make this fair a priority this weekend.
Honolulu Night + Market: MAMo
Saturday, Apr. 16
6 – 10 p.m.
Salt at Our Kakaako,
The Maoli Arts Movement kicks into high gear Saturday night in Kakaako with food vendors, a fashion show and over 30 Native Hawaiian artisans, designers and brands showcasing their hand-crafted goods at this monthly block party.
Honolulu AIDS Walk
Sunday, Apr. 17
8 a.m.
Kapiolani Park, 2805 Montsarrat Ave.
An estimated 5,000 people will walk together to raise funds to support Hawaii's oldest and largest AIDS organization at Sunday's 25th annual Honolulu AIDS Walk at Kapiolani Park. Walkers help by asking family, friends and co-workers for donations in support of the LIFE Foundation's fight against HIV. Sign up to walk today!
Honolulu Beer Week
Sunday, Apr. 17 – Saturday, Apr. 23
Various times
Restaurants & breweries across Oahu
Leading up to the second annual Brewers Festival on April 23, the inaugural Honolulu Beer Week is jam-packed with sudsy events at local restaurants and breweries. Think hoppy yoga and local beers at Lanikai Brewing Co and meatball gyros paired with Sierra Nevada Pale Ales at JJ Dolan's. All I have to say is, beer me!