Top 5 reasons to watch 'Big Trouble in Little China'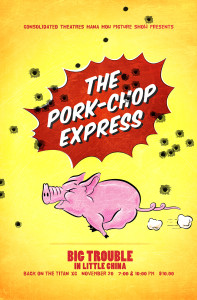 "You can always tell somebody's sense of humor by if they like this movie or not." ~ Kurt Russell.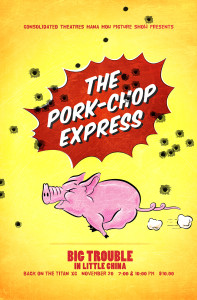 Everybody relax, Jack Burton's here. For a lot of die-hard "Big Trouble in Little China" fans, Wednesday's special Hana Hou Picture Show screening couldn't come soon enough. For those who have no idea what all the fuss is about, here's a little primer on one of the weirdest, chop suey, action-comedies of all time.
5. John Carpenter's kung fu is strong.
If you're looking for a film about the French New Wave, this flick isn't for you. This movie is a kung-fu kick to your lup cheong, with bright colors, hammy dialogue and a ton of over-the-top action. Director John Carpenter created a comic book on film, merging Howard Hawks banter with Shaw Brothers beatings. And while the charismatic Russell channels a cheesy John Wayne, he's merely the hapless sidekick to the real hero, Wang (Dennis Dun). Kudos to Carpenter for creating an American film with a solid Asian cast playing real characters. Well, as real as supernatural, kung-fu immortals can get.
4. Kurt Russell was almost Han Solo.
Yes, Kurt Russell auditioned for the role of Han Solo from "Star Wars." Check out his audition tape below (thank you Internets). In fact, Russell's career is sort of a cult-version of Harrison Ford's. While Ford played Han Solo, Indiana Jones and Jack Ryan, Russell played (in three films with director John Carpenter) Snake Plissken ("Escape From New York"), RJ Macready ("The Thing") and Jack Burton ("Big Trouble"), three of cinema's biggest cult films. In an interview with Graham Norton, Russell shared that "Big Trouble" was one of his most significant cult roles. Personally, I'm still waiting on "Tango & Cash 2."
3. This video.
Carpenter often composes the music for his films (he most famously scored "Halloween"). But this music video for "Big Trouble," by his band the "Coup De Villes," is just… well… uh… just watch…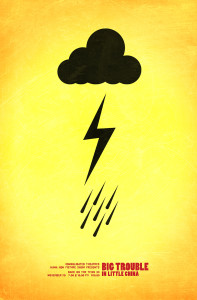 2. Box office bomb. Cult Classic.
"Big Trouble" opened in the summer of 1986 up against other classics like "Top Gun," "Aliens," and the "Karate Kid 2." Budgeted at $25 million, it only made $11 million. Maybe people were looking for an Indiana Jones-style action flick and didn't know how to deal with this oddball script by W.D. Richter, who directed another cult-favorite, "The Adventures of Buckaroo Banzai Across the 8th Dimension." But because "Big Trouble" was as rare as an Asian girl with green eyes, it eventually found its rabid audience on home video. The film even inspired the creators of the "Mortal Combat" video game to base the character "Raiden" on Lightning from the Three Storms.
1. They don't make 'em like they used to.
There's no doubt that this film would never be made by a studio today. Perhaps its closest modern equivalents are Edgar Wright & Simon Pegg's "Cornetto Triology" ("Shaun of the Dead," "Hot Fuzz," "The World's End"), which similarly combine outrageous comedy with geek-friendly genre. But it's this skewed point of view that helps this film stand out from the cookie-cutter, sameness of today's studio films and makes it one of the most loved cult films of all time.
So rip your ticket and check your pretentiousness at the door. Grab some popcorn, jump on the Pork Chop Express and get ready to shake the pillars of heaven.
Wednesday night, son of a bitch must pay.
"Big Trouble in Little China" screens on Wednesday, November 20th, at 7 & 10 p.m., at Ward Consolidated Theatres as part of the Hana Hou Picture Show.
"Big Trouble in Little China" nerd trivia:
• John Carpenter wanted Clint Eastwood or Jack Nicholson for the Burton role, but both were busy.
• The Three Storms, "Thunder," "Rain," and "Lightning" were inspired by the three assassins in "Shogun Assassin."
• In an "Ain't it Cool News" interview, Carpenter says the first kung fu film he saw was "Five Fingers of Death." He's also a fan of the "One-Armed Bandit" films and "Zu Warriors of the Mystic Mountain."
• The original screenplay (written by Gary Goldman and David Z. Weinstein) was set in the old west, with Jack Burton as a cowboy.
• In a 2011 Moviefone interview, Carpenter was asked about a "Big Trouble 2." He said, "Kurt doesn't want to do it, he's embarrassed by the failure of that movie. He thought his performance was great, but we just got murdered."
• In 2008, Empire Magazine voted Big Trouble the 430th greatest film in their "500 Greatest Movies of All Time."
Movie posters courtesy of MVNP
"Big Trouble in Little China" original trailer