Tons of eye candy: Top picks at HIFF's spring showcase
Enter to win tickets to opening night at the Hawaii International Film Festival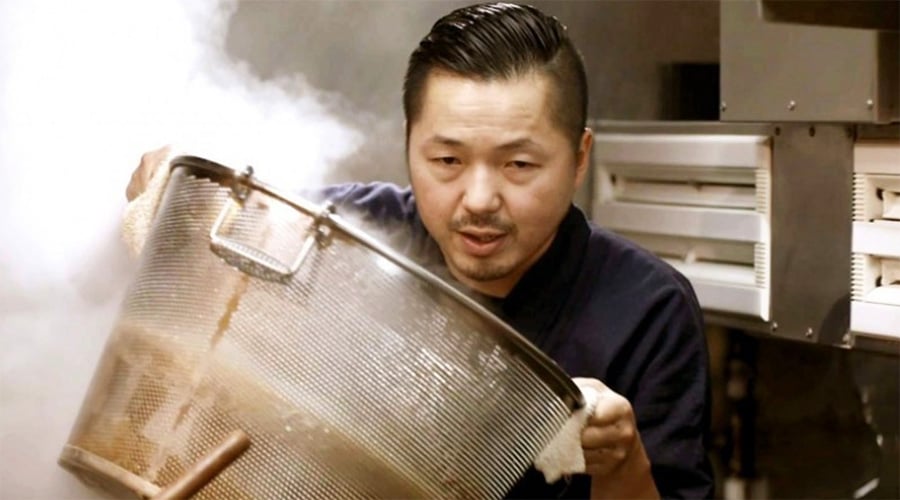 Although the HIFF Spring Showcase presented by Halekulani doesn't feature as many films as the Fall festival, it can still be tough to choose which films to catch, especially with just 10 days to watch them. Here are our favorite picks from this year's lineup. All films are at Regal Cinemas at Dole Cannery.
FOODIE FILMS
Because … food.
Ramen Heads
It was so fortuitous that I could catch this documentary just before my trip to Japan. As a lover of all noodles and especially ramen, it certainly got me even more eager to sample the best ramen in Tokyo. "Ramen Heads" provides insight to the philosophy of three of Tokyo's top ramen chefs and the passion and commitment it takes to be the best of the best. Watch this and you'll no doubt be slurping down a bowl immediately after.
April 9, 6 p.m.
April 13, 8 p.m.
Ulam: Main Dish
While Hawaii is no stranger to Filipino food, it seems to just be taking off in the rest of the country. "Ulam: Main Dish" plays like a missing episode of the Netflix series "Ugly Delicious" in that it gives this cuisine its due and exposes it to those who are unfamiliar. Masarap!
April 10, 6 p.m.
April 11, 4 p.m.
REMAKES BY COUNTRY
They say imitation is the sincerest form of flattery. These remakes of films from other countries are definitely worth checking out.
Little Forest
Farm to table and local ingredients? These are not foodie trends in Korea, but a centuries-old way of life. "Little Forest" is a remake of a popular Japanese manga and movie; it features Kim Tae-Ri as a young woman who escapes the big city to learn to cook in the country.
April 14, 5:45 p.m.
April 15, 12:45 p.m.
Kiss and Spell
Vietnam remakes the Korean romantic comedy "Spellbound" with a take on this story of romance and the supernatural. Lots of laughs, love and scares. Sounds like a perfect date movie to me.
April 7, 5:45 p.m.
April 9, 7:45 p.m.
Mixed Doubles
While this Japanese film isn't a straight-up remake of the Hollywood overlooked classic "The Cutting Edge," there are certainly many familiar elements. Trade figure skating for table tennis and you got yourself a pretty similar movie. And that's not a bad thing. I wonder what the table tennis version of "toe pick" is?
April 8, 8 p.m.
April 14, 8:30 p.m.
CULTURE CULTURE CULTURE
What better way to immerse yourself in the culture of another country than to experience its cinema? These films represent some of the best windows to the soul and history of foreign lands.
Destiny: The Tale of Kamakura
Japanese films have always been at the forefront of animation and fantasy. "Destiny: The Tale of Kamakura" is no different. This box office smash about a mystery writer and his young wife entering a fantasy world is sure to be a crowd pleaser at the Spring Showcase.
April 8, 5 p.m.
April 14, 3 p.m.
1987: When the Day Comes
Perhaps in no other country does the political environment influence cinematic features as it does in South Korea. Given the country's recent political turmoil where citizens are questioning the authority of elected officials more than ever before, "1987: When the Day Comes" is a timely film that does the same. Coming on the heels of last year's box office smash "A Taxi Driver," "1987: When the Day Comes" features an A-list ensemble cast in a heart-wrenching film that mixes in elements from films such as "The Post" and "A Few Good Men."
April 7, 8:30 p.m.
April 10, 7:45 p.m.
Sweet Country
Based on true events, "Sweet Country" takes place in 1920s Australia. This is a compelling outback western pitting the minority Aborigines against Australian law enforcement. Hmm … #aboriginelivesmatter?
April 8, 3:30 p.m.
April 11, 3:30 p.m.
Win tickets to opening night of HIFF Spring Showcase 2018
Frolic is giving away one pair of tickets to opening night at HIFF Spring Showcase 2018. To enter the giveaway, simply complete the entry form below. By entering this giveaway, you agree to receive emails from Frolic Hawaii/HIFF. Valid entries require first and last name, email and phone number. We'll be picking the winners on Thursday, April 5, 2018 at 10 a.m. Good luck!
2018 Spring Showcase presented by Halekulani
April 6-15, 2018
Regal Cinemas Dole Cannery 18
735 Iwilei Road
hiff.org