Tokyo day trip: The Hakushu distillery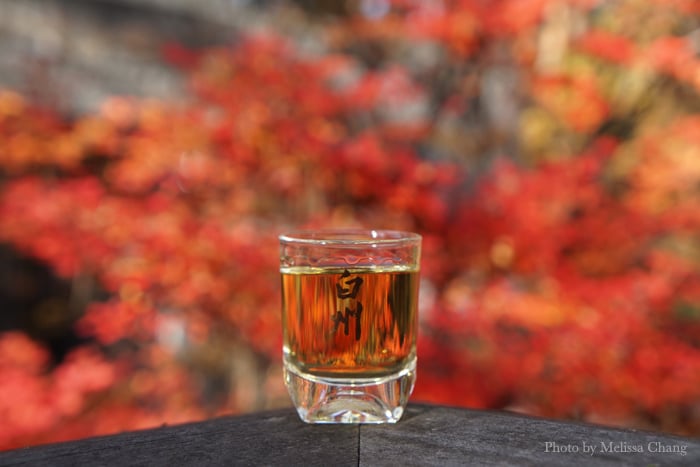 We had originally planned to visit the Yamazaki whisky distillery in Osaka, but found that it would be closed in November for renovations. Deb — who knows Japan well — did some quick reconfiguration, and determined that Suntory's Hakushu distillery in Kobuchizawa might be almost as good. Hell, we just wanted to drink. Why not?
Now, it takes about three hours by train to get there, and that is quite a long ride. You can opt to bite the bullet and do it all in one fell swoop, or break the trip up as we did. Personally, I felt like even a two-hour ride whizzed by rather quickly, since we had transfers and the scenery was pretty nice.
We stopped at Katsunuma for a couple of hours, since it was along the way, to do some wine tasting. A blog had recommended all-you-can-drink tasting at Budo no Oka (Grape Hill), and said that it was a seven-minute walk from the train station. Repeat after me: IT IS NOT WALKABLE. Maybe it's a seven-minute cab ride, which we were glad we did, because the road is a series of rolling hills.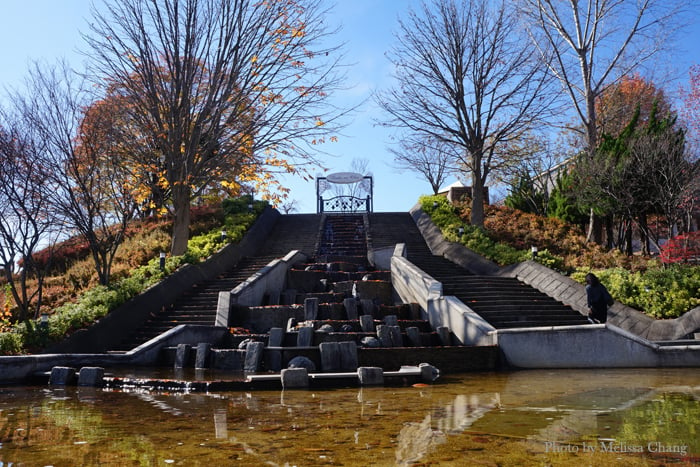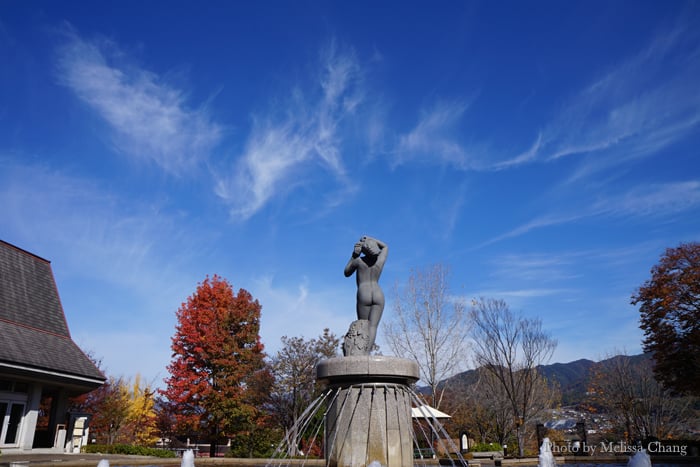 Katsunuma is often referred to as the "Napa Valley of Japan," since there are 31 wineries and the area has its own grape varietal. For just 1,100 yen, Budo No Oka gives you the opportunity to sample about 150 of the wines produced here. I should tell you, though, that although Japan makes exceptional beer, sake and whisky, their wines range in taste from cloyingly sweet to communion-style, with some rogue wines being bitter or … um, something. We did the wine tasting with the faith that there might be some good Japanese wines out there, and I'm telling you now that as of November 2015, finding a truly good one will be akin to Indiana Jones finding the Holy Grail. Choose wisely.
It's not all bad — I shouldn't exaggerate. Most of the muscat wines we tried were pretty good, good enough to drink and get a good buzz off of, but probably not good enough to buy and take home. In fact, we drank enough wine to make this short video:
Another reason to go to Katsunuma is the view. We stopped briefly outside to take in the panorama of wine country.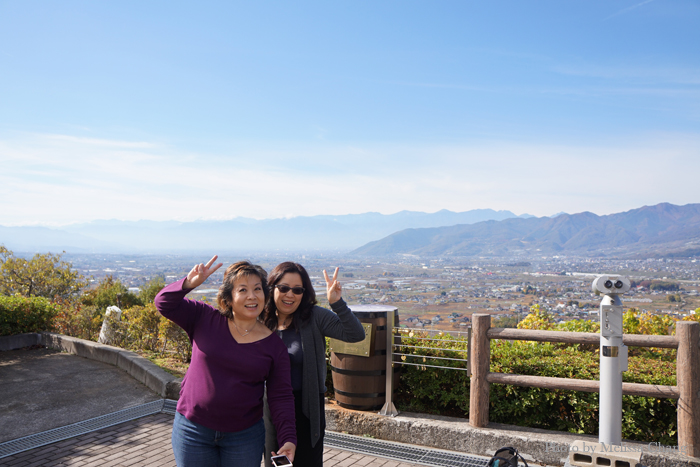 There's also an area in which lovers can put heart-shaped locks on to declare their love for each other. Someone needs to help them with their English, though.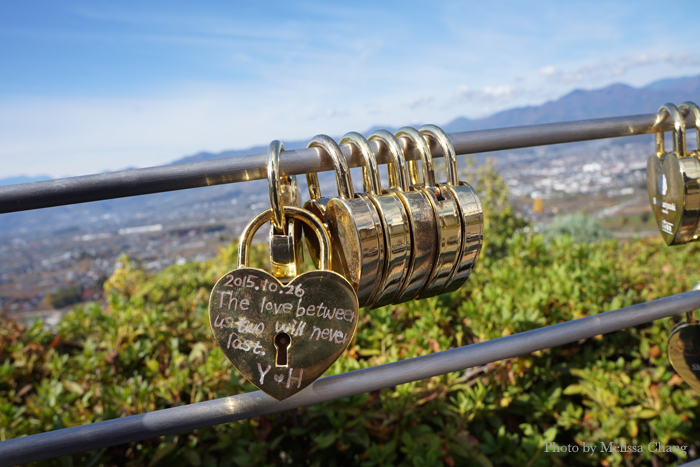 Getting to Katsunuma: The JR Chuo Line Limited express Azusa or Kaiji trains leave from Tokyo's Shinjuku Station for Katsunuma-budokyo Station in Yamanashi Prefecture. The trip takes about 90 minutes.
And then we were off to Kobuchizawa, home of the Hakushu Distillery! This took us another hour, so once we got there, we left our bags at a station locker and took a cab to the distillery instead of checking in at the hotel first.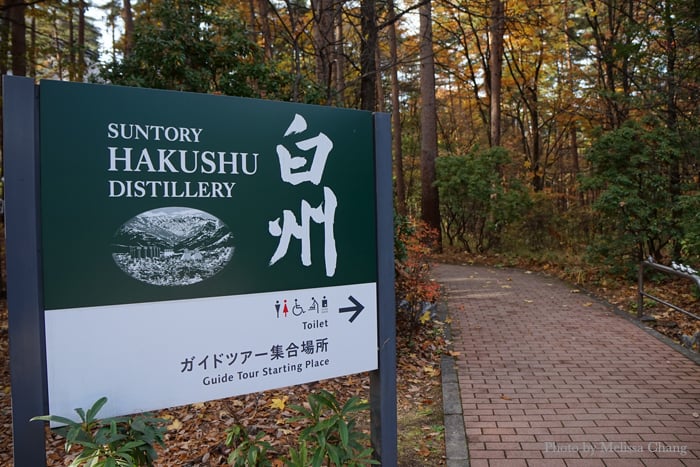 Hakushu's distillery, known as "the forest distillery," is located in a huge park, and it's home to a bird conservatory. Even if you weren't there for the tour, it's a great place for a walk or run.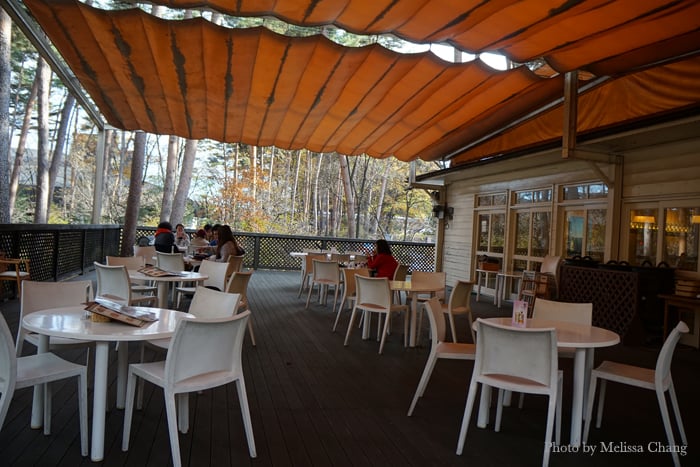 Tours are free but scheduled, so you need to make reservations in advance. We got there early for our 3 p.m. tour, so we killed time in the White Terrace restaurant.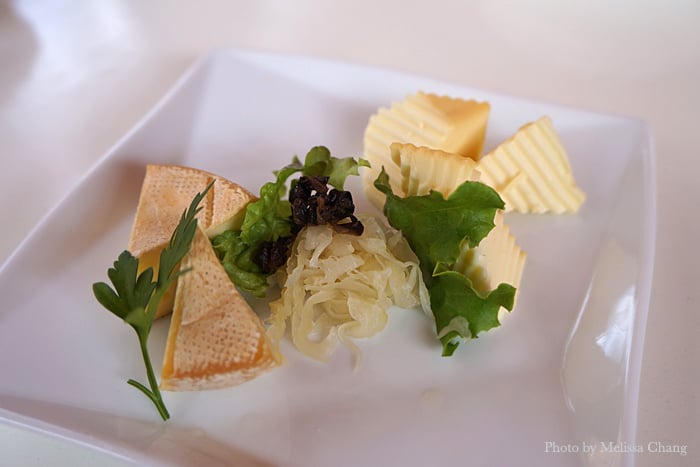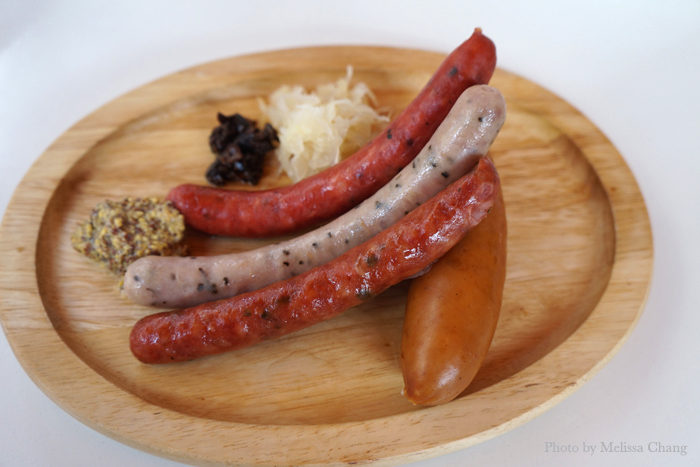 The cheese plate and sausage plate are great snacks, since they are smoked onsite in the whisky barrels. The taste wasn't as intense as I thought it would be, but this still made a great snack.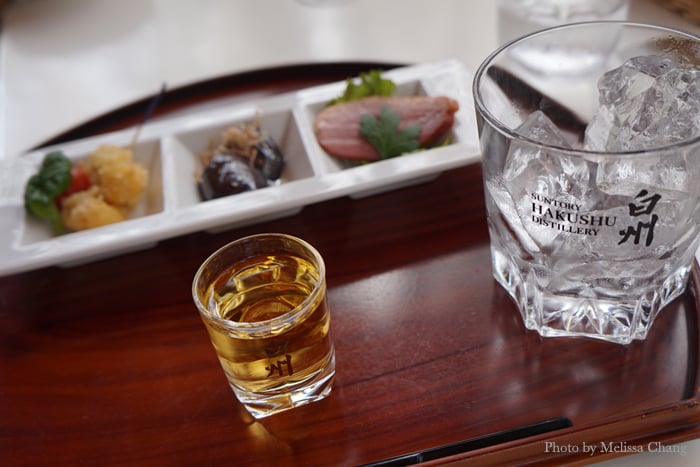 Deb's appetizer/whisky set. These vary in price, depending on which set you order.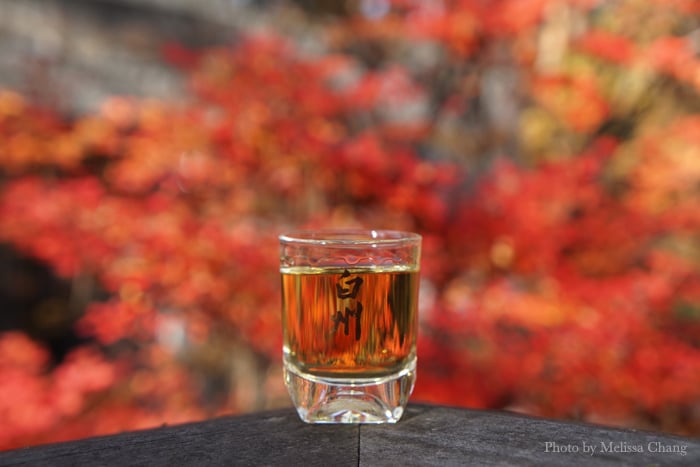 My Hakushu whisky against the autumn backdrop was so inspiring, I even busted out a whisky haiku. Still waiting for Mari's approval on that one.
Here are scenes from the guided tour. Since we were the only two Americans, we had to listen to a recording while the guide explained the facilities to the group.
And then, the part we were really waiting for! Tasting the various whisky that they produce.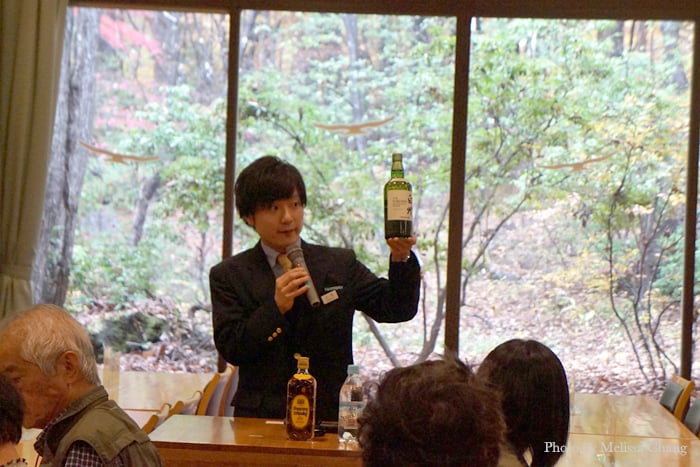 Our guide gave us a lesson in tasting their whisky.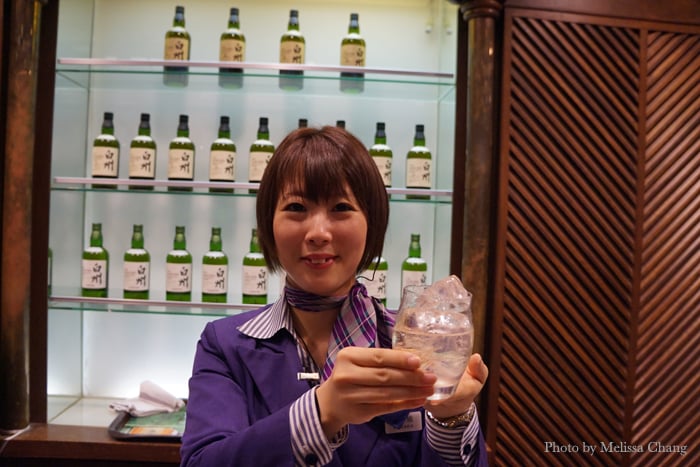 First, a highball.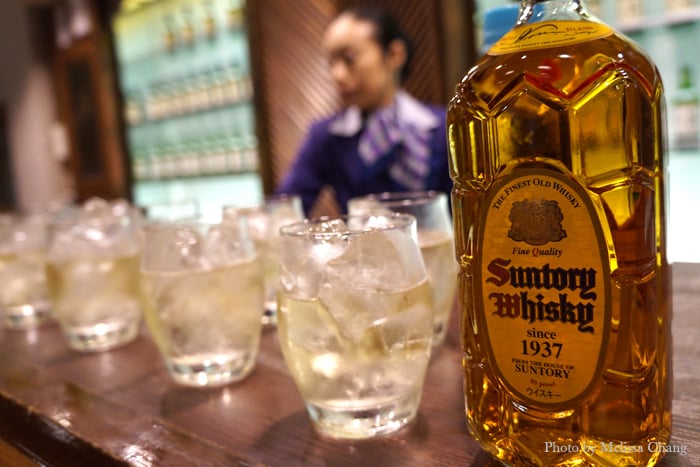 Then, whisky on the rocks.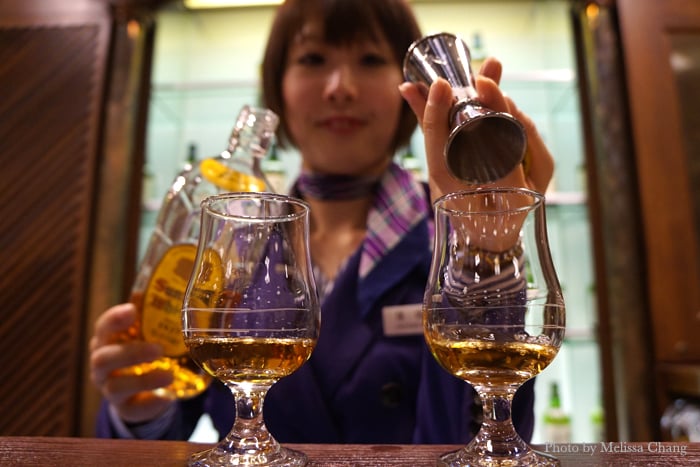 Most of the tour group left before the third tasting, which was the serving of our choice. Boo! If I were fluent, I would have asked some people to just get some glasses, straight, and let us have them. But alas, it wasn't a whisky buffet, so we were only allowed three glasses.
Even if we weren't liquored up, Deb and I would have still gone crazy in the gift shop. We bought a lot of bottles, but they offered takkyubin and were able to send our stuff to the Hotel Metropolitan back in Ikebukuro for just $10. That was well worth avoiding the stress of carrying it all ourselves on the next few legs.
Kobuchizawa is a sleepy little town, and a lot of things seemed to be closed, even in the daytime. But we were told to go to a special, old school unagi restaurant called Itutuya. From the train station, just walk down the hill until you find the ability to make a U-turn, then make that turn. Itutuya is down that street, on the left.
Itutuya is an old school unagi restaurant, with eel pots decorating the interior and quirky nooks for dining. Unlike the unagi that is served in Hawaii, the flavors here are intense but delicate, not overly bold.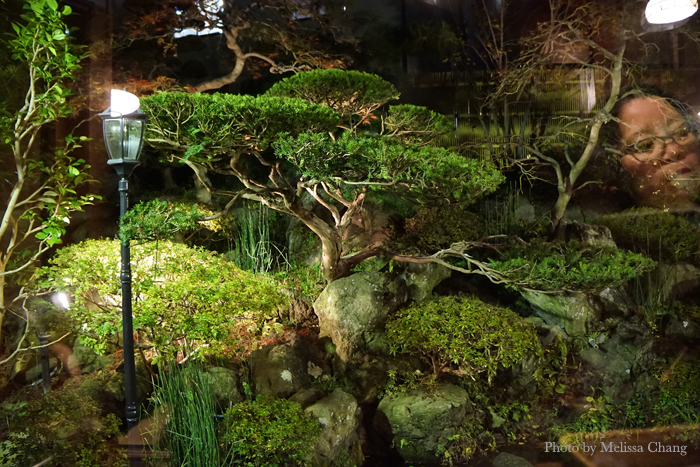 We had to sit side by side at a window, and this was our view.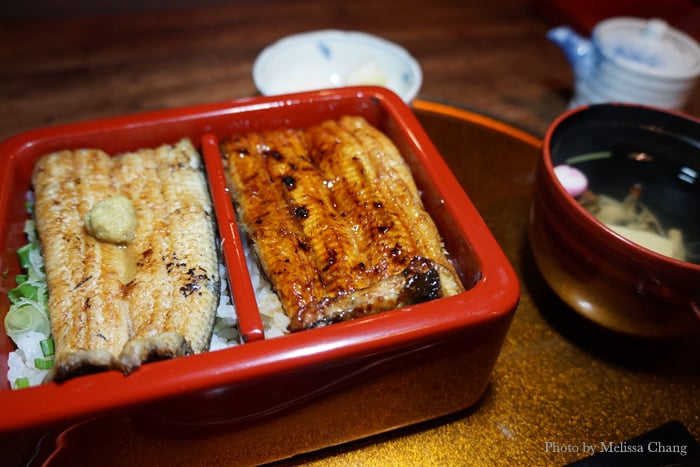 Unagi two ways. Now, when you eat this kind of thing in Japan, it's not just the unagi, but the amazing rice underneath. It's so hard to come back to crappy Hawaii rice after the exquisite fluffy rice we had here.
Itutuya
Yubinbango 407-0024 Yamanashi Prefecture Nirasaki Honcho 2-9-26
Phone: 0551-22-2255
Up next: Kobuchizawa discoveries and why you REALLY should go there!
To see more of my photos from this trip, click here.