Toast Bar at Manifest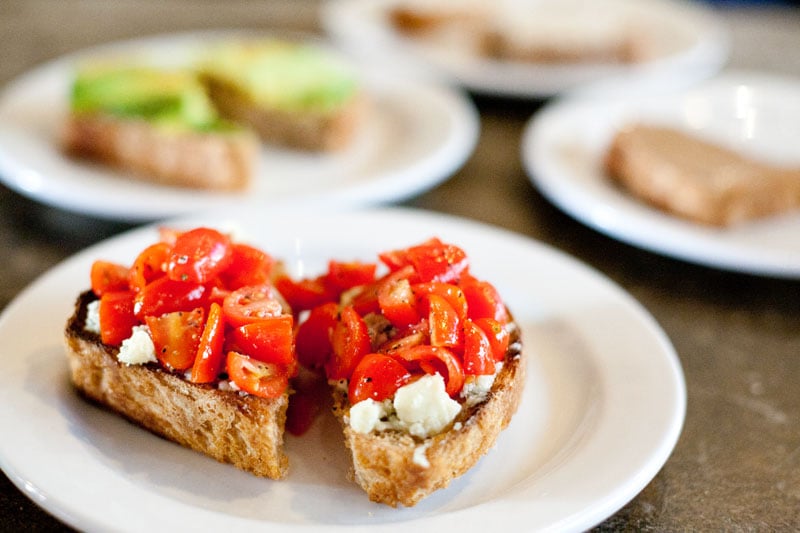 Toast is the toast of the town. At the rate it's spreading around cities, you'd think it were the greatest invention since sliced bread. But unlike other fads, I say cheers to toast! You can have it for breakfast, lunch, dinner and even dessert; it's endlessly adaptable to whatever's fresh and on hand, and you can eat it with one hand. Which makes it perfect for drinking. And writing. I'm not talking about the dry bread that scrapes the roof of your mouth. This is a showcase of the best bread and ingredients. This is brioche slathered with fresh ricotta and honey, rye with smoked fish and salmon eggs. It's not exactly new—it's like bruschetta or an open-face sandwich, but with more playfulness and flexibility in ingredients.
In Honolulu, toast has arrived in the form of roasted peaches, goat cheese and molasses-candied pecans on Breadshop brioche (spotted at Snackbox last Saturday), and at the thrice-weekly Toast Bar at Manifest,which debuted a few weeks ago.
Kai Rilliet runs the show, baking the bread (a country loaf when we went) and pairing it with toppings such as avocado, lemon and cayenne; or spreading it with almond butter, lavender honey and just a touch of salt. Simpler toasts are smeared with just Hawaiian Fresh Farms goat cheese or Naked Cow Dairy butter. The bread is as good as the ingredients—cut thickly to show off the bit of chew and character. In addition to Toast Bar, Rilliet hopes to launch a bread business, View Street Bread, named after the street he lived on when studying abroad in New Zealand, where, he says, he first discovered good bread.
Toast $3 to $5
Toast Bar at Manifest, Mondays, Wednesdays and Fridays from 9 a.m. to 2 p.m., 32 N. Hotel St.