Thursday night talk: Why is poke sweeping the world?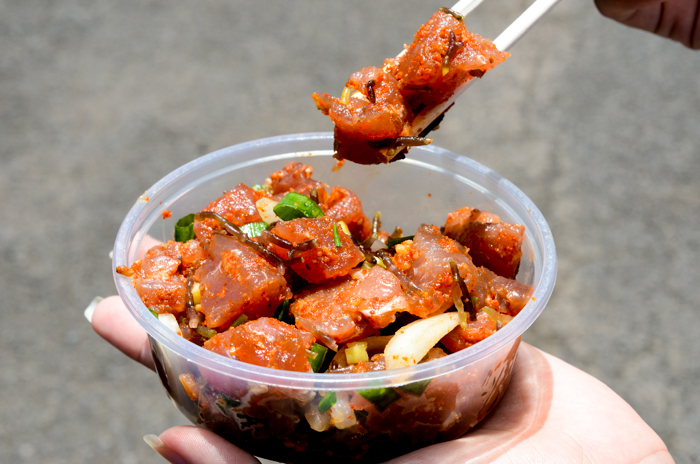 The latest food craze to sweep the nation and some points of the globe is our beloved post-beach-sesh meal, the poke bowl. From Sydney's Bondi Beach to bustling midtown Manhattan, new-wave shops have been slicing and dicing up versions of what poke is to them. Some kamaaina cry cultural appropriation, while some ex-pats claim it's the best cure for homesickness since care packages of crack seed and mochi crunch.
So this is the perfect time to walaau (talk story) about poke. Inspired by Martha Cheng's recent piece on the boom, Hawaii Magazine is hosting "Poke's New Wave," a poolside panel discussion at the Surfjack Hotel on Thursday, March 9 from 6-8 p.m.
Cheng, the author of The Poke Cookbook: The Freshest Way to Eat Fish, will moderate a panel of local chefs: Mark "Gooch" Noguchi, an ardent dissenter of poke's culturally insensitive adaptations; Lee Anne Wong, who created the menu for Sweetcatch Poke in her native New York; and Ed Kenney, a James Beard-nominated chef who continues to bring the food of Hawaii into the spotlight. Needless to say, this will be one thought-provoking conversation.

No pau hana talk story is complete without food and drink, so Mahina & Sun's will have their Mahina Bowl, with your choice of au (marlin) or spicy ahi pahala (white tuna), to get you in the poke spirit.
So come, ask questions, grind and soak up the juicy details and politics of the new food trend that started in our isolated corner of the globe. If you can't make it, we'll be livestreaming the talk on our Facebook page starting around 6 p.m. HST.
Poke's New Wave
Surfjack Hotel
412 Lewers Street
Waikiki
Thursday, March 9, 6-8 p.m.
Free admission