This Thursday: Tchin Tchin's Filipino feast to help keiki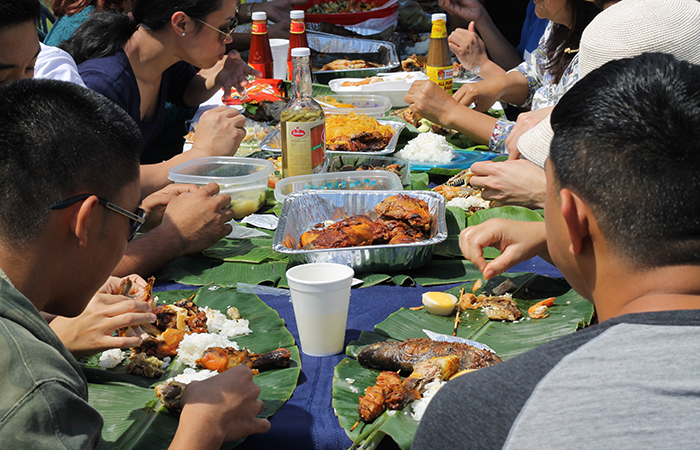 I haven't done this in a while. It's in my blood, it's in my culture. The last time I ate with my hands was two years ago, at the Filipino Junior Chamber of Commerce kamayan picnic. Kamayan, you see, is the Filipino tradition of eating with your hands. This time around, it's Kamayan for da Keiki, happening this Thursday, March 23 from 5 to 8 p.m. at Tchin Tchin Bar.
According to their Facebook page, Kamayan for da Keiki is a pop-up kamayan-style dinner series where guest chefs cook meals that benefit local non-profits focused on youth. All of the proceeds from Thursday's dinner will go to Purple Maiʻa Foundation, which brings technology education with indigenous values to middle school students in lower-income districts.
Who's cooking on Thursday? Jesse Cruz, chef and co-owner of popular Chinatown eateries Lucky Belly, Livestock Tavern and Tchin Tchin Bar. His menu of 13 dishes will be served traditional style, on banana leaves: achiote rice, grilled veggies, adobo braised ribs, char siu lamb bacon, longanisa, shoyu chicken, crispy prawns and fried squid. Tickets for the dinner on Tchin Tchin's open-air patio are $75, and there are only 50 seats. If you can't make it, there are other ways to contribute. Here's the link to the event and ticket page.
If eating with your hands is new to you, here are some guidelines:
1. In your dominant hand, place a small amount of the main dish on top of a small amount of rice
2. Pinch the food together between your thumb and fingers
3. Lean your head forward and lift your hand towards your mouth, placing your thumb behind the food
4. Push the food into your mouth using your thumb
Kamayan for da Keiki
Tchin Tchin Bar
39 N. Hotel St.
Thursday, March 23, 2017
5 – 8 p.m.