This is the new Old Spaghetti Factory
Trolleys, Mizithra cheese, spumoni and childhood memories are back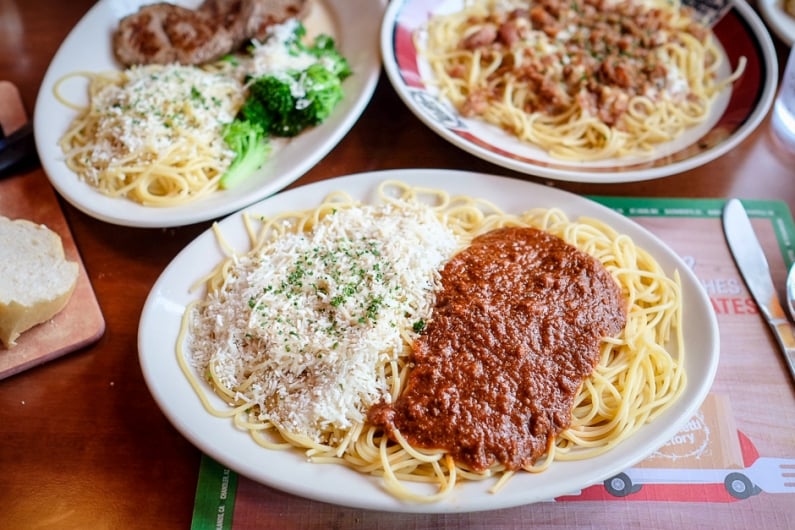 Finally, oh, finally. I was fearing I wouldn't see the day The Old Spaghetti Factory would reopen at the Aloha Tower Marketplace, but it has finally arrived. Judging by the reactions and comments on my post on the Frolic Instagram last night, many of you share the same nostalgia for OSF.
But we all have friends, right? Friends who won't understand our joy that we can once again satisfy our cravings for nutty mizithra cheese on everything. (Hint: They're not your friends.) There are friends who won't get down with the Manager's Favorite; instead, they'll order something you've never even heard of. (They'll come around.)
Then there are friends you see at the new OSF who have the same look of wonder and excitement as you, like it's their first visit to Disneyland – like they're kids again. (Those friends are your real friends.)
That's the feeling I get when I go to the OSF. It's more than a meal and it's more than a routine. It's tradition. The Old Spaghetti Factory is where my mom brought me when I was a toddler to learn how to behave at restaurants. Back in 1993, the Manager's Favorite meal was $5 and it included the signature sourdough bread, a garden salad (creamy pesto please), and spumoni ice cream for dessert. As I grew older and our family expanded, we continuted to make OSF the place where we could share a filling weekend meal for a really great price.
Though the prices have increased threefold, I doubt that's going to stop us diehard fans from coming back. Because although we say we love the taste of that savory mizithra cheese and the texture of those slightly less al dente noodles, it's the nostalgia we crave the most. Lucky for us, it's in every corner of this restaurant.
The Old Spaghetti Factory
3 Aloha Tower Drive #1106
Downtown
591-2513
Daily 4:30 – 10 p.m. (soft open May 21-25)
11 a.m. – 10 p.m. (starting Saturday, May 26)