There's a cidery and tasting room in Kalihi
Paradise Ciders is making hard ciders from lilikoi, guava and more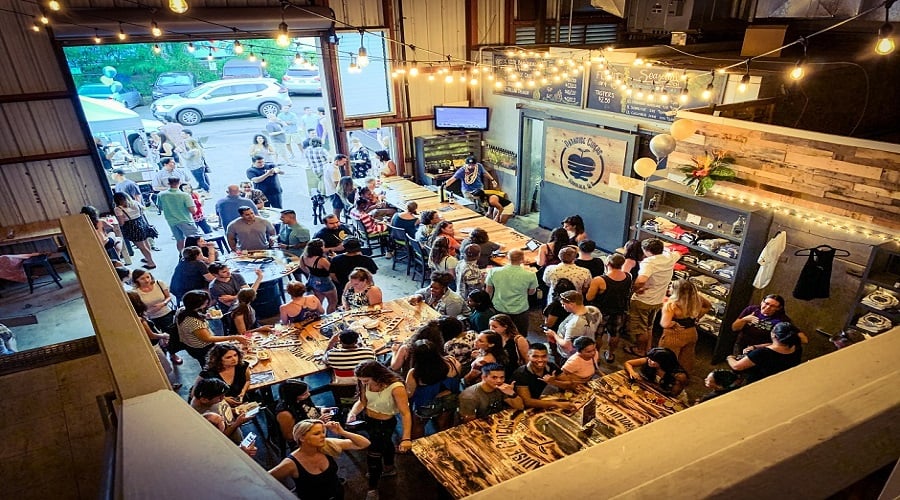 Editor's note: During the pandemic, the tasting room is open for takeout only. Check latest hours at paradiseciders.com
The line curled around the tasting room at Paradise Ciders' grand opening in Kalihi last Friday as people showed up in force to celebrate the state's first cidery. There are 40 seats between the bar and tables, and those who know Paradise's select offerings at bars and restaurants will be surprised by the whopping 12 homemade ciders on tap.
If you've only ever had traditional hard cider brewed with apples, a visit to Paradise will introduce you to the rainbow of possibility that comes with fermenting fruit. Most flavors are made from local produce – things like lilikoi, dragon fruit, lychee, guava, pineapple, mango and starfruit. That rainbow description is not hyperbole. When these flavors are poured next to one another in a flight, the colors are as appealing as the taste.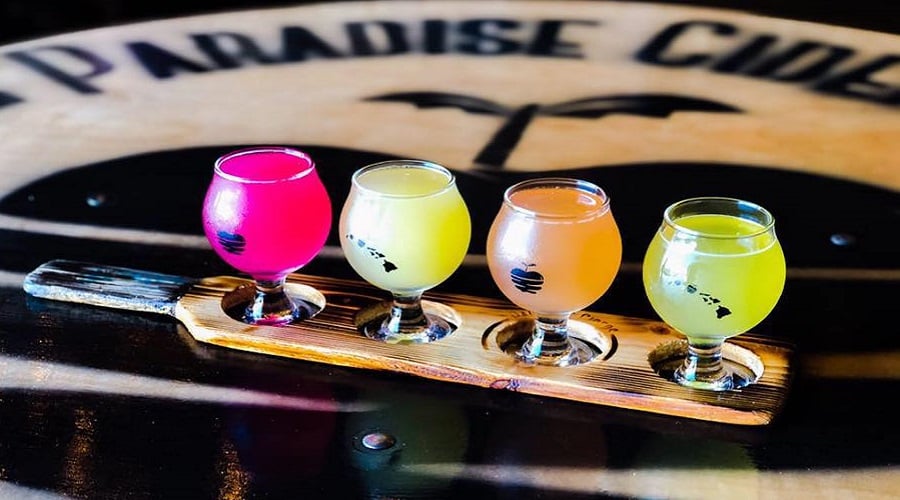 Visitors are guaranteed to experience this visual delight because Paradise only sells its cider by the taster – four four-ounce pours for $8. Cider is not sold by the pint, though you can get any cider to-go in a growler ($20-$22) or 22-ounce bottle ($10-$12).
Food vendors and trucks will be at Paradise every Friday and Saturday. Keep an eye out for Pono Foods on Fridays, who offer a curated farm-to-table menu that complements the ciders – including ribs that are marinated in the Lei'd Back Lilikoi cider.
The grand opening marks the end of a long journey for co-owners Shaun Peck and Kasey Sulheim, two buddies who met bartending at Yard House in Waikiki. Peck had been brewing cider at home for years in Hawaii Kai, but enough people came into the Waikiki beer bar looking for local cider that they realized there was an untapped demand. In 2015, investing their own savings, they started Paradise Ciders and, for years, wholesaled their ciders to bars and restaurants.
But now that's all just company history as public demand has pushed Paradise into phase two of its growth and it has officially opened its garage door to one and all. Next year, Peck says, Paradise will begin a bottling and canning program, though details are being kept behind the curtain for now.
Overall, there is little competition in the local cider world. The only other cider producer in the state is Ola Brewing on the Big Island, but they seem to be focusing on beer at the moment.
Peck expects the market to grow in coming years. Does that mean a cider wave is on its way?
"People are beginning to realize that you can use a lot of local products in cider," he says. "I definitely feel like there will be more cideries popping up before long."
Paradise Ciders
2003 Colburn St.
Kalihi (a few doors down from Sun Noodle)
Wed-Sat 3-8 p.m.; Sun 1-6 p.m.
Parking: 8 stalls on site, limited street parking. Carpool and rideshare recommended
paradiseciders.com