The Way We Rolled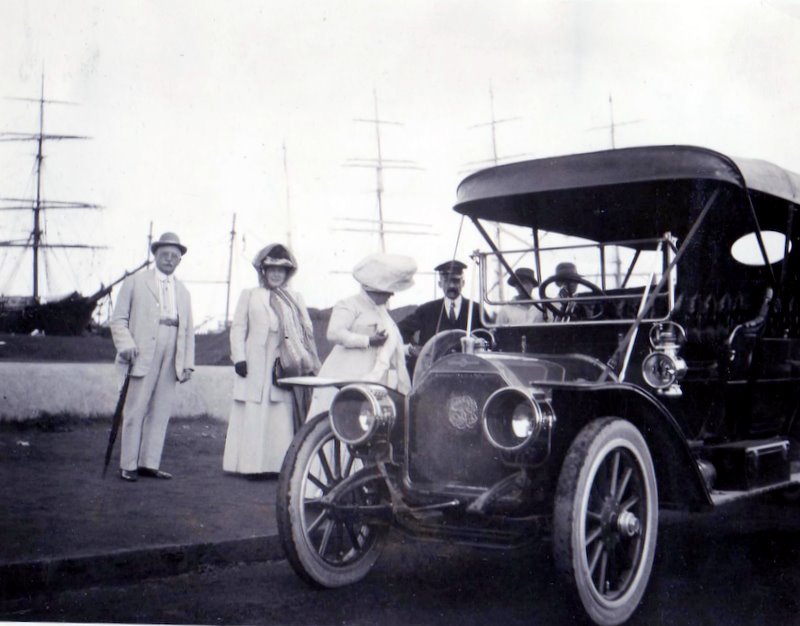 Sitting in rush-hour traffic on the H1, it's fun to dream about a time when Oahu had no car traffic. In 1906, for example, there were 90 automobiles on the entire island—not enough to fill a Costco parking lot, let alone create a traffic jam.
Historian Robert C. Schmitt tracked down this factoid, and a bunch of other fascinating auto trivia in a 1979 essay for the Hawaiian Journal of History entitled "Some Transportation and Communication Firsts in Hawai'i." Here are a few of his findings:
According to Schmitt, the first automobiles arrived in Honolulu on October 8, 1899: a pair of Wood electric cars belonging to Big Five magnates Henry P. Baldwin and Edward D. Tenney. It was an event notable enough to be reported by three newspapers.
Hawaiian royalty were some of the first to own automobiles. Here, Prince Kuhio and Princess Kalanianaole show off their ride.
Of course, no sooner did cars show up than people started to steal them. The Island's first car theft happened on the Fourth of July, 1900. Schmitt summarizes the Advertiser report on the incident: "Spying Louis Grant's electric horseless carriage parked on Beretania Street near Fort, Pat Corcoran (a fireman who 'had been celebrating the Fourth') jumped in and tried to start the motor. Unsuccessful in this effort, he then tried pushing the vehicle down the street, eventually leaping aboard and randomly moving the controls. When these maneuvers likewise failed to start the car, Corcoran contented himself by ringing its bell. A policeman who had witnessed these events gave chase and collared the would-be thief under the hose wagon in the fire station."
A couple shows off a shiny new 1935 Chevrolet in Waikiki.
By 1906, Hawai'i had recorded its first auto fatality—a single-car accident in which a driver reversed over a 20-foot embankment and was crushed by his own car. It was the only car-related death that year, but there were at least six other major car crashes.
Despite this, it wasn't until 1936 that Honolulu got its first traffic lights, at the intersection of Nuuanu Avenue and Beretania Street. And it wasn't until August 1951 that anyone thought to install parking meters. Honolulu International Airport put in the first batch, costing one cent for 12 minutes or five cents an hour.