The Throwdowns kick off Republik Music Festival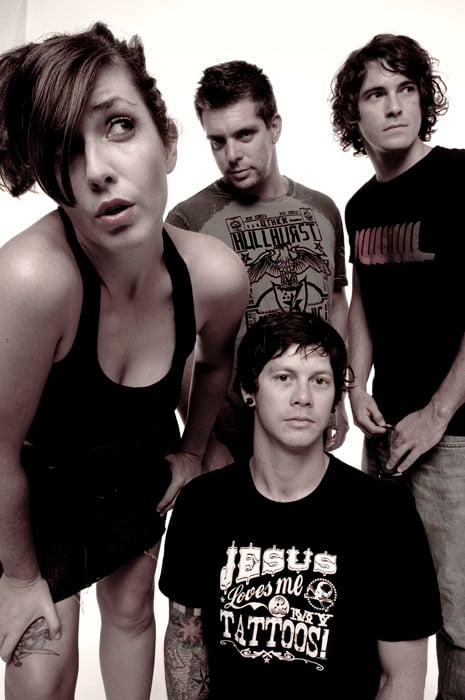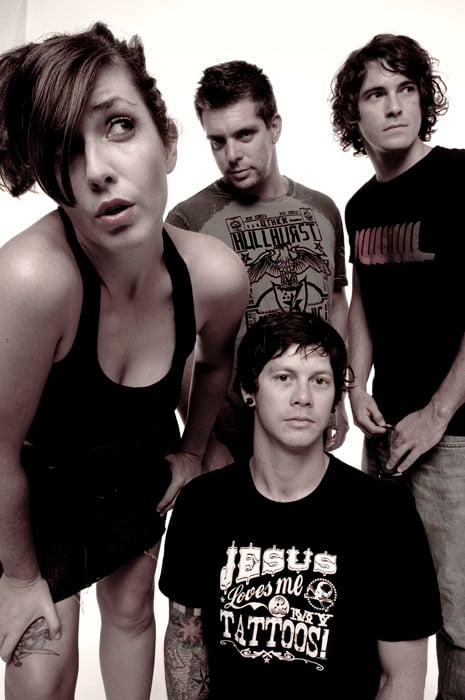 I recently got a chance to chat on the phone with two members of Maui-based rock/reggae band The Throwdowns. Guitarist Ola Shaw, who works as a bartender and at a professional music studio, and bassist Kimo Clark, who just started his own excavation company — have been working on a new album, "Legs of Our Own," due to drop later this summer. But this weekend, they'll be on Oahu for the First Annual Republik Music Festival (as the first band on the lineup, you could even say The Throwdowns are kicking off the entire thing).
Here's what Shaw and Clark said about the festival, their new album, playing their first BayFest in July and loving the Maui life.
First Annual Republik Music Festival
Kakaako Beach Park Amphitheatre (Oahu); Saturday, June 11 at 3:30 p.m.; $39.50, tickets & more info available at bampproject.com; all ages (VIP 21+ only)
-King Kamehameha Hotel Parking Lot (Big Island); Friday, June 10 at 4:30 p.m.
-Maui Arts & Cultural Center (Maui); Sunday, June 12 at 3 p.m.
-Kilohana Pavilion (Kauai); Monday, June 13 at 6 p.m.; 16+
How's life been treating you guys lately?
Ola: It's been a pretty crazy year. We just started getting back to rehearsing, prior to that we were holed up in the studio working on this album, trying to make it the best we possibly can.
You've opened for Matisyahu before. Have you ever played with any of the other Republik Fest artists ( Steel Pulse, Rebelution, The Dirty Heads, The Green)?
Ola: We've played with the Dirty Heads twice, and I used to play with Rebelution's old lineup in Santa Barbara.
What is Matisyahu like?
Ola: Matisyahu is the coolest guy. He has such a good vibe, and a lot of people think he's a stuffy orthodox Jew, but none of it's true. Last time we played together, we toasted pita bread and just hung out. His band, Dub Trio, is awesome too. They're just amazing musicians.
How long have you guys been working with BAMP?
Kimo: The last year and a half or so… Aubry used to live on Maui, and I remember him from surfing in Lahaina. When we started the band, we thought of promoters to work with, and BAMP's name always comes up. Our first show was actually with Anuhea and a reggae band, and we pestered them to let us play, and they gave us a chance. They've kept giving us these spots over the years.
What do you think of the concept behind the Republik Music Festival?
Kimo: Anything that builds the rock music scene in Hawaii, we support. They're trying to help the local bands and bring in the cool national bands. The big acts give us inspiration to do what they're doing. Hopefully one day we'll be the big band they bring in.
Ola: BAMP, they're just smart guys. Financially, it's awesome for them to do this, because you get local bands that have a good reputation and bring in huge acts… It's a ridiculous lineup, like a mini Warped Tour. It's something that I don't think Hawaii experiences much. As far as playing, we're stoked and excited to be a part of it.
How is the local rock scene doing on Maui?
Kimo: The problem here on Maui is that there are no venues to play. It's hard for the local scene to get started because there's only the MAC and a few bars. There aren't clubs dedicated to live music like in Chinatown.
We've been to Oahu like 45 times in the last two years. If you want to become a legit band, you have to make a name for yourself on Oahu, then the Mainland. If we just lived there, it would be way easier, but we all want to stay here and agreed that it's the sacrifice you have to make.
What was your experience with making the new album?
Kimo: This is only the second time I've ever recorded. It's a learning experience for me. We recorded the drums at the MAC (Maui Arts & Cultural Center), and recorded everything else at my house, in the studio that we built.
This one is pretty different from our old album. It's got a more mature sound. We slapped the first one together in a couple weeks; this one we spent months going over everything. We all worked together, so it has everybody's identity in there.
Ola: We had chances to work with bigger producers and engineers, but they wanted to rush through it in a couple weeks, so we decided to take our time with it. I'm personally stoked because everything that I wanted to be on that record is there. Actual time worked on it was about five to six months. We kind of fell off the face of the earth for a while. But sound quality, production quality, the whole nine yards, is way better.
Any new music videos planned?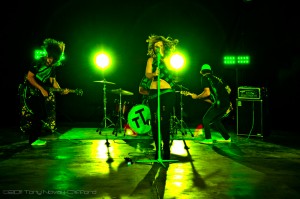 Ola: We've got this really sick video (for "Shake Your Bones" off the new album) that we shot with the production team that did Clint Eastwood's "Hereafter" and the last Adam Sandler film that was filmed here. Alex Sarnham, the YouTube sensation, filmed and directed it. He does all these spoof videos and comedy segments… I met him at one of our shows, and I started producing all the music for his spoof tracks, and in exchange he shoots our videos.
Now that the album's done, what is your focus?
Ola: Our goal is just be as good as we possibly can in the practice room and then come out for the bigger shows. Even if we play only five times a year on our home island, we hope those shows will be unforgettable. Unless we're doing a fundraiser or helping somebody out for a good cause, we don't play parties or in the bars. We're don't want to play to less than 1,000 people… It's a standard that we try to stick to, and our fans expect it of us. When we do come over to Oahu, we're not played out, and people are still stoked to come and see us.
Kimo: This year is our first BayFest as well. We heard about it too late last year, but a mutual friend at Star 101.9 asked us if we'd play this year, so we're pretty excited.
Ola: The biggest thing we're focusing on right now is this: We love Hawaii, and Hawaii is everything to us. It's our roots, our starting ground, but what we're aiming for is the Mainland.
Would you ever move to the Mainland?
Ola: No way! Never in a million years! Rockers get famous and move over here. We're just going to start here and stay here. I want to live here and do it the right way, make enough money that we won't have a problem going back and forth. We're representing Maui HI.
I can't see myself living on Oahu either; it's too busy. We love to visit. Kimo and I both have family over there, but I want to focus on music and not the scene. Everybody gets caught up in it, and it really takes you away from the big picture.
Any last words?
Ola: We've been lucky and so blessed. We've been smart with sponsorships and making good connections, and the biggest thing we've been sticking to is "be good people, and good people will surround you."
Just for fun, here's a video of how The Throwdowns created the cover art for their new album:
And here's a video from Maui Time of The Throwdowns performing their hit, "Kihei Town"