The Surprising Story Behind Those Funky Pink Shapes at Ward Village
You can view Yayoi Kusama's art installation at the Ward Village Courtyard through May 13.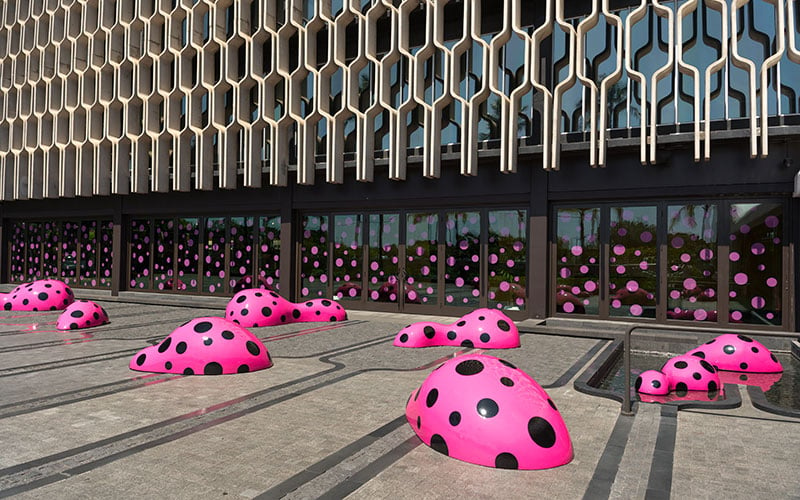 Yayoi Kusama, Footprints of Life, 2016, copresented by Honolulu Biennial Foundation, Howard Hughes Corporation and Ward Village.
Photo: AJ feduciA
Those pink fiberglass-reinforced plastic amoebic shapes now on view in the new Ward Village Courtyard make up the city's first installation by 87-year-old international art phenomenon Yayoi Kusama.
The display comes from the teaming up of the fledgling Honolulu Biennial Foundation with Howard Hughes Corp./Ward Village for Footprints of Life.
If you've had the good fortune to experience one of Kusama's immersive installations, such as Infinity Mirrored Room: The Souls of Millions of Light Years Away now on view at the Broad in Los Angeles or last year's In Infinity retrospective at Denmark's Louisiana Museum of Modern Art, Footprints might seem underwhelming. But it is a great, accessible introduction to people not familiar with Kusama's work.
You can wander in and experience Footsteps 10 a.m. to 5 p.m. daily through May 13. I recently took a friend who doesn't seek out art and he had a ball. "I've got to take photos to send to my arty friends on the Mainland," he said.
The foundation has scheduled related free programming, such as a sunset tour every Monday evening at 5:30 p.m. And on April 13, Emily J. Sano, the director emeritus of San Francisco's Asian Art Museum, gives the talk "Yayoi Kusama: The Woman Behind the Dots."
Kusama was covering walls with polka dots in the 1950s, more than a decade before Yoko Ono was cutting up her clothing. Diagnosed with bipolar schizoaffective disorder, Kusama's "infinity nets" of dots are interpretations of her hallucinations. Learn about this fascinating artist from an expert. Who says education has to be expensive? Makes for great chatter over your next cocktail klatch at Tchin Tchin!
Lecture: Yayoi Kusama: The Woman Behind the Dots, April 13, 6–7 p.m., Ward Village Courtyard (behind the IBM Building), RSVP: info@honolulubiennial.org (The event is free but seating is limited, so reservations are recommended.)
---
Lesa Griffith is director of communications at the Honolulu Museum of Art. Born in Honolulu, one of her early seminal art experiences was at the Honolulu Museum of Art, when on a field trip her high school art history teacher pointed out that the ermine cape in Whistler's Portrait of Lady Meux was not just a cape—it was visual signage leading viewers' eyes through the painting.