The scoop on Honolulu's new sherbet shop
Scoop Scoops scoops up fun, local flavors on King Street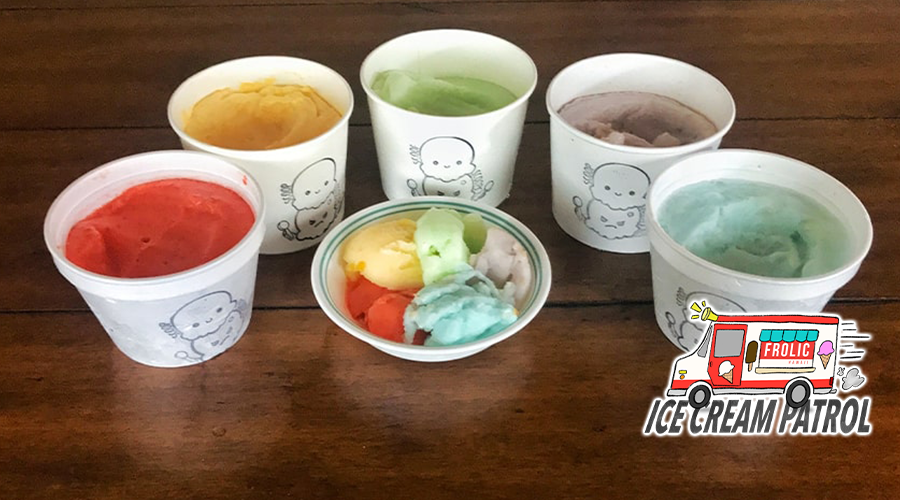 Scrolling through Instagram, I came across a place with emoji-face ice cream scoops painted on the door. As a lover of murals and frozen treats, I had to find out more. It turns out this wasn't ice cream, but sherbet (yay!) at a new shop called Scoop Scoops.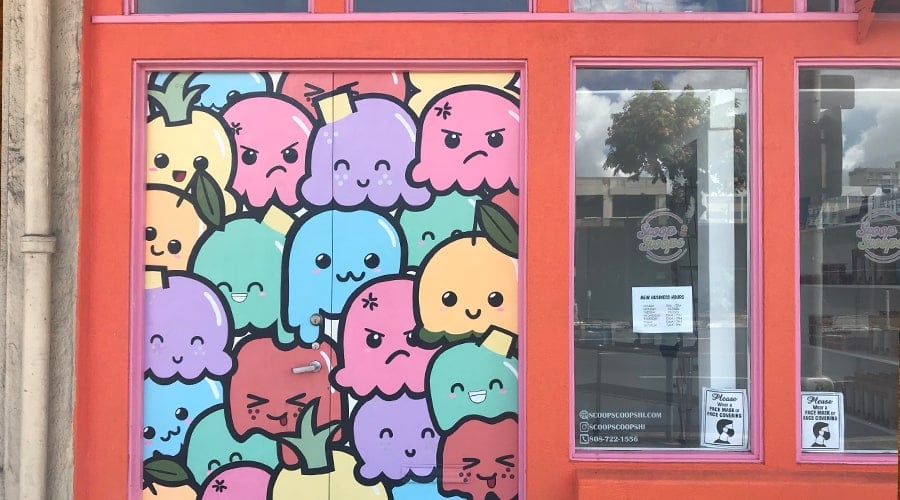 Scoop Scoops makes sherbet flavors that resonate with locals. It's a mini-chain — if you wanted Scoop Scoops before they opened in McCully next to Chef Mavro on King Street, you had to pre-order on their Instagram and pick up near their Mililani or Kunia shops at designated times.
Current flavors are Pineapple Yum, Strawberreh, Li Hing Belts, Mayjah Mango, Lychee-hoo, Honeydew and Tundah Taro. The basic flavors — Pineapple Yum, Strawberreh and Li Hing Belts — come out to $5 a pint. The rest, all premium flavors, cost $6 or $7 a pint. Scoops Scoops also releases limited-edition pints like Schmean Green, a green river flavor, and Milk Tea Swirl, a brown sugar milk tea flavor with mochi pieces. There's also Moo Juice for $2, which is condensed milk in a tiny, squeezable bottle to drizzle on the sherbet.
See also: Ice cream patrol: Costco has new ice cream sundaes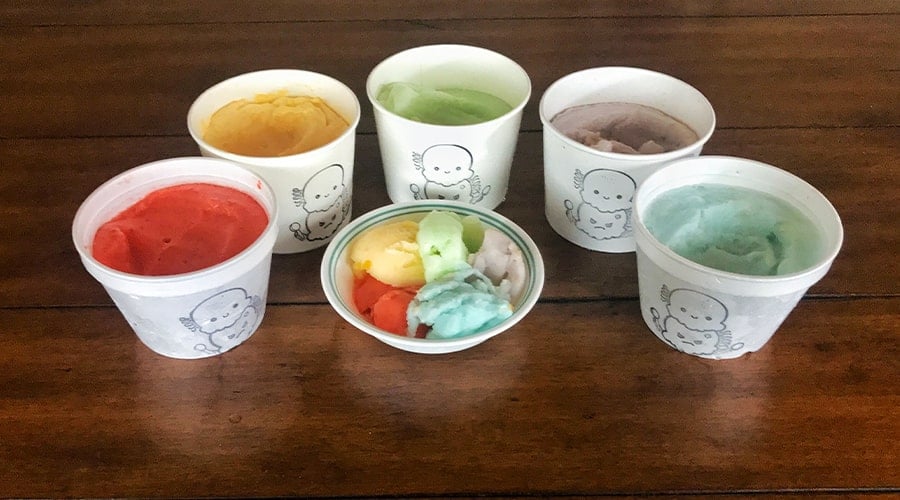 Looking at the menu, I couldn't decide what to get. So in the spur of the moment I decided to get all the premium flavors plus Li Hing Belts, because let's be honest: There's no such thing as too much dessert.
Opening the pints releases sweet, fruity scents. Flavor-wise, nothing tastes artificial. In fact, Mayjah Mango, Tundah Taro and Lychee-hoo have small pieces of fruit inside.
See also: Ice cream patrol: Hawaiian Licks' awesome vegan scoops
For this reason Mayjah Mango is my favorite of the bunch. I'm kind of biased because mango is one of my favorite fruits and especially during the summer, I crave anything mango. This hits the spot. It's sweet and refreshing and you get the mango flavor without the messy job of peeling and slicing a mango. Plus, it's always a fun surprise to bite into a little chunk of mango.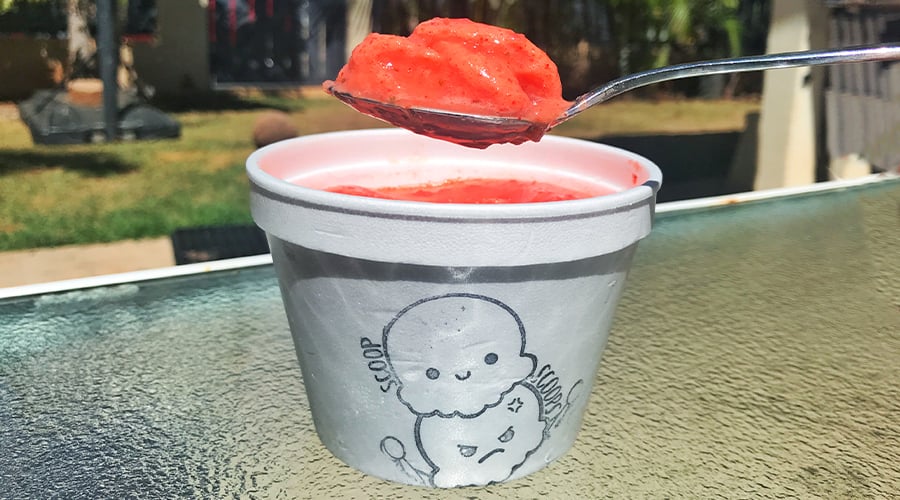 Surprisingly, my second favorite is Li Hing Belts. I debated getting this because li hing belts are not one of my favorite candies, but when the cashier said it was one of their favorites, I added it to the list. I am so glad I did. Inside are specks of li hing powder as well as strawberry seeds. My first spoonful hits me with a wave of nostalgia. It tastes like a strawberry Icee with li hing powder. The tartness of the li hing hits me at the end of my spoonful, making my mouth water for more. Before I know it, a fourth of the pint is gone.
See also: New flavors to try from local ice cream shops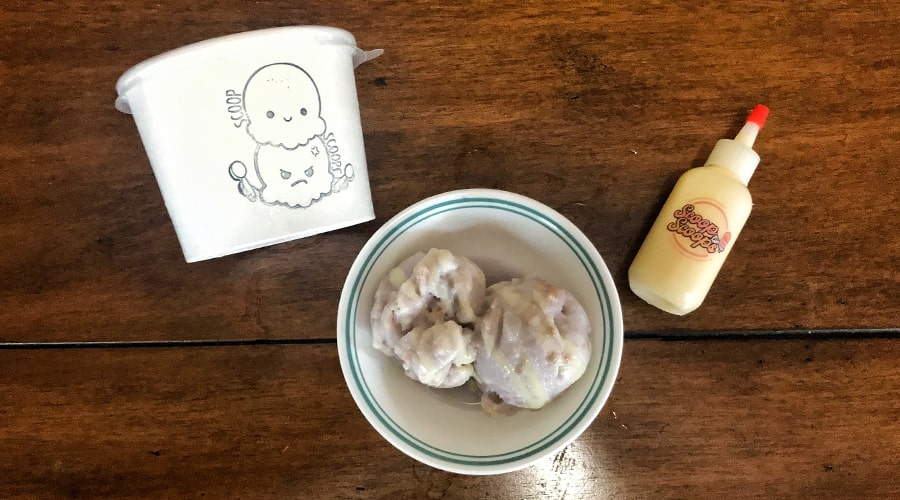 That is not the only surprise. Spooning up Tundah Taro, I bite into something soft and chewy. I know there are taro pieces in here, but when I look down I see pieces of mochi. My mouth drops open. Taste testing the other flavors reveals that Honeydew also has pieces of mochi. If there's anything that I love more than frozen desserts, it's frozen desserts with mochi inside.
I am a big fan of Asato Family Shop's sherbet, and before tasting Scoop Scoops, I wasn't sure how this would be different. Now I can say that the way Scoop Scoops incorporates pieces of real fruit and even mochi makes the sherbet a standout. I really enjoy the variety of textures as you eat your way through the pint.
See also: Asato Family Shop has opened a sherbet store in town
I also really enjoy knowing that Scoop Scoops has a permanent spot I can walk into five days a week now so that I can restock anytime. In this humidity, that time will probably come soon.
Scoop Scoops
1915 S. King St.
McCully
722-1556
Wed-Fri 10 a.m.-7 p.m
Sat-Sun 11 a.m.-7 p.m