The Pumpkin Carving Festival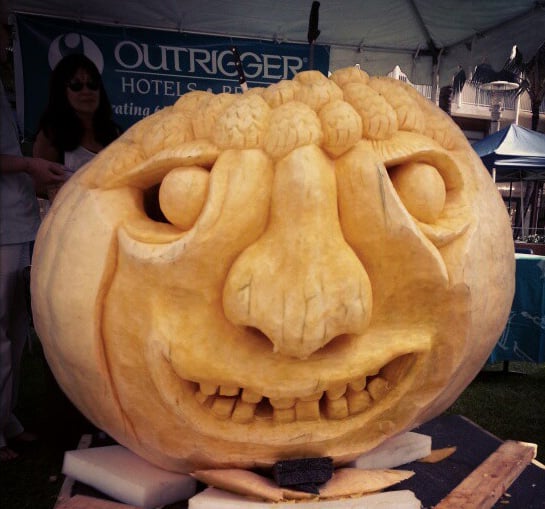 The third annual Pumpkin Carving Festival marked the beginning of fall this week, with events around town to benefit Keiki O Ka Aina Family Learning Centers and USO Hawaii. Last year, it was held at the Blaisdell with a family event and a corporate carving; this year, it seems they decided to spread out.
Master Carver Ed Moody of Michigan kicked off the week with a Monster Carving event at Waikiki Beach Walk on Sunday. He tackled a 1,000-pound pumpkin and created a fun, gigantic display. (Click here for photos.) Local artist Wayne Takazono was also on hand to carve a normal-sized pumpkin — appropriately into a portrait of Outrigger Hotels' founders Roy and Estelle Kelley. (Outrigger Hotels is a main sponsor for the Festival.)
Last night, Tamarind Park in downtown Honolulu was transformed into a big pumpkin-palooza, as companies participated in a team carving competition. There was also an executive pumpkin carving, in which a honcho from each company was assigned to an artist "assistant" to make a great pumpkin of their own.
This was my first time to the Festival, so I had no idea that there were so many people and so many amazing things you can do with a pumpkin. It was hot, and it was crowded — I could barely move my arms to take any photos, and missed a lot of good shots. But hopefully you get an idea of what was going on in Bishop Square last night through these photos.
In the interest of time, I didn't add captions, but the big winner was the Architects Hawaii ocean scene. Gangnam Style was a popular theme, and anchor-turned-flack Ron Mizutani led the Communications Pacific team in a dance once they finished carving. These pumpkins will not be on display in one place; you may need to visit individual offices to see the carvings up close.
If you want to get more of the Pumpkin Festival, Ed Moody will be carving a 70-pound pumpkin at the Outrigger Reef at 4 p.m. today. There will also be a family day at Windward Mall this Saturday. For more information, visit www.pumpkincarvingfestival.org.