The Pig and the Lady: A pop-up restaurant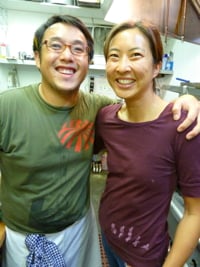 A pop-up restaurant is a restaurant without a home of its own. It shows up suddenly, for a little while, in someone else's space.
It's temporary, almost like a party, a few people eating food that not everyone knows about or can find.
For an as-yet-to-be-determined length of time, Andrew Le and Martha Cheng's The Pig and the Lady will pop up four nights a week at Hank's Haute Dogs. Hank Adaniya generously let the two of them use the space, which is normally closed at night.
Cheng, of course, is part-owner of the food truck, MELT, and a food writer, who contributes from time to time to HONOLULU Magazine.
Who's Andrew Le? He's Vietnamese-American, only 27, with five years in the kitchen of Chef Mavro under his belt.
He's on his own now, doing this little pop-up, cooking food no one else in town is cooking—contemporary food built on Vietnamese flavors.
The main event at The Pig and the Lady is a five-course prix fixe dinner ($55), served at 7:30 p.m. to 20 or so people at tables set up in the middle of Hank's. Late night, 10 p.m. to midnight, The Pig and the Lady does Vietnamese comfort food (don't expect spring rolls) at about $10 a plate.
Last weekend was the soft opening, and Biting Commentary managed to be there.
Le kicked off with a Vietnamese-style ceviche (left) with au (striped marlin) on a lemongrass sauce feisty with chili pepper, plus a salad of banana blossoms and shallots, sprinkled with puffed rice and waterlily herbs. Banana blossoms! Waterlily leaves!
The second course was vegetarian—jasmine rice croquettes, plus jicama, maitake mushrooms and round lacy slices of pickled lotus root. All this came over a dense curry sauce that I want the recipe for: perfectly balanced, not too wimpy, not too forward.
We finally got to the pig: pork loin wrapped in betelnut leaves with red watermelon and dark red dragon fruit salad. Plus some pork rind, for good measure.
Let me tell you about the sauce under the pork. It's a reduction of pork jus, with toasted shallots, ginger, just the right touch of nuoc mam and a tiny smidge of shrimp paste.
It was a marvel. Every drop seemed a distillation of all the things that make Vietnamese cuisine sing on the palate.
How can you follow that? A bowl of pho. For the opening, Le's Mom, Loan, was in the kitchen, making sure he did a great job with her pho recipe, with brisket, rare beef, and tendon cooked actually tender enough to eat. It arrived on the table to general applause.
Finally, dessert. "Vietnamese breakfast," said Le. Toast with coconut and pandan jam. (Pandan's often called the Laotian vanilla. It doesn't taste a thing like vanilla. The taste is somewhere between green leaf and toasted coconut.)
The toast topped with fresh lychee, just sweet and refreshing enough to finish the meal.
Dinner is BYOB. I brought prosecco, which didn't hold up well against the undercurrents of spice.
By good fortune, I sat next to artist and fashion designer Sig Zane, in from Hilo with his family to do a pop-up of his own, an art gallery in the Waikiki Parc Hotel.
Not only is Zane a huge talent and enjoyable company, he'd brought along a bottle of Aberlour, which is the best single-malt Scotch, in my opinion, with all the honeylike characteristics of its Speyside, Scotland, origins.
Anything goes great with Aberlour. Thanks, Sig.
That leaves only two questions. First: Can you go? Yes, but you need to get on it, because Le is not committing to a certain number of weeks. Dinner Monday, Wednesday, Friday and Saturday, 7:30, by reservation only. Email here. Website here.
The second question. Where does the name The Pig and the Lady come from? "Maybe it's a restaurant designed to be perfect for the two of us," suggested my wife.
Spousal humor aside, the restaurant is named for Le, who has a tattoo of a pig on his upper arm, and his mother. Le's whole family was helping out at the soft opening, but won't always be there. However, Mama Le will always be present in the kitchen, not necessarily physically.