The Pedicab is back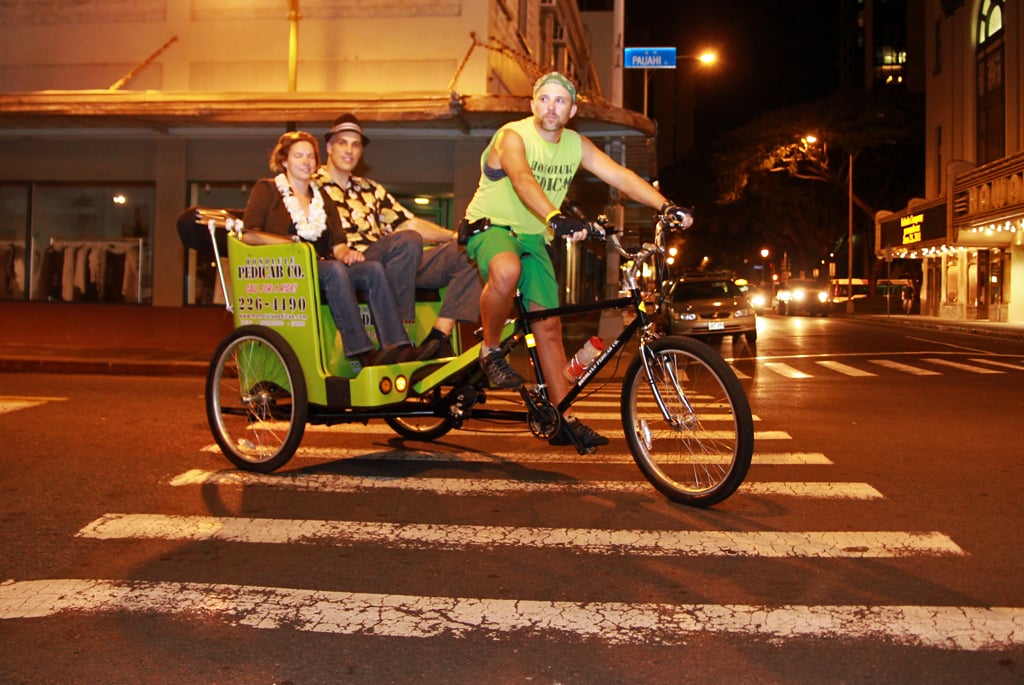 To Kirk Hendricks, owner and operator of Honolulu Pedicab, the Pedicab isn't just a ride, "it's an experience."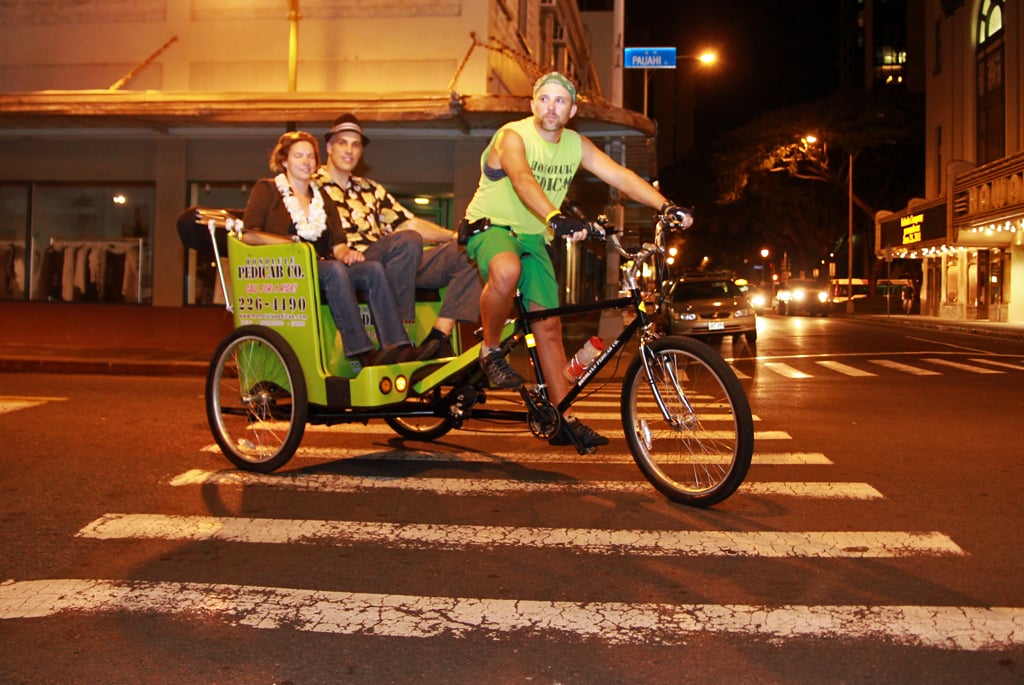 Hendricks is the only licensed Pedicab operator on the streets of Honolulu in about two decades. And after taking a ride of our own in his distinctive neon-green, bicycle-powered cab, we have to agree with him.
For us younger folks, Pedicabs in Hawaii seem like something from the past, a novelty up there with horse-drawn carriages that clop down Beretania Avenue during Honolulu City Lights. Although some of us saw Pedicabs in Waikiki when we were kids, or spotted them in places like Austin, San Diego and Denver, the sight of a Pedicab in Honolulu still attracts a lot of attention.
"It is my understanding that at one point there were around 100 pedicabs operating in Waikiki," Hendricks said. "Unfortunately, certain residents and the city felt that the Pedicabs got out of hand in Waikiki."
In 1989, the Honolulu City Council voted to ban pedicabs from Kalakaua and Kuhio avenues, Ala Wai Boulevard and Kalia Road, on the basis that they impeded traffic. According to Hendricks, there were other reasons too, from drug dealing to price gouging to not obeying traffic laws, that made Pedicabs unpopular.
After the ban, the biggest Pedicab company, Paradise Pedicab, went out of business, and Pedicabs all but disappeared from the streets of Honolulu.
Hendricks, who has a diverse background in theater, Spanish and law, moved to Honolulu from San Diego a few years ago to be closer to family, and was astonished by the lack of Pedicabs. While doing some research, he learned that although Pedicabs are still technically banned in Waikiki, there is no ban in Chinatown, which has blown up as a local club district over the past few years.
It seemed like a good time to bring the Pedicab back.
He had to jump through a lot of hoops to make sure his cab had all the proper permits, but that's where his legal background and prior experience in the permitting office of Hawaiian Telcom came in handy. "Getting the cab permitted was a piece of cake, compared to getting permission to build a cell phone tower," he said.
Hendricks, an avid cyclist, began operating in the Downtown and Chinatown area, and now takes passengers from Aloha Tower and the State Capitol to Chinatown, even giving hour-long guided tours to out-of-towners. Surprisingly, the metered fare is quite affordable.
"The official fare is $2 for the first minute, then 50 cents for each additional minute," he said. "So for example, a trip for two people from Aloha Tower to the heart of Chinatown is only $4 to $5 (the average price of a ride). But my bread and butter is the local late night restaurant, club and bar scene in Chinatown."
Hendricks said he expected to attract mostly tourists, but so far, most of his customers are local residents.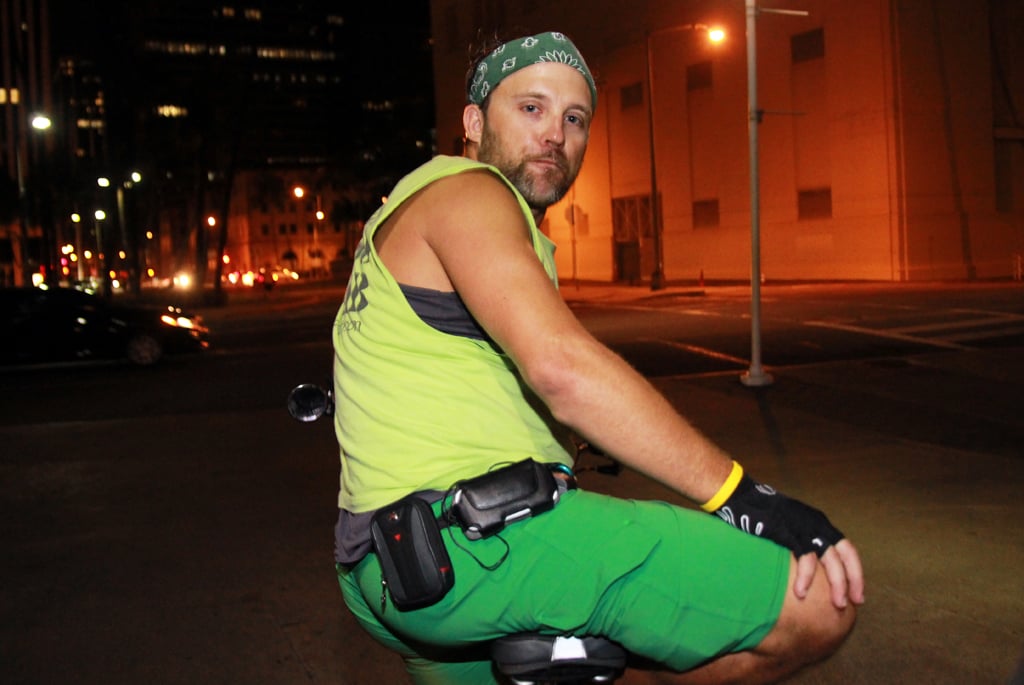 What's the ride itself like? The main way it differs from taking a taxi (besides the cost) is that Hendricks, unlike a taxi driver, makes a point to converse with his passengers and act as a guide, offering information about what's going on in the scene.
Since quitting his day job to start the company early this year, Hendricks has gathered quite a bit of knowledge about the nightlife scene, working with local promoters to keep up on events so he can pass information along.
When we finally went for a ride of our own, we found it to be an unexpectedly peaceful, relaxing street-level experience of the city. Sure, it's slower than a car, but even if you live and work in Chinatown, chances are you'll notice something you've never paid attention to before.
And you'll get noticed, too. While riding down Hotel Street with Hendricks, John Garcia and I got lots of smiles, waves and a few cheers from local bar and club employees and Chinatown regulars to whom both the pedicab and the photographers from Nonstop have become a familiar sight.
It's not just us though; Hendricks gives every one of his customers personal attention and service.
"Once this lady who had a lot to drink asked for a ride to O'Toole's, and left her shoe in the Pedicab," he said. "I had to go back into O'Toole's with the shoe and find who was missing a shoe. It was literally like Cinderella. She was very thankful and immediately became my fan on Facebook."
With stories like this, and the positive public reception Honolulu Pedicab has received, Hendricks is optimistic about the future of the eco-friendly mode of transportation. He's already in the process of putting a second cab on the road, and during the next few years, he plans to have five to seven Pedicabs leased out to other drivers, people as passionate about cycling, sustainability and the social aspect of it as himself.
"My philosophy is 'a rising tide lifts all boats,' he said. "This for me is a labor of love."
A ride on Honolulu Pedicab by John Garcia
Photos by Tracy Chan