The night Gecko Books bought out "Batman"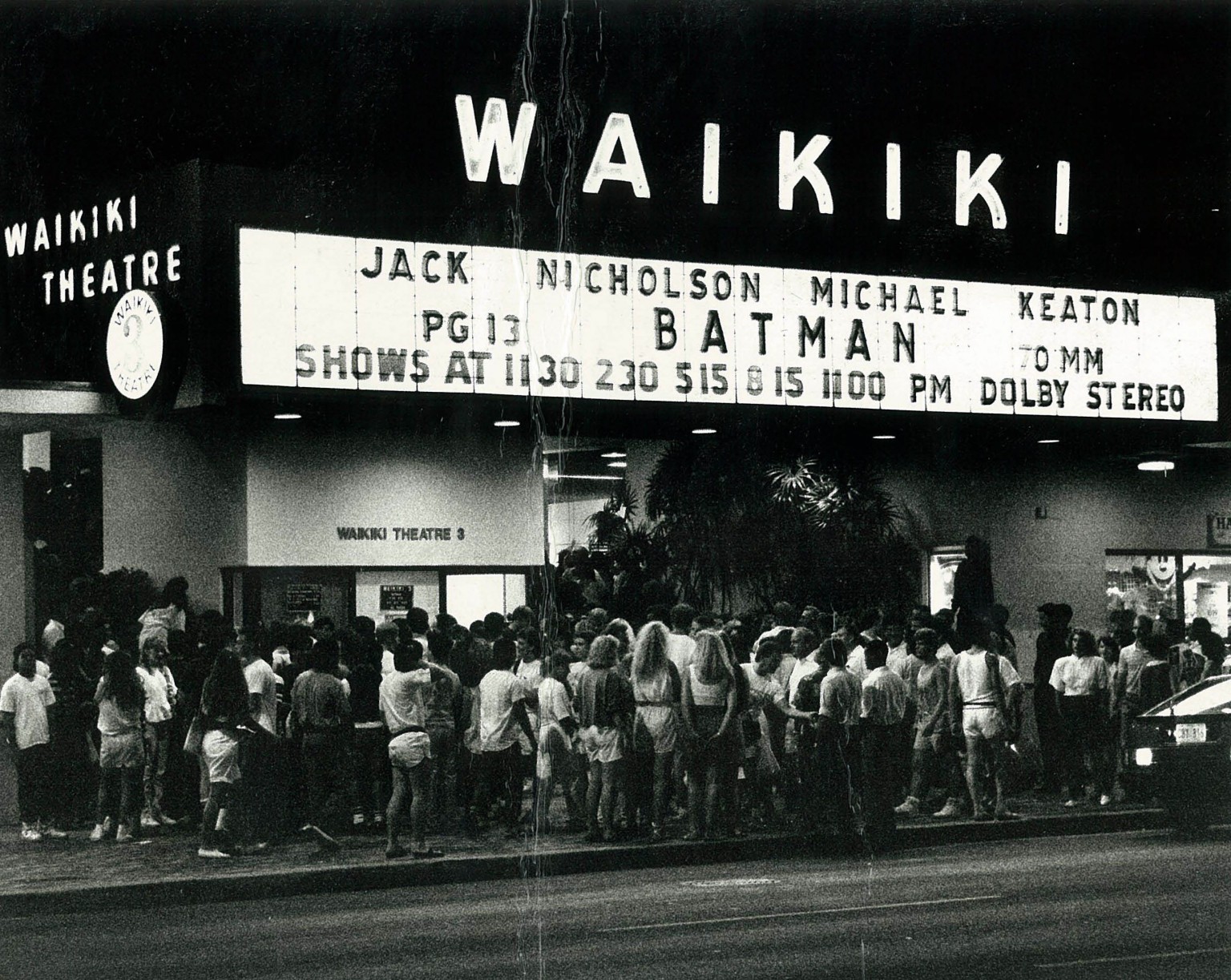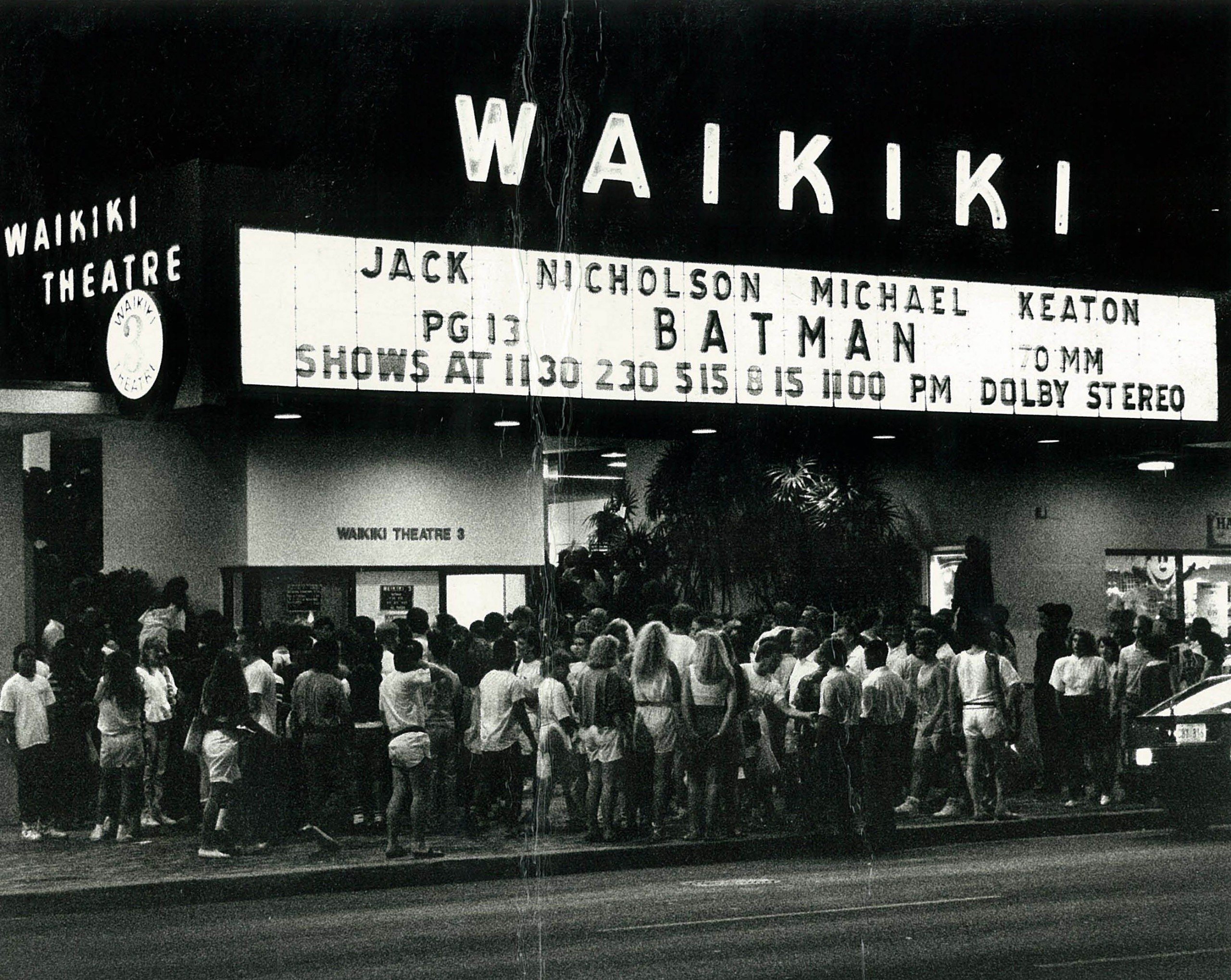 There's a black and white photo hanging near the doorway in Gecko Books. It's of a crowd in front of the Waikiki 3. "Batman" is on the marquee. It looks timeless, which seems antithetical for the '80s. I always wondered what the story behind that photo was.
But I'm getting ahead of myself. Tomorrow has been officially named "Batman Day" by DC Comics to celebrate 75 years of the Dark Knight. Consolidated Theatres will be joining in the celebration with a screening of the Tim Burton, Michael Keaton, Jack Nicholson classic, "Batman," for its monthly Hana Hou Picture Show.
I remember seeing "Batman" in high school. A gang of us went to Sizzler Waikiki before the show. Two of my friends challenged each other to an "All You Can Eat Shrimp" battle. One ended up barfing in the bushes outside, the other groaned through the entire film like he was giving birth. When I think of "Batman," I'll always think of that night. Which brings us back to that photo.
Ted Mays opened Gecko Books on Waialae Avenue in 1986. Originally, it was a used bookstore, but today, at its new location on 12th, it's a geek treasure trove. It's a place to get your hands dirty and unearth graphic novels, action figures and all sorts of fanboy magic. Now I've been going to Gecko's since I was sporting fuschia and neon HIC slippers, so I felt comfortable asking Ted about the photo.
Sometimes movies have backstories that are even better than the films themselves. I talked with Ted and we took a ride on the DeLorean back to 1989…
It's the summer of 1989. Paint the picture.
We were kinda riding high in '89. We opened a second store in Kailua. Comics were booming. Cards were doing pretty well. So it was a big event and I was a big Tim Burton fan. I loved "Beetlejuice." I thought he'd bring something cool and original to the movie.
Tell us about that photo and what you did that night at the "Batman" premiere.
The logic was, this was a big event and this is the first time they've devoted an element of respect towards the medium. And there were a few indicators that this thing was going to explode. There were kiosks in Kahala Mall that just had Batman merchandise.
Everybody was wearing that black corduroy Batman hat.
It was all just selling really well. The excitement level was insane.
How many tickets did you buy?
I can't remember. I had $2,000 cash. Back then you couldn't just reserve one screening like you can nowadays. You could only buy tickets the day it showed. I figured I'd just go buy out one of the shows. I could afford it – not that I could afford to buy all the tickets and give them away (laughs).
I think ticket were $3.50 or $4. I remember getting something like 25 kids tickets and 500 or so adult tickets. It was more than half of the theater, but I don't know what the capacity was. I went down in the morning. And that was kind of surreal too. When I got there about a half an hour before the box office opened, there's like one person in line. The guy in front of me wanted one ticket for the very first show. Then I step up and ask for over 500 tickets.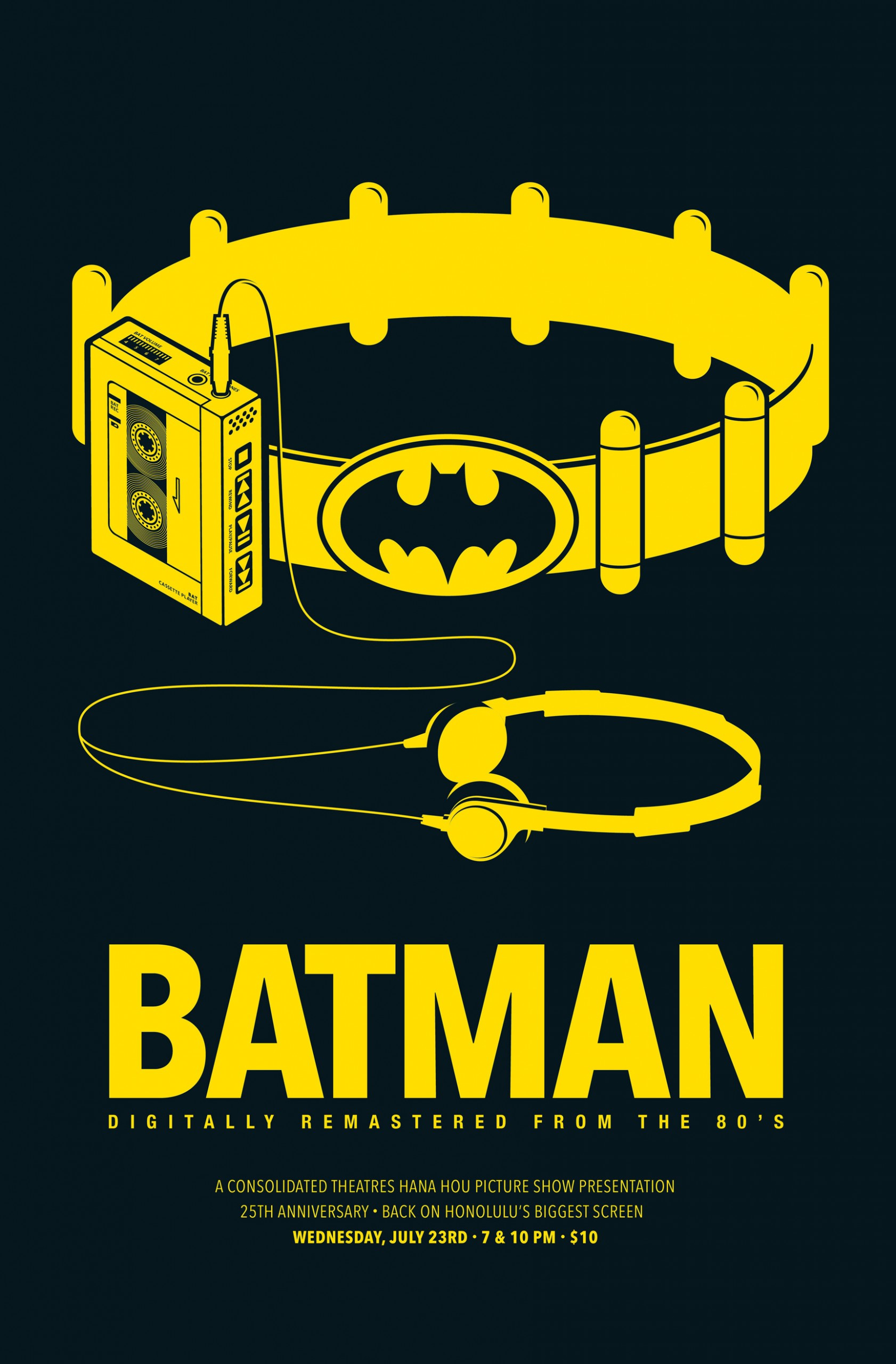 What was the ticket person's reaction?
(Laughs) It wasn't anything comical. So I went back to the store. I gave each of my employees 10 as a gift then we just sold the rest at face value at the counter. The tickets were long gone. I sent everyone down ahead of time, locked the door at 8 o'clock, had a cab waiting and bolted down to Waikiki for the 8:15 show.
Some of our younger readers may not even remember the Waikiki 3. What was it like?
It was gigantic. It had 1,000 seats at least. It was built in the '30s. It was THE showpiece theater. It had a beautiful entryway with stairs that you can barely see in the picture. Very ostentatious kind of vibe to it. On the weekends it had an organist that would come in a half hour before.
What was the energy like with the place packed with fanboys?
It was exactly what you'd hoped. There was no context. There was absolutely nothing to compare it to. That's one of the reasons why I forgive it – it's not one of my favorite movies. But I did understand, Batman is different things to different generations and they're constantly revitalizing him in some way. They went from science fiction, detective Batman in the '50s, to campy, silly, anything-can-happen Batman because of Adam West. What's been proven, I guess, is that Batman can withstand even nipples on the Bat Suit (referring to the "Batman and Robin" film).
What was it like at the end of the movie?
Very much enthusiastic. I remember having a good time, enjoying myself. I was swept up by the good things. Not agonizing over the silliness. It obviously captured the cultural zeitgeist of the moment. I definitely felt like the king of the castle or whatever. More than half of the audience was our crew, our friends, probably quite a few more because the word was out that we were targeting that one show.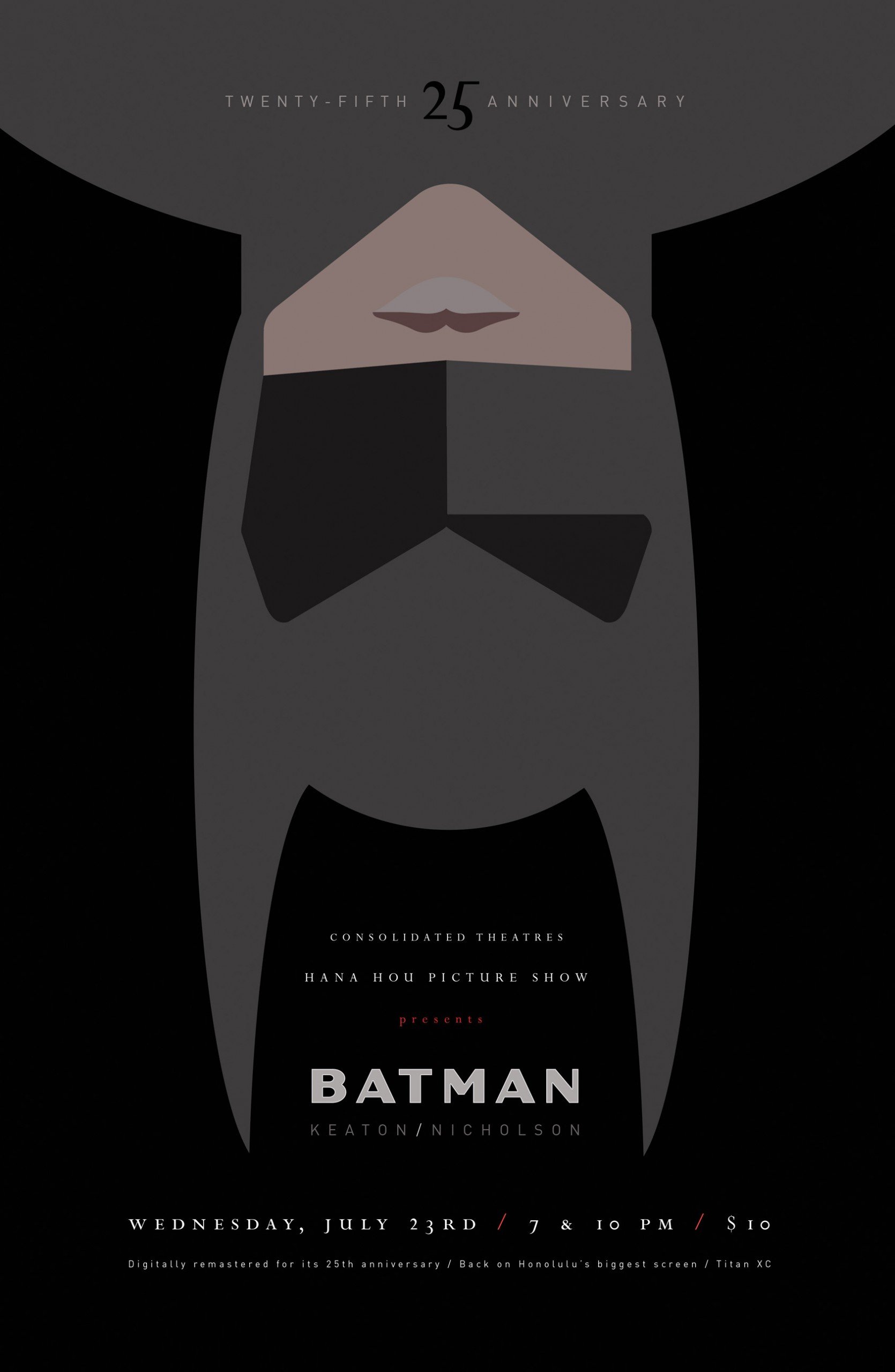 Many believe "Batman" was the beginning of the modern superhero tentpole film. Did it feel significant?
Oh, for sure. I would rate it as world-altering. In comic history there's basically before Batman '66 and after. Before Tim Burton, Batman '89 and after.
Favorite Batman: West, Keaton, Kilmer, Clooney or Bale?
I would say – since I met Adam West. It was humbling. I made a point to tell him I had a comic store in Hawaii and I said that I could've been a doctor or a lawyer, probably, but because of you I sell comics for a living (laughs).
So what did he say?
(Adam West voice) I will take that as a compliment.
When you look at that photo what do you think of?
Intense nostalgia for Waikiki. It's sad, I don't ever go there anymore. When I first came to Hawaii, I had very fond memories of being down there. It's a lost era in so many ways. The big marquee. Classic theaters. I grew up in the Bay Area and I've seen lots of them go away over the years. That was a boom year for us. I guess, bitter sweet in so many ways.
"Batman" screens at Consolidated Theatres Ward on Wednesday, July 23 at 7 and 10 p.m. as part of the Hana Hou Picture Show.
Also, celebrate "Batman Day" on July 23 at Gecko Books. They'll be giving away Batman masks, comic books and they'll have special Batman merchandise on sale. Visit the store at 1151 12th Avenue or call 732-1292.
Movie poster courtesy of MVNP
"Batman" Trailer