The new juice in town: Pressed Juicery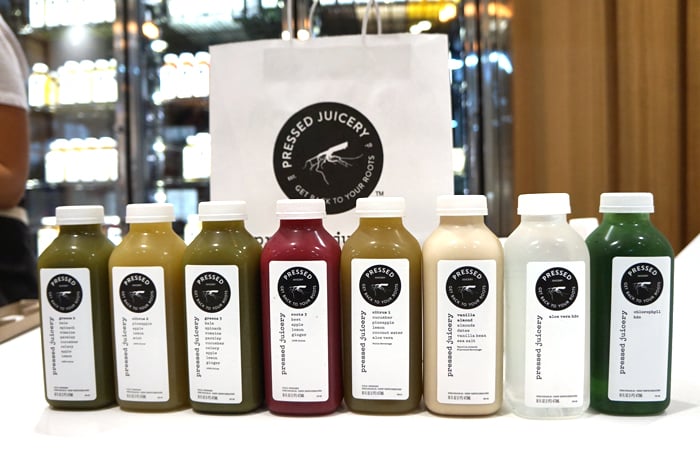 If you know your juices, you've probably heard of Santa Monica-based Pressed Juicery and have tried its newest location in Ala Moana Center. (It's not easy to find. Drive to the bottom level of the Ewa Wing by Shirokiya.) I had only heard of it because our former editor Diane Seo had named it her favorite juice spot. That's a pretty strong statement, right?
I actually showed up on their first day of business at Ala Moana and bought a few bottles for the road. I knew they would be good, but had no idea they would be that good. I expected to get a lot of tart and grassy flavors, but instead found them to be really mellow, and surprisingly well-balanced. If you're ever unsure, the staff will give you a sample taste.
It's one thing to walk in and claim that this new juice spot has a lot of great-tasting juice; it's another to get to know the juice at another level. So they were nice enough to give me a complimentary three-day juice cleanse and see for myself.
They have three levels of juice cleanses: Level 1 is for the first-timer, at 1800 calories; Level 2, the most popular, is for the experienced juicer, at about 1200 calories; and Level 3 is for the hardcore juicer with the fewest amount of calories and more green juices. The three-day cleanses are listed on their website at $199 total because it includes shipping, but if you buy it directly from the Ala Moana store, it's just $53 per day.
This was my fourth juice cleanse — I had done two with Nalo Juice, and one with Jugo Life — so I thought it wouldn't be a problem to go with Level 2. This is comprised of four vegetable juices, one fruit juice, and one almond milk. The staff numbers the caps for you so you know exactly which one to drink, in order, and spaced about two hours apart. They also give you one bottle of aloe vera water to drink before you go to sleep, and a bottle of chlorophyll water, which help with digestion and raise alkaline levels. You also need to drink eight or more glasses of water each day.
Two to three days before you start your cleanse, you should try to cut down on caffeine, processed foods, added sugars and alcohol. I did none of this, so my body really crashed on the first day, especially with caffeine withdrawals.
When I did Jugo Life, I was so tired that I had to take a nap each day. This was the same, but amplified. I accidentally fell asleep for four hours on the first day.
Normally, you'd get all three days' worth of juices at once, but I asked to pick up each day's supply separately — and I'm glad I did. When I went to Pressed Juicery at the end of my first day, I told them how tired I was. They immediately switched me to Level 1, which has two nut milks instead of just one. The nut milks, by the way, taste like ice cream. I could drink that all day!
On the second day, I was still tired and continued the caffeine withdrawals, but it wasn't as bad as the first day. On the third day, I drank the chocolate nut milk first and the vanilla last, and that seemed to help a little with the trace amount of caffeine in the cacao.
How did Pressed Juicery compare to other cleanses I did? Well, I can honestly say it was the hardest one I've done, despite the fact that all of the juices were easy to drink. I was always tired, so it helped that I did it on a weekend, when I could minimize needing to work or go out. As with other cleanses, I enjoyed not being bloated and my blood pressure did drop a bit. Many people think these cleanses are for losing weight, but in fact they are more for resetting your system.
However, the after-effects have been the most dramatic. You know from my social media that I eat out a lot, and I eat a lot of crap. So far, every day since I ended the cleanse, I can see how bloated I am to gauge how bad a restaurant has been for my insides (and I'm kind of surprised). For example, my first dinner after the cleanse was at Mud Hen Water, and despite the amount that we ate, I didn't swell up. But dinner at other places, some of which are my favorites, caused immediate bloating. And one day I snacked all day at home, but wasn't affected, yet eating out the next day made me swell. So now I know, for better or for worse, that restaurant food can really be bad for us, and in some surprising places.
This immediate reaction to outside food didn't happen with the other cleanses, possibly because they weren't as hard as Pressed Juicery. Make no mistake, all the juice cleanses are challenging and you do get similar results, but your body may respond differently depending on what kind of crap is in your system already.
Would I do it again? At the end of the cleanse, I thought, "This is it, this is the last time I'm doing this!" But now that I've seen how my body reacts to the different meals I've eaten since then, I'm considering it again — or at least, using juices as a substitute for one meal a day.
Pressed Juicery
1450 Ala Moana Blvd., ground level by Shirokiya
808-949-5272