The Joy of Pancakes: Boots & Kimo's, Kailua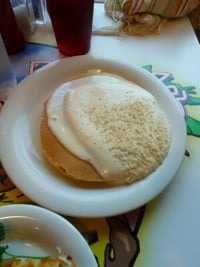 Last Sunday morning at Boots & Kimo's in Kailua, large parties were told there was a 90-minute wait. They seemed to expect it, put their names on a list, perched on benches and planters outside in the sun. Japanese tourists posed for photos under the sign, pointing up at it: "We actually ate here."
We got a table in less than a half hour. There were only two of us, and the party of two on the list before us apparently got discouraged and left.
Most people stay. Inside, I ran into a friend who'd waited two hours for a table, he said, six people and a baby.
Such is the mysterious draw of Boots & Kimo's.
Years ago, I thought I'd discovered Jesse and Rick Kiakona's little Kailua eatery. Then, it turned out everyone else had, too, or was about to.
At the original restaurant, the line made sense; it was a hole in the wall, six booths and a few tables with stools, crammed with sports memorabilia.
After a while, I gave up going. It seemed nuts to drive to Kailua to stand in line.
Last year, I heard Boots & Kimo moved into a new location just down the block, with double or triple the seating. And from all reports, double or triple the line.
Still, weekend mornings, I could hear it whisper to me. Finally I gave in, hoping that expansion hadn't spoiled it.
Fortunately, not.
The new restaurant is a riot of color, the high ceiling painted in the royal blue and orange of the Denver Broncos, the walls sunny yellow with big windows.
The sports memorabilia has expanded to fit the space. Jerseys, helmets, long shelves filled with commemorative Wheaties boxes.
It works, even if you don't like sports or Wheaties. It works because it doesn't look like a decorator brought it in; it looks like the Kiakona brothers are lucky to have a restaurant, because otherwise all this stuff would be crammed into their garage.
It's personal. Like the restaurant, which is named after their father (Boots, who died before he realize his own dream of owning a restaurant) and their Uncle Kimo, who flew over from Maui with a fistful of family recipes.
The food isn't designer either. It's nearly home cooking, big portions. We ordered a special: rib steak, eggs, fried rice. The steak, ordered medium rare, came well-done. The fried rice was perhaps too salty, but chock full of onion, bacon and flavor.
Of course, we had the banana pancakes. Boots & Kimo's pancakes are both substantial and light as wispy cirrus. Still, it's the macadamia nut sauce that elevates them into pancake paradise.
The recipe's a secret, but it's clearly a sauce, not a syrup. My guess: melted butter, flour, milk, vanilla extract and a whole lot of sugar. Mac nuts sprinkled on top.
Too sweet on first bite, the sauce is too somehow addictive. You get plenty of it, although the pancakes no longer come literally submerged in the stuff.
The food at Boots & Kimo's is honest, but hardly transcendent. Still, somehow those pancakes make waiting forever for a table seem like a sane thing to do.
Boots & Kimo, Monday through Friday 7 a.m. to 2 p.m., Saturday and Sunday 6:30 a.m. tp 2:30 p.m., 151 Hekili St., Kailua, 263-7929.