Honolulu Zoo and Other Family Places Are Reopening With New Rules
Waikīkī Aquarium, Waimea Valley, Wet'n' Wild Hawaiʻi and Honolulu Zoo are ready for families again. Bring your masks and prepare for new rules.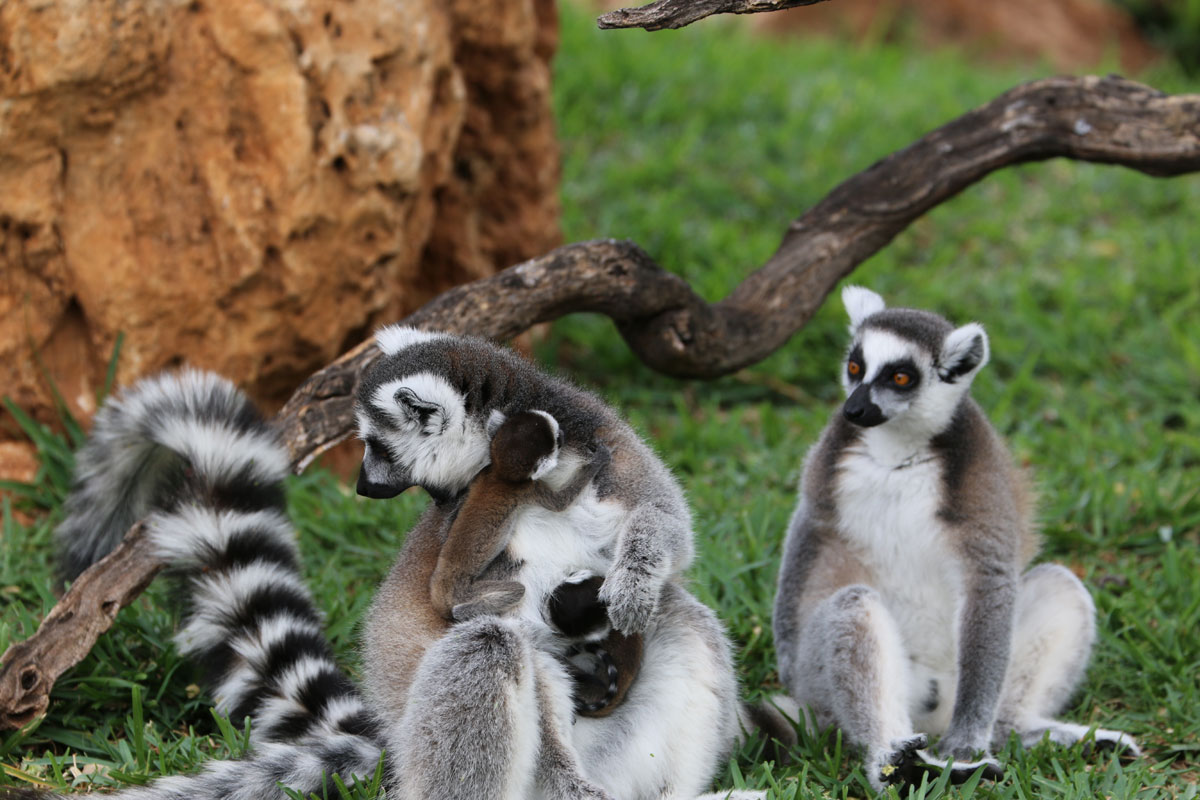 Photo: Courtesy of the City and County of Honolulu
Twin baby lemurs were born while the Honolulu Zoo was closed. Make sure to visit mom Remi, dad Finn and the month-old babies.
First, parks and botanical gardens reopened. Next, beaches gave our stir-crazy kids new places to run. Now, Waikīkī Aquarium, Waimea Valley, Honolulu Zoo and Wet'n'Wild Hawaiʻi have announced that they are ready for business. What has changed, however, are hours of operation and social distancing policies to prevent spread of the coronavirus. Here is what you need to know.
---
Are you reopening a family attraction or activity center? Email us the details at info@honolulufamily.com.
---
Waikīkī Aquarium—Reopens June 29
The aquarium will have a soft re-opening for healthcare workers and their family members only from June 22-28, with free admission and online reservations. Show healthcare I.D. when entering the aquarium.
Then on June 29, the aquarium will open to the general public.
The aquarium has created the following policies to prevent the potential spread of the coronavirus: Tickets will be purchased ahead of time using the aquarium's online system. Touch screens, informational kiosks and other high-tech features will be shut off. Hand-sanitizing stations will be available throughout the area. Staff will regularly wipe down and sanitize high-touch areas. Guests will follow signage requiring a six-foot distance between other individuals and groups. And the front desk and gift shop will have clear, acrylic barriers.
In addition, a maximum of 50 guests will be allowed in the aquarium at the same time.
Admission is $8 for local residents and active-duty military with I.D.; $5 for seniors and juniors ages 4-12; free for keiki ages 3 and younger.
2777 Kalākaua Ave., Honolulu, (808) 923-9741, waikikiaquarium.org
---
Waimea Valley—Reopens June 5
All guests must wear masks upon entering the visitors area and next to the waterfalls. The waterfall at Waimea Valley will open for swimming, with limitations on the number of people to avoid overcrowding. The cafe and snack shop will serve a limited menu, with seating arranged for social distancing, but staff members recommend bringing a picnic blanket to eat on the lawn. Bathrooms will be open, and high-contact areas will be cleaned throughout the day. Shuttle buses will not operate in the valley, so please bring strollers and wagons to transport your keiki. Also, staff members will ask guests to provide their names and email addresses to help with contract tracing, in case there is a spread of the coronavirus in the future.
The next ʻOhana Volunteer Day is scheduled for 9 a.m., Saturday, June 20. La ʻOhana Sunday is on June 21, with 50 percent off admission for local residents and military with I.D.
Keiki Wednesdays are on June 10, 17 and 24, when children ages 12 and younger receive free entry with a paying adult.
59-864 Kamehameha Highway, Haleʻiwa (808) 638-8588, waimeavalley.net honoluluzoo.org, @waimeavalley
---
Honolulu Zoo-Reopens June 5
Following city guidelines, masks will be required for everyone 5 years and older when the Honolulu Zoo welcomes visitors back Friday, June 5. You can remove them while picnicking or running around the lawns. The Keiki Zoo and Manyara Bird Sanctuary will remain closed while the playground, hippopotamus sculpture and water fountains will stay off limits. Hand sanitizer stations are placed throughout the area. Thankfully, the restrooms and concession stand will be open.
The zoo will be open from 10 a.m. to 3:30 p.m. with the entrance closing at 2:30 p.m. Make sure to follow the new directional signs to reduce the amount of people passing each other and keep kids from touching the glass in front of exhibits. The zoo does note that COVID-19 can be transferred to primates and cats, so it's extra incentive to stay behind the barriers and skip the visit completely if you feel sick.
151 Kapahulu Ave., (808) 971-7171, honoluluzoo.org, @thehonoluluzoo
Wet'n'Wild Hawai'i—Reopened May 29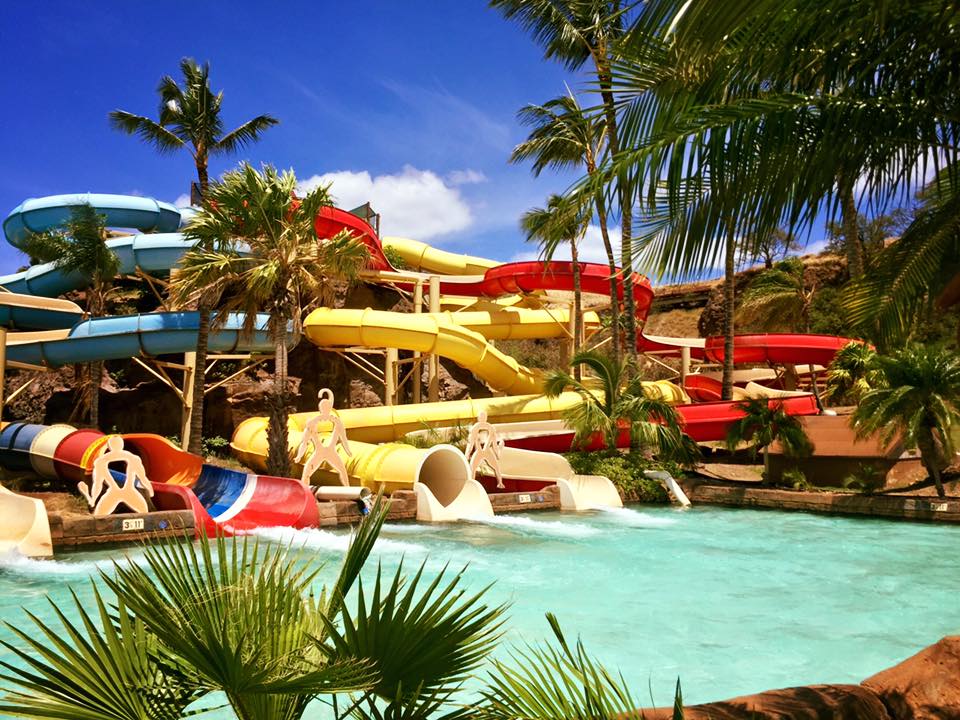 Photo: Wet 'n' Wild Hawai'i
Wet 'n' Wild Hawai'i slides
The waterpark reopened on Friday, May 29. The number of visitors will be limited and there will be new capacity rules for each attraction. Be prepared to answer screening questions at the entrance, including if you have had any symptoms in the past 72 hours or been in close contact with anyone who showed symptoms of COVID-19. Follow the signs at every attraction, concession stands and throughout the park. Hand sanitizing stations have been placed throughout and chairs, and tables have been moved to ensure social distancing.
Employees will wear face masks and consistently wipe down chairs, railing, tables and other surfaces throughout the day. The park also requires people to wear masks while walking between areas and rides. Click here to read its COVID-19 safety fact page for visitors.
In June, first responders, grocery and drugstore workers, teachers and gas station attendants can receive a free admission for each work I.D. Kama'āina with a valid state ID will also receive one ticket for under $10; the exact amount is based on the first three digits of their zip code.
Wet'n'Wild is also planning several events, including an Easter egg hunt on June 14 and the launch of its Dive'n'Movies on June 13.
400 Farrington Highway, Kapolei, (808) 440-2914, wetnwildhawaii.com, @wetnwildhawaii