The Hitt List: My Fourth of July Weekend Party Picks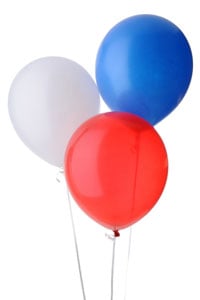 What's the 4th of July without a party or two—or, three. Check out these Honolulu, North Shore and Eastside parties.
Friday night, get started after work with happy hour at your favorite Chinatown bar for First Friday, or go across Ala Moana Blvd to The Villa for Defrost, a benefit for frozen.the.doc. Enjoy poetry, a fashion show and door prizes, including a $10,000 video production package, while helping spread meth awareness in Hawaii. $25 pre-sale, 7 to 10 p.m., frozenthedoc.com.
At 10 p.m., head to SoHo Mixed Media Bar for DJ Rayne's Atomic Infamy CD Release party, birthday party and SoHo grand re-opening party, also featuring DJs Del Sol, Soundsex and Twilight. Like electronic music? Then, you'll be dancing all night. 80 S. Pauahi St., Chinatown.
Get out of town Saturday night and take part in Kailua Town Get Down. Pay one cover and get into three bars: Pali Lanes for cosmic bowling and electro disco party, Pali Lounge and Boardrider's Bar and Grill. 21+ for drinks, $10. 16-20 years old, $15.
Or, drive to Electronic Beach, a North Shore beach party, with three areas of entertainment, Saturday night. Listen to hip hop, reggae, electronic dance music deejays with a laser light show, a full bar and beer garden right on the beach. 9 p.m. to 5 a.m. Marconi Rd., Kahuku (across from the windmills). groovetickets.com.
Looking for bikinis, deejays and alcohol? Three words: Bacardi pool party. A party scene that looks like it's straight out of Vegas… nuff said. 21+, $10 entry, Sunday, 1 to 6 p.m., limited capacity, Marriott Waikiki Beach Resort and Spa.
After partying in the sun all day, go home and refresh for a night out at The Villa. Sunday night, Los Angeles DJ Echo takes over spinning hip hop, top 40 and electro. Echo has held residences at Rum Jungle in Las Vegas, Privilege in Hollywood and Sutra in Newport Beach. Echo is one of the original members of SKAM Artists, so this is a party not to miss. 21+, 10 p.m. to 2 a.m, Aloha Tower.
For the 4th, here's your list of places to view the FIREWORKS in Honolulu.