The History of Hawai'i From Our Files: The First Airplane Race Across the Pacific Ocean
HONOLULU Magazine emerged from predecessor Paradise of the Pacific, which began in 1888, fulfilling a commission by King Kalākaua. That makes this the oldest continuously published magazine west of the Mississippi, with an enviable archive worth diving into each month. Here's a look back at September 1927.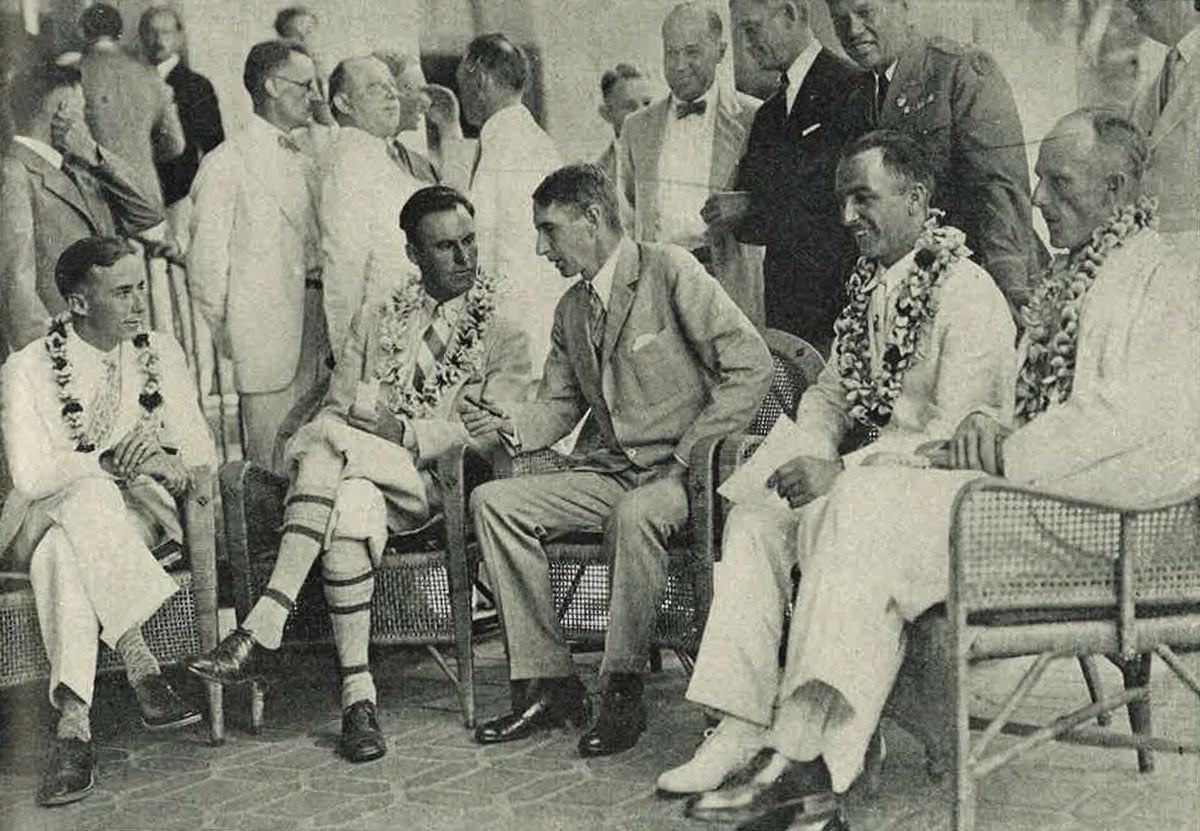 Paradise chronicles the Dole Derby, the first airplane race from California to Hawai'i. Inspired by Charles Lindbergh's groundbreaking triumph over the Atlantic in May 1927—the first nonstop flight from New York to Paris—Hawaiian Pineapple Co. President James D. Dole announced four days later the launch of an "aerial conquest of the Pacific, the greater ocean," to take place in August, with prizes of $25,000 and $10,000 for first and second place, respectively.
"The world's eyes were on Hawaii from the moment the Dole air race from California was announced. Dozens of entries were mentioned. On the morning of the start, August 16, there were nine expected to take off from Oakland," Paradise writes. Only four did, with two completing the "hop to Hawaii."
In second place, Martin Jensen of Honolulu (with navigator Paul Schluter) finished the flight in a Breese monoplane called Aloha in 28 hours and 17 minutes, landing at Schofield Barracks' Wheeler Field at 2:20 p.m. on Aug. 17. "The Aloha's flight was full of thrills and dangerous moments—electrical storms, tail spins, foggy and hazy weather most of the way, gas difficulty … and loss of time due to navigation without radio assistance," Paradise writes. However, "Jensen speaks of the California-Hawaii hop as the greatest experience of his life. Most of his flying has been stunt work and short passenger hauls, except for his Navy flying during the World War."
SEE ALSO: The History of Hawai'i From Our Files: Waimea's Old Russian Fort
Santa Monica's Arthur C. Goebel and his navigator, then-Navy Lt. j.g. W. V. Davis, in a monoplane called Woolaroc, completed the flight in 26 hours, winning first place.
Between 25,000 and 30,000 people gathered at Wheeler Field, anticipating the first planes around 3:30 a.m. on Aug. 17. "There was a grandstand for officials and their ladies; bleachers for many hundreds of spectators; thrilling stunts by daring Army aviators to entertain the orderly waiting multitude; occasional band music," Paradise writes.
After the first two planes landed and hours passed without any word from the other competitors, a search was launched. About 100 sampans, 40 planes and more than 50 naval vessels, plus commercial vessels, submarines, seaplanes and more, searched all around the Islands and the flight path, with $40,000 in rewards put up by Dole and others. Jensen participated in the search as well, but neither of the missing planes was ever found. One of the search planes also went missing. In total 10 people died, including some who crashed during takeoff.
The first-place winning Woolaroc is currently on display at the Woolaroc Museum in Oklahoma.
Learn more about the evolution of covers in HONOLULU Magazine and Paradise of the Pacific: 125 Years of Covers, available at shop.honolulumagazine.com.
---
Find more photos from Honolulu's past every Thursday on Instagram @honolulumag.