The History of Hawai'i From Our Files: How To Care For Poinsettias
HONOLULU Magazine emerged from predecessor Paradise of the Pacific, which began in 1888, fulfilling a commission by King Kalākaua. That makes this the oldest continuously published magazine west of the Mississippi with an enviable archive worth diving into each month. Here's a look back at December 1981.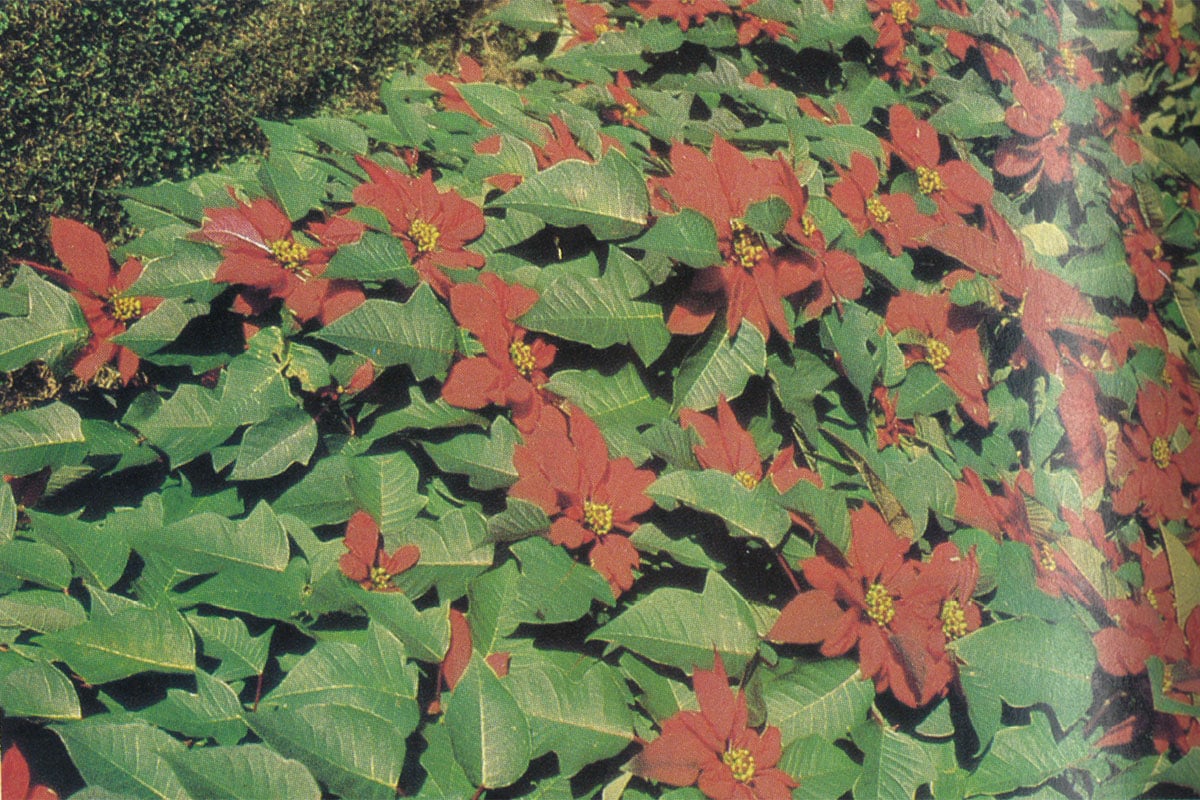 Christmas may be pau, but poinsettias are still gracing homes, offices and shopping malls. According to an article written by Fortunato Teho in HONOLULU Magazine's December 1981 issue, back then more than 30 million of the potted merry and bright buds were in homes during the holiday season and fresh, enhanced breeds lived longer due to stiffer stems and increased foliage retention.
SEE ALSO: Life of the Tree People: Meet the Arborist, Landscape Designer and Author of "Growing Native Hawaiian Plants"
As hardy as those modern varieties are, Teho, who was a celebrated horticultural writer, lent some valuable tips on how to help the festive plants glow and grow throughout the year. He writes: "In caring for gift poinsettias, remember that they originated in the subtropics and prefer a bright, sunny spot. Water them whenever the soil feels dry—enough so moisture runs from the bottom drain hole. If the pot is in a foil wrapper, pierce the bottom wrap to permit water to escape."
Fast forward to 2019: Editor at large Robbie Dingeman interviewed Chad Matsushima, president of North Shore farm Alluvion. That year, he estimated he would sell 15,000 poinsettias and gave useful recommendations on how to care for them: water two to three times a week in your sink so it doesn't sit in water; don't let it get so dry the soil pulls away from the pot; trim it at least twice a year.
If you have a plant and want to repurpose it by cutting the stems to create a stunning arrangement or centerpiece, Teho advises to water it generously for a week before to prolong its life span—since cut poinsettias generally die faster. In addition, "cure flowers by dipping the stem ends in rubbing alcohol for 10 minutes or longer. The blooms may be further hardened by immersing them in cold water for at least 30 minutes overnight. An alternative method is to place cut flowers in plastic bags in the refrigerator for at least 24 hours," says Teho. "Another conditioning technique is to dip the stem ends in boiling water or singe them over a flame for a few seconds before submerging them in iced water."
SEE ALSO: Dress Up Your Plants in These Cute, Upcycled Fabric Planters
After reading Teho's instructive piece, we learned quite a lot about poinsettias and we have to agree with Matsushima who says, "poinsettias are pretty difficult actually … they require a lot of care and attention." So, in the true sentiment of the holidays, maybe this is one gift that is better to give than to receive. Or appreciate them from afar: Swing by Kāhala Mall to check out its eye-catching center stage Christmas tree made up of rows and rows of poinsettias that will be on display until Jan. 1.
Learn more about the evolution of covers in HONOLULU Magazine and Paradise of the Pacific: 125 Years of Covers, available at shop.honolulumagazine.com.
---
Find more photos from Honolulu's past every Thursday on Instagram @honolulumag.
---