The food you'll eat: Joy of Sake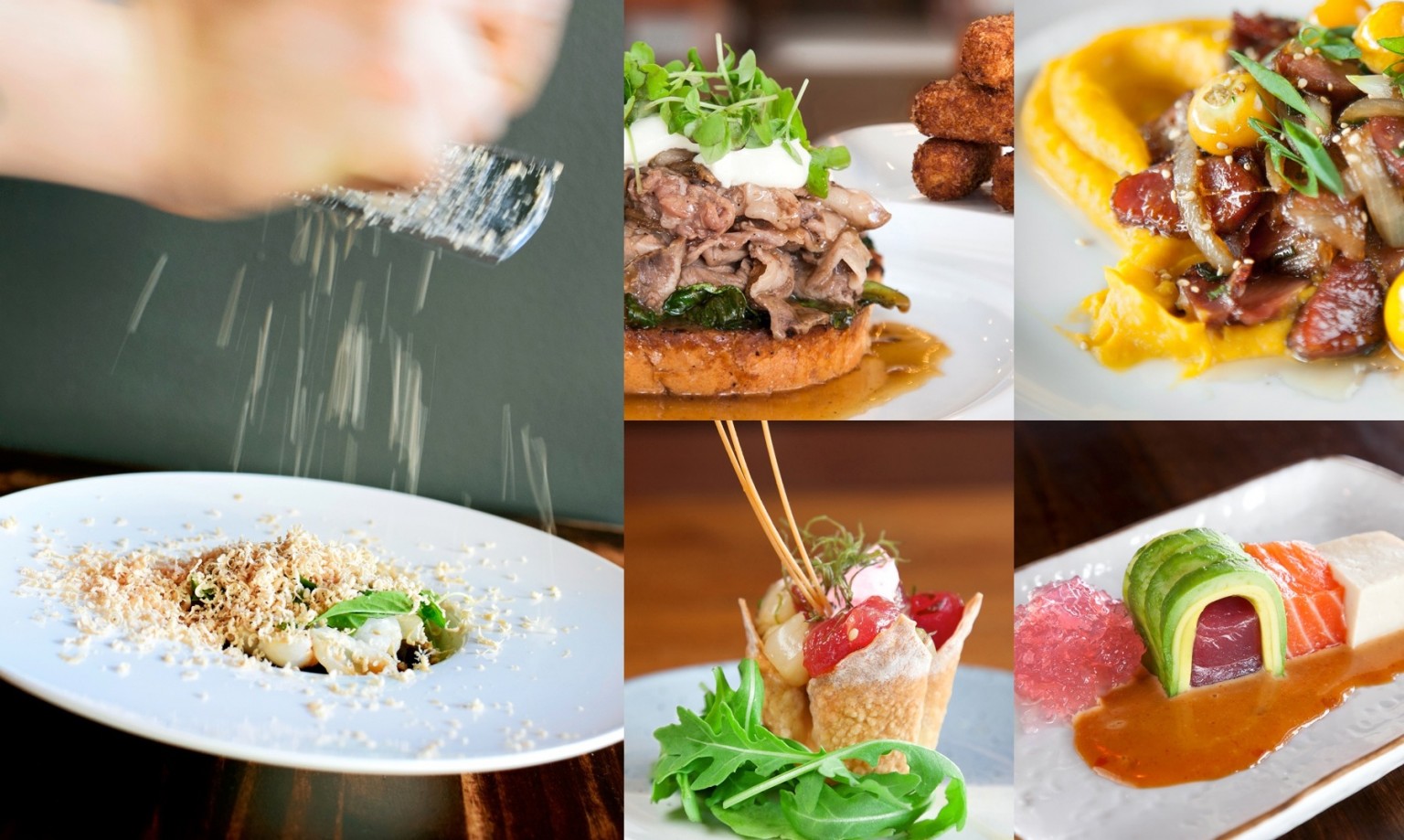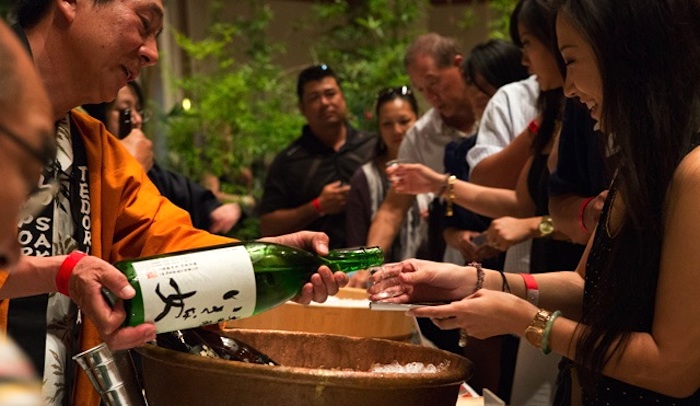 It calls itself The World's Best Sake Celebration, so you already know the sakes will be stellar. At next Friday's Joy of Sake, you'll find 391 of them — more sake than you've ever seen in your life — but we'll get to that later.
Very quietly in these last couple of years, the world's best sake celebration has also turned into one of Hawaii's best food fests. The number of restaurants has grown by 50 percent to 21, and you should see who's coming. It's a culinary who's who of Honolulu, the best local lineup in the state. We're talking everybody from the new generation of buzz-worthy chefs — Andrew Le, Sheldon Simeon, Wade Ueoka — to solid favorites like the Halekulani, BLT Steak, Highway Inn, Banzai Sushi Bar.
Hot new restaurants include Ed Kenney's Mud Hen Water and Mark "Gooch" Noguchi's Mission Social Hall & Cafe. Soon-to-open restos are Hale Ohuna, Lee Anne Wong's noodle and sake bar; Lance Kosaka's SKY Waikiki rooftop lounge, and former Vintage Cave chef Chris Kajioka's new place.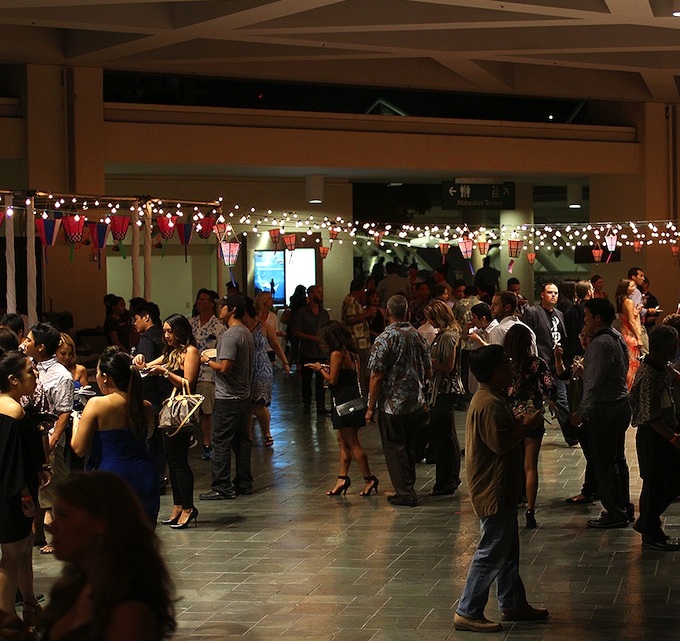 We asked them all to create new dishes to go with world-class sake, and nearly all came through. (Disclaimer: I'm on the Joy of Sake's volunteer board and I'm also the restaurant coordinator, so forget objectivity.) You'll see a lot of their dishes in the gallery below.
So yup, that's 391 sakes and 21 restaurants. Most will be inside the air-conditioned Kalakaua Ballroom at the top of the Hawaii Convention Center. Others will be just outside in Izakaya Alley, where you'll get to eat upscale street food, try OnoPops' wacky new plum wine and Japanese snack pops, and get chill pours of fresh, unpasteurized namazake from Japan's Miss Sake 2015.
Here are the details. Scroll down past the food and you'll find a few tips on navigating 391 world-class sakes.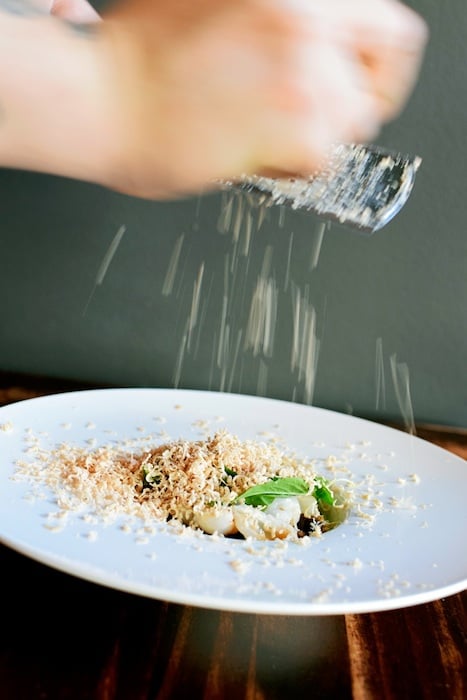 The Joy of Sake
Hawaii Convention Center
Friday, July 31, 2015
6:30 to 9 p.m.
Premium early access from 5:30
Tickets available online
The food you'll eat
The Pig and the Lady: Foie Gras Snow with haw flakes, coconut crumble, lychee, Thai basil (pictured)
BLT Steak: Grass-Fed Molokaʻi Ranch New York Striploin atop green papaya salad finished with a spicy-sweet-sour vinaigrette
Buho Cocina y Cantina: Tsukiji Yellowtail Ceviche Taco with caramelized jamaica, serranos, red onions, micro cilantro and pickled watermelon rinds in a hand-pressed corn tortilla
Cakeworks: Cold Sake Noodles with matcha sauce and mango
Chef Chai: Grilled Lemongrass Beef Salad with mango, tomato, cucumber and roasted peanuts in a fresh lettuce cup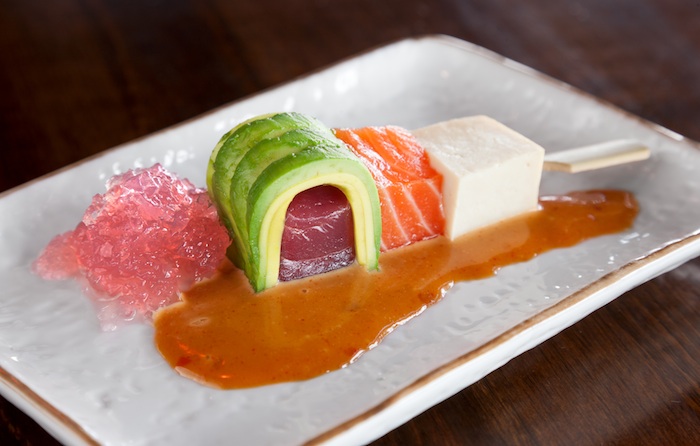 Banzai Sushi Bar: Fresh Ahi and Salmon Pinchos with avocado, white miso-marinated tofu and hibiscus gelee (pictured)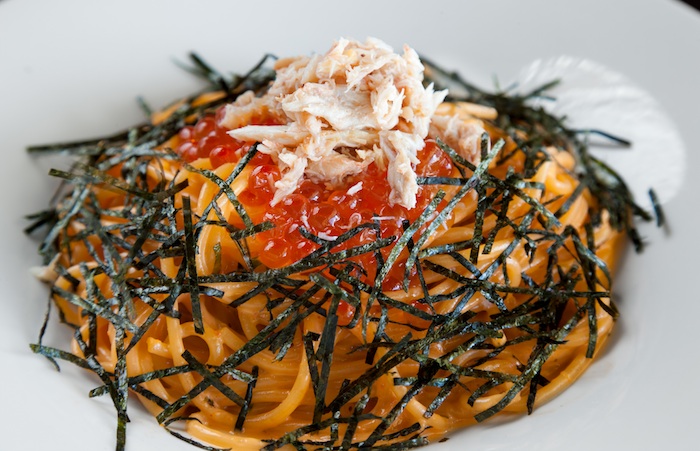 Chez Kenzo: Uni Pasta with snow crab and ikura (pictured)
Chris Kajioka: Sake-cured Ikura with potato purée, grain furikake, green apple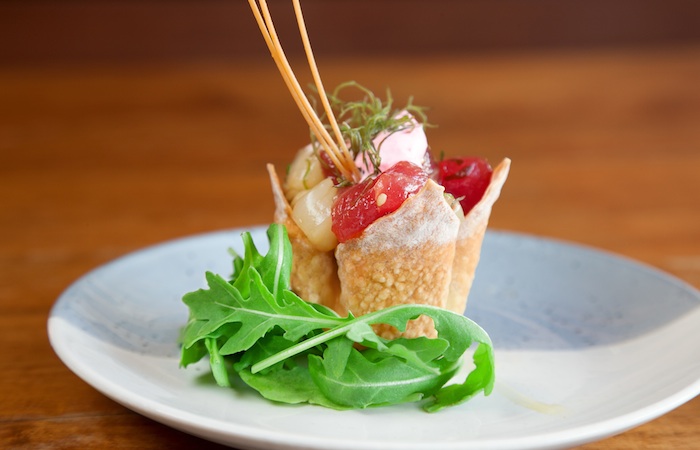 Doraku: Kakaʻako Kainalu Ahi & Scallop Poke with sambaizuke and habanero tobiko creme fraiche in a won ton cup (pictured)
Gokujo Sushi: Freshly rolled Temaki Sushi filled with spicy ahi or crab and cucumber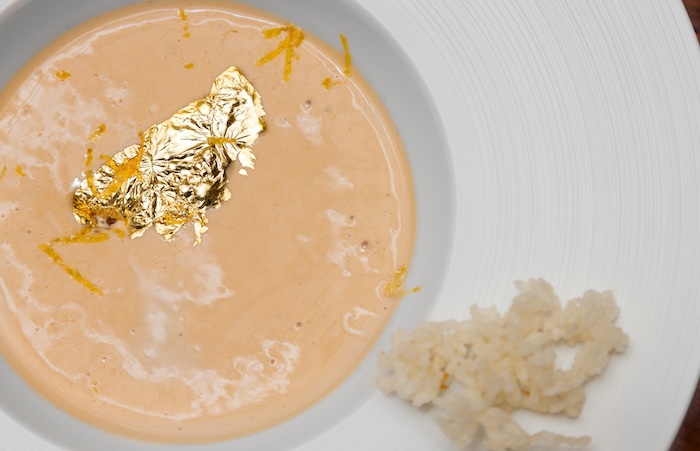 Halekulani: Lobster Espuma, puffed rice (pictured)
Hale Ohuna: Chilled Udon with Mana Ai sour poi-coconut-ponzu broth, Ho Farms okra and tomatoes and toasted coconut
Highway Inn: Smoked Wild Boar with Big Island poha berries and kabocha purée (pictured)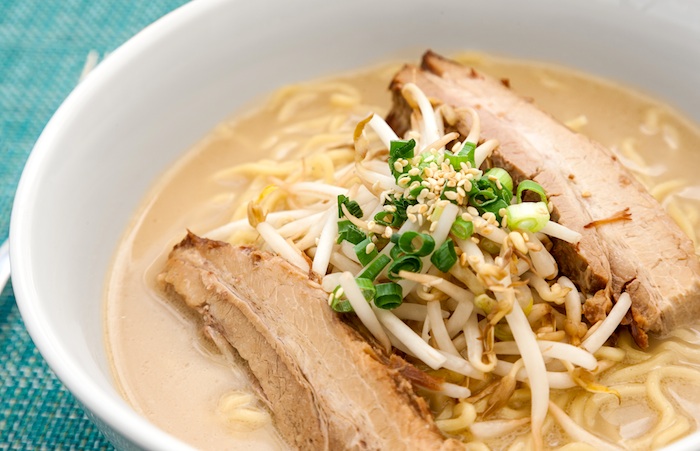 Kahala Hotel & Resort: Soy-braised Kurobuta Pork Belly Ramen with toasted sesame seeds, bean sprouts, Tokyo negi and chili oil (pictured)
Kaiwa: Softly Steamed Octopus with warabi fern
Migrant Maui: Kiawe Bean Flour Fat Chow Funn with tinono pork belly and bacon-shiitake cream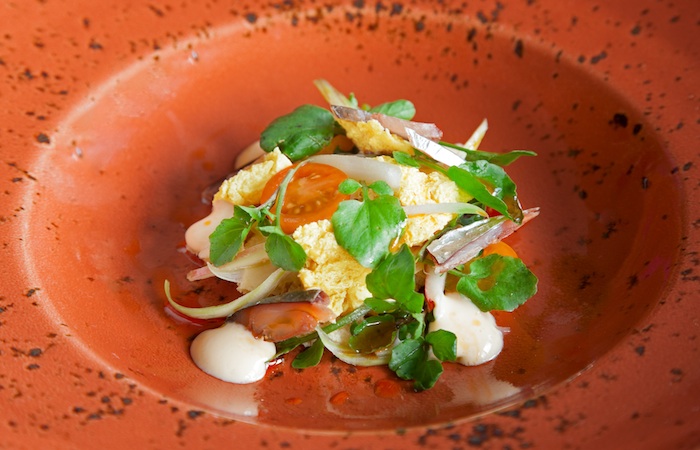 Mission Social Hall & Cafe: Summer Salad of Namihana Hawaiian Shochu-braised celery, tofu, dried akule, young chard (pictured)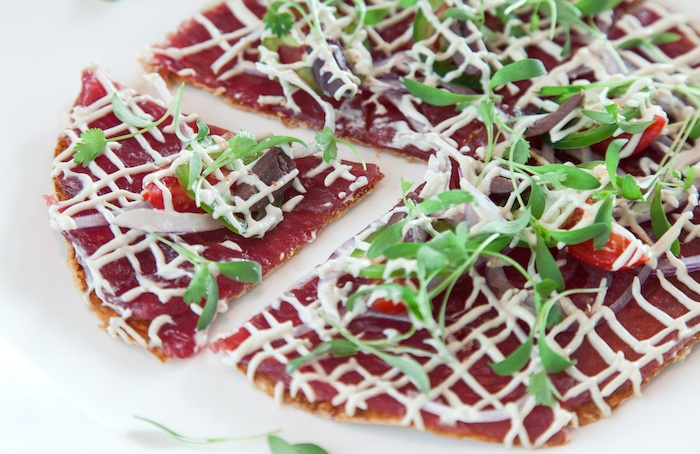 Morimoto Waikiki: Fresh Ahi Pizza with olives, anchovy aioli and jalapenos (pictured)
Mud Hen Water: Pig's Feet Soup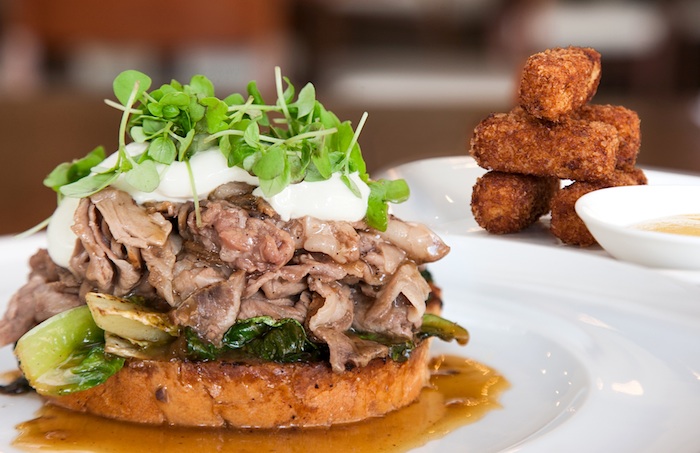 MW Restaurant: Roast Beef with Corn Polenta Fries and yellow ketchup (pictured)
Top of Waikiki/SKY Waikiki: Kim Chee Quinoa and Kalbi Marinated Pork with Kula baby romaine in a rice paper wrap
Finally, your sake tips:
Don't even try to taste all 391 sakes. Don't think of it as a challenge. Think of it as a chance to find sakes you really like. About three dozen is an excellent sampling.
All the sake is self-serve, Japanese-style. That means you'll use small siphons to put a small sip into your cup. This method works because 1) you get to taste a lot and 2) it saves you from wasting an entire cup of something you might not like. When you find something oishii, stay there and siphon some more.
If you're new to sake, head for the daiginjo tables. These are the most elegant and expensive sakes. Daiginjo A sakes will be mild and slightly floral. Daiginjo B sakes will show more range.
Sip and nibble. Sake's amino acids give it a lot of umami. This and its smooth characteristics — it's never as sweet as sweet wines, never as acidic as tart wines — make it eminently food-friendly. Grab plates of food, take them to the sake tables, and experiment.
Pairings? In general, big, meaty flavors and fried foods go well with junmai sakes. A lot of seafood and herbaceous dishes go well with ginjo sakes.
Look for the stars. These sakes are the best: They're the labels that 167 master brewers entered into the U.S. National Sake Appraisal, which is held two days before the Joy of Sake. Judges blind-taste all 391 sakes and award gold and silver stars to the ones with the highest scores in aroma, taste, harmony and overall impression. When you see a star on a sake card, drink that sake.
— Photos by Darryl Watanabe Photography