The Farm Fair's winning pie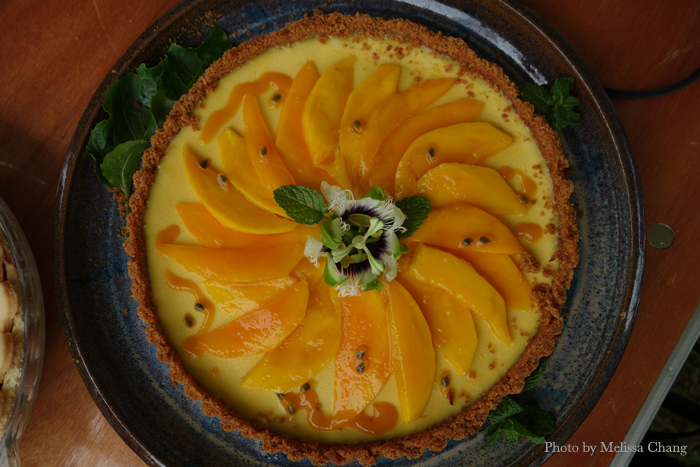 I love it when my worlds intersect! Yesterday I got to be a judge at the Hawaii State Farm Fair's annual pie recipe contest, tasting three finalist pies and representing Frolic Hawaii as a foodie. I had to be there anyway, since the Farm Fair is my social media client, but this was the first time I got to actually judge this yummy contest.
Each year, the Farm Fair puts out a call for entries, and the submitted recipes are first judged by Amy Brookes of Cake Envy, Dawn Sakamoto Paiva of Watermark Publishing, and our own Ed Morita. This process wheedles the field down to three finalists, who then must bake their pies and bring it to the Farm Fair for tasting. Big City Diner was the title sponsor of this event.
We judged the pies on use of local ingredients (40 percent of the score), taste (40 percent), presentation (10 percent) and creativity (10 percent). I'll be honest, now that the contest is over I can tell you that the second place winner (who won last year), Cynthia Murakami Pratt, was my favorite. Her pie didn't look exciting, but I couldn't stop eating it because it was so delicious. I hope she tries again!
The winning pie was Tropical Melange by Pamela Jinnohara of Mililani, and as you can see, it hit a home run for presentation. It tasted good, too, but I think its looks counted for a lot. If you'd like to make this award-winning pie yourself, here's the recipe:
Crust:
1/2 cup sweetened flaked coconut
1/2 cup Diamond Bakery graham cracker crumbs
1 T Maui Brand Sugar
Generous pinch of Hawaiian salt, pulverized in grinder
1/4 cup Naked Cow Dairy butter (preferably unsalted), melted
Preheat oven to 350 degrees. Stir together coconut, graham cracker crumbs, sugar, salt, and melted butter in medium bowl until well combined. Reserve 1 T of the crumbs. Press mixture evenly over the bottom of an 8 to 9 inch tart pan with removable bottom. Bake the crust until golden brown, about 10 to 15 minutes. In a separate pan, bake reserved crumbs until lightly brown, about 5 minutes. Remove from oven and let cool.
Reduce oven temperature to 325 degrees for baking the pie filling.
Pie filling:
5 oz. (2/3 cup or 140 grams) cream cheese, room temperature
4 to 5 T Maui Brand Sugar (adjust according to the sweetness of the mangoes)
2 large Peterson Farm eggs
1/2 tsp Hawaiian vanilla extract
1/3 cup mango puree from a local mango. Hayden, Keitt, or Pirie work well.
2 T fresh local lilikoi juice
1 T fresh local lime juice
1 tsp. fresh local grated lime zest
Mix cream cheese until smooth. Add the sugar and mix well. Add eggs and mix until thoroughly combined. Stir in vanilla. Add the mango, lilikoi, and the lime juice and mix until well blended and smooth. Stir in lime zest. Pour filling into pre-baked pie crust and bake for approximately 25 to 30 minutes or until filling is set. Transfer pie to a wire rack to cool. Cover and refrigerate until well-chilled, at least an hour.
Topping:
1 to 2 local mangoes, sliced thin
Lightly sweetened whipped cream
Fresh local mint, from the garden
Mango coulis (sauce):
3 ripe local mangoes pureed with 2 tablespoons local limbs juice and t tablespoon Maui Brand Sugar, drained through a sieve.
Remove pie from tart pan and place on a serving plate. arrange mango slices on top of the pie garnish with whipped cream and fresh mint leaves. Sprinkle reserved coconut/graham cracker crumbs on top of pie, then serve with mango coulis on the side.
The Hawaii State Farm Fair runs through today, July 12, from 9 a.m. to 5 p.m. at Kualoa Ranch. Parking is free; admission is $5 for adults and free for children and students with a valid ID. (If you have a Foodland Maikai card, you can get a dollar off admission. See you there!