The evolution of Salt Kitchen and Tasting Bar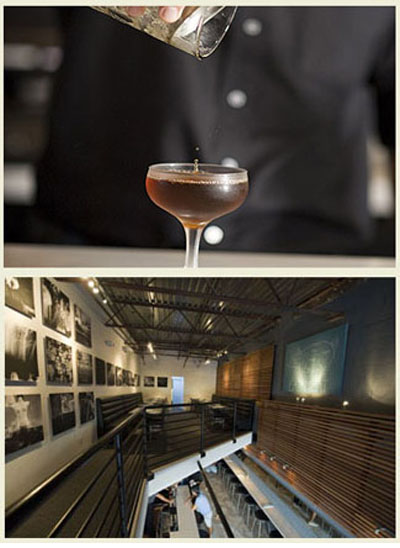 Our Restaurant Guide is out on newsstands now (and available on digital download). But there are always more restaurants than we have room to cover. One of the places to include in the Eat Here Now roundup: Salt.
Salt is 12th Ave Grill's younger sister—more casual, a bit trendier, leaning a bit more on the booze. It started out with a menu of small plates and a few sandwiches, but in the year since it opened, has pared down the number of bar snacks and added some entrée-sized dishes. Will the other, newer restaurants focusing on small plates make similar concessions? We shall see.
Salt is still a bar first, even if only forced into it by the space—long and narrow, the bar taking up half the lower dining area (there are only a few tables in the loft above). This is not such a bad thing when the bartender creates such cocktails as the Brooklyn (similar to a Manhattan but with dry vermouth and cherry liqueur for sweetness) and the Revival, with gin, fresh lemon, cherry liqueur and absinthe.
Meat is the other highlight at Salt, such as in the charcuterie platter of housemade terrines, sausages and cured meats from local cows and pigs. It might include cured meats like prosciutto as well as summer sausage, maple chicken liver pâté and a crispy round of fried headcheese. The mixed grill also utilizes local beef and pork in a plate of smoked beef tongue, flatiron steak, and pork loin (cuts vary daily). Salt was one of the first restaurants to introduce poutine to Hawai'i. This glorious, messy pile of fries, gravy, and cheese curds is ubiquitous in Montreal; Salt reimagines it with duck confit and its own soft, fresh cheese curds.
Salt, 
3605 Waialae Ave., 744-7567, salthonolulu.com