The Dirty Apron: A taste of Vancouver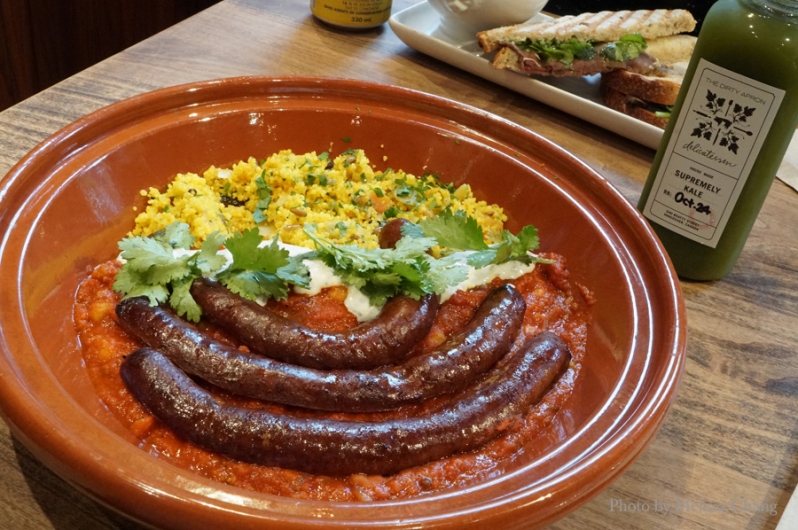 I had no idea Vancouver was so hipster. I knew that there would be a lot of Chinese people, since it's known as the Hong Kong Annex, but I didn't realize that the city would be an extension of San Francisco, Portland and Seattle (although that totally makes sense).
This whole region of the Pacific Northwest is also known as Cascadia, I assume because of the Cascade mountain range that runs through this area. They all have a similar climate — cold, wet, and cloudy — and the denizens tend to be culturally, environmentally, and sustainably aware. And this is all reflected on the culinary front. I only realized it when I walked a few blocks and saw several signs for restaurants that were gluten free, vegan, paleo, and/or specialized vegetarian. Not all restaurants were like this, of course, but the fact that these special restaurants were mainstream for them said a lot about the people who live there.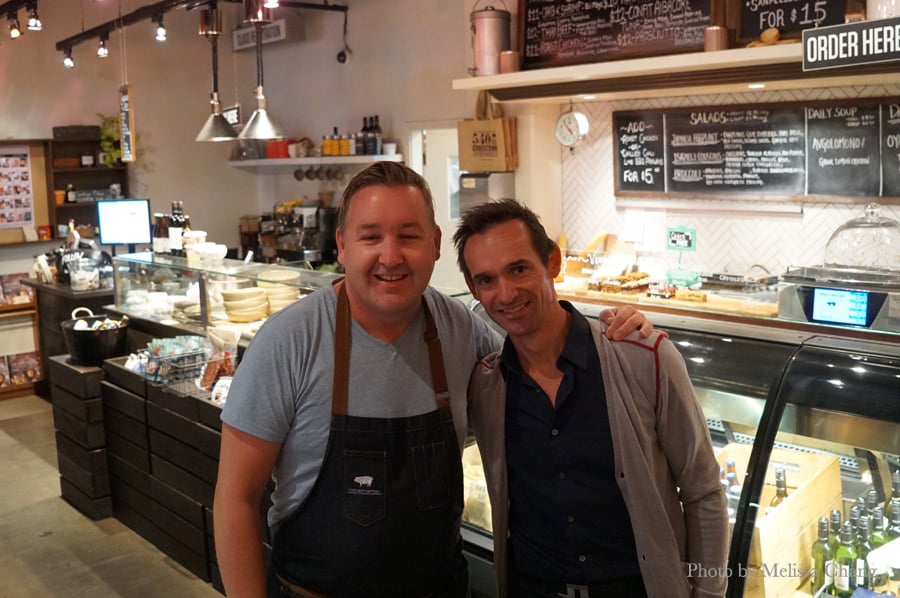 Eating local, of course, is something we all can agree should be mainstream everywhere. "You can eat at a Canadian chain restaurant," chef David Robertson said, "but when you dine at a small, locally-owned establishment, you're actually supporting someone's kids' soccer team, their music lessons, their community. It is more than just a good meal."
We had the good fortune to see Robertson himself at his restaurant/cooking school, The Dirty Apron, when we ducked in for lunch one day. My hostess Christine Campbell was taking me on a whirlwind tour of downtown in the rain, and while looking for a place to eat, we noticed there was no line, which was unusual. And she had always wanted to try it. Perfect.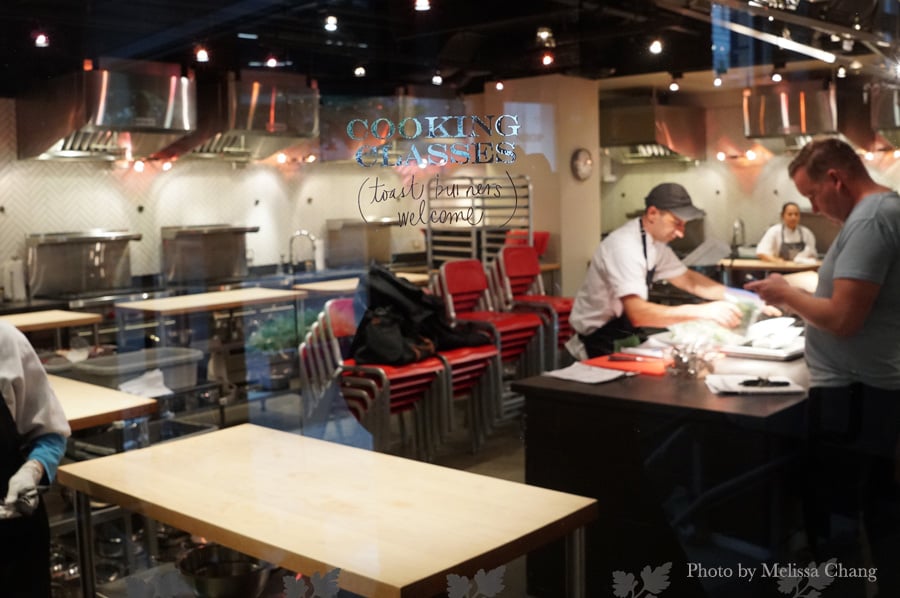 The restaurant has a cooking school on one side, where regular people can learn everything from basic to fancy techniques. In some cases, many of the ingredients are prepped beforehand, so students can assemble their meals as they learn. (Kind of like Will Chen's Fresh Box, but in cooking school form.)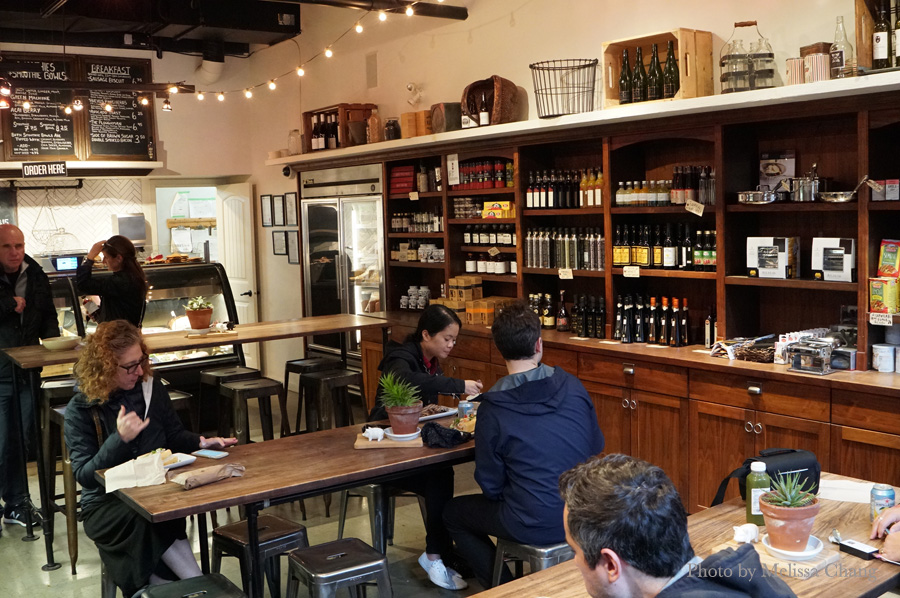 The deli side is super casual, with lots of gourmet merchandise. It's kind of nice to be eating gourmet food in such a chill atmosphere, which is probably why Christine's coworker takes a lot of first dates here.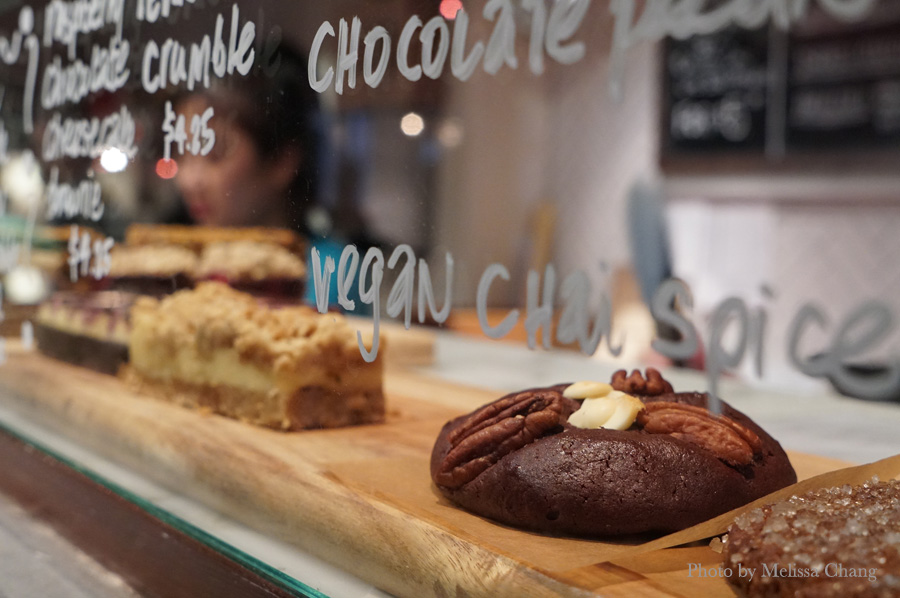 Some of the sweets offered. When Haas walked in, Robertson told him not to eat or judge his desserts!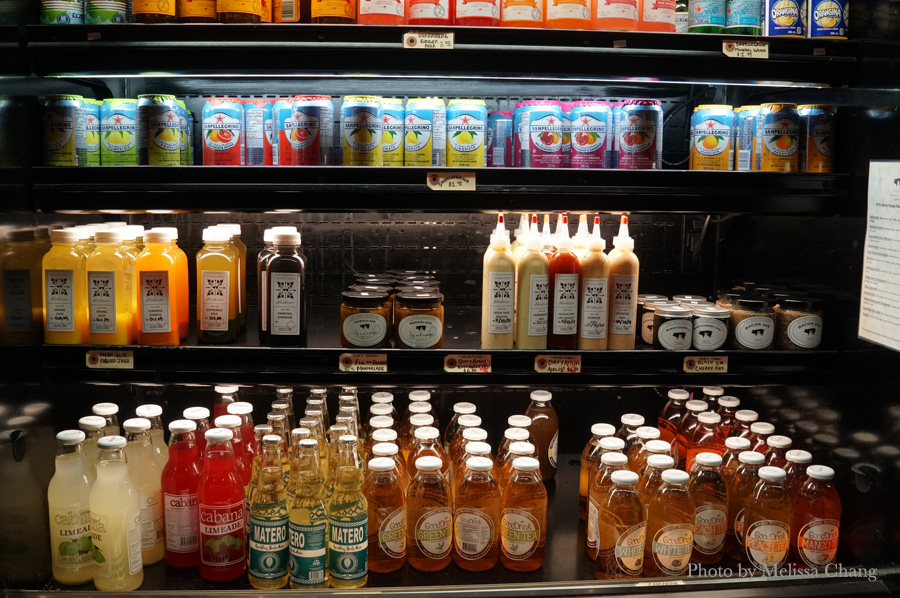 It may be cold outside, but it wouldn't be Cascadia without a fully-stocked juice fridge.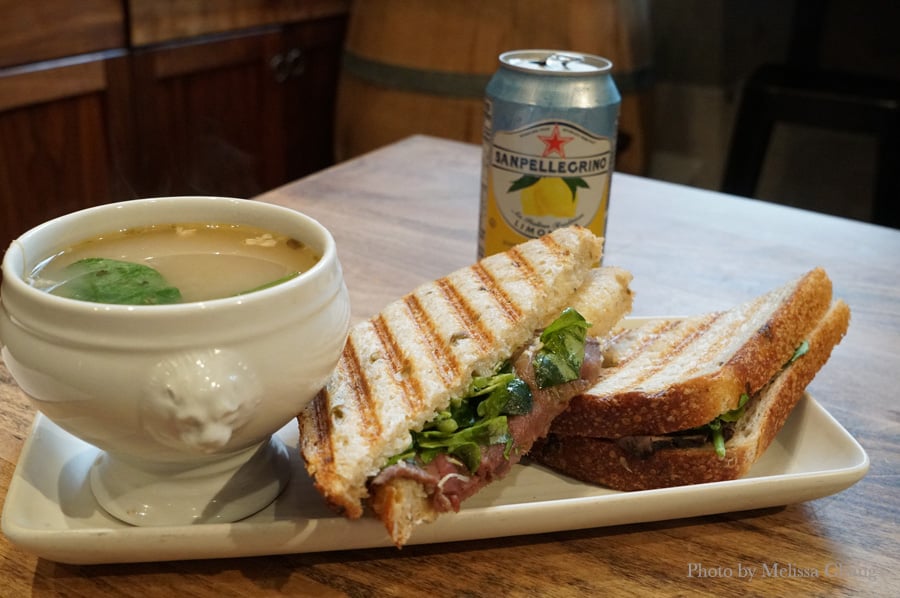 Christine had the Dirty Deal, which is any sandwich with soup or salad and a San Pellegrino, all for $15. The soup of the day was a Greek lemon chicken soup, which was a beautifully creative twist on an old favorite. That bit of citrus subtly pulled the savory and rich flavors together. And the roast beef sandwich had its own elevated flavors, with chimichurri, watercress, charred tomato salsa and horseradish mayo. Props to Christine for choosing this place, and for approaching Chef for an intro!
The Dirty Apron
540 Beatty St., Crosstown
Vancouver, BC Canada V6B 2L3
604-879-8588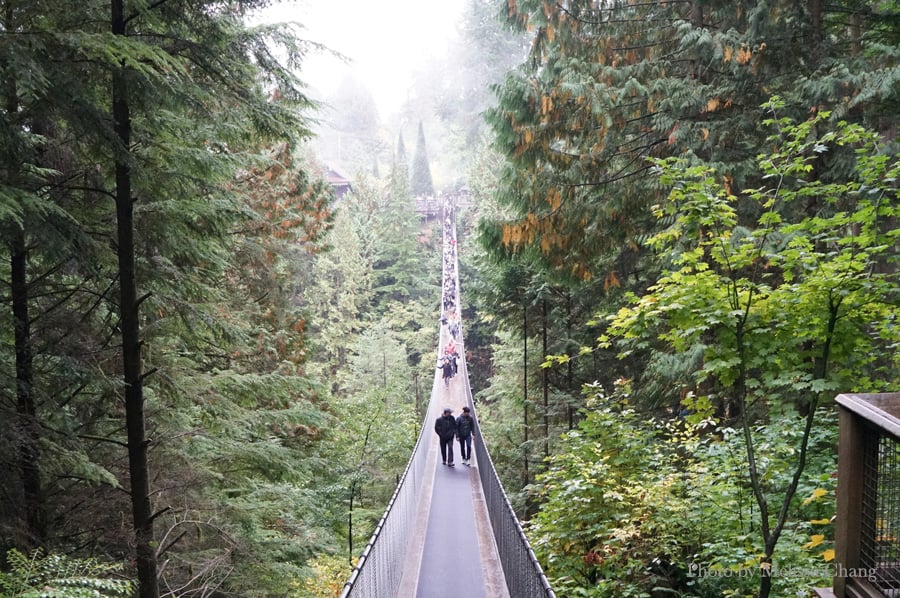 If you are a first-timer to Vancouver, I do recommend the Capilano Suspension Bridge Park. Yes, it's touristy, but the views are beautiful and you learn a bit about the history of the area and the indigenous people. (We call them Native Americans; Canadians call them First Nations.) For me, it was also a great workout, which I really needed.
I had actually been here when I was nine, and I remember running across at least part of the bridge, which did not amuse my parents. Now, they have someone sitting in a booth at the end of the bridge and they will scold you over the loudspeaker if you run or jump on it. Sorry, folks!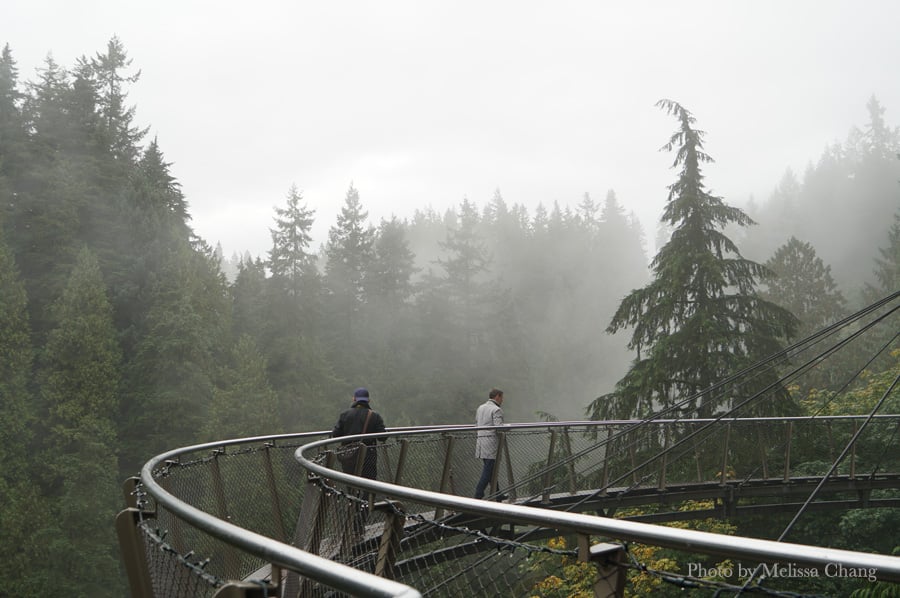 If you're afraid of heights, this park isn't for you. The bridge itself is one thing, but there's also a cliff walk that takes you around the outer edge of … well, one of the cliffs. The photos you can get from here are so nice, though.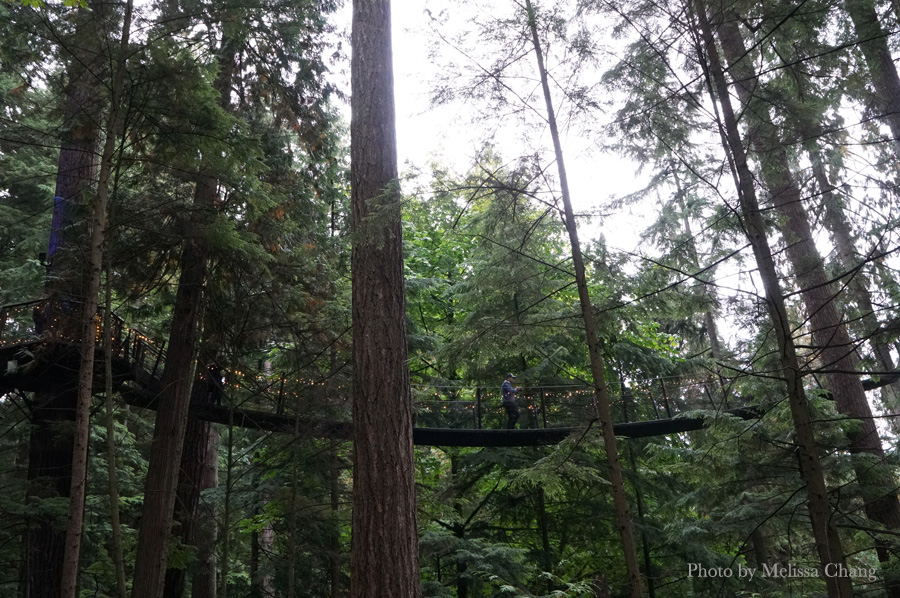 If you are familiar with Singapore's Super Tree Grove, Capilano has its own, but with real trees. You have to climb a staircase up to these treetops, and walk around to get some photo ops.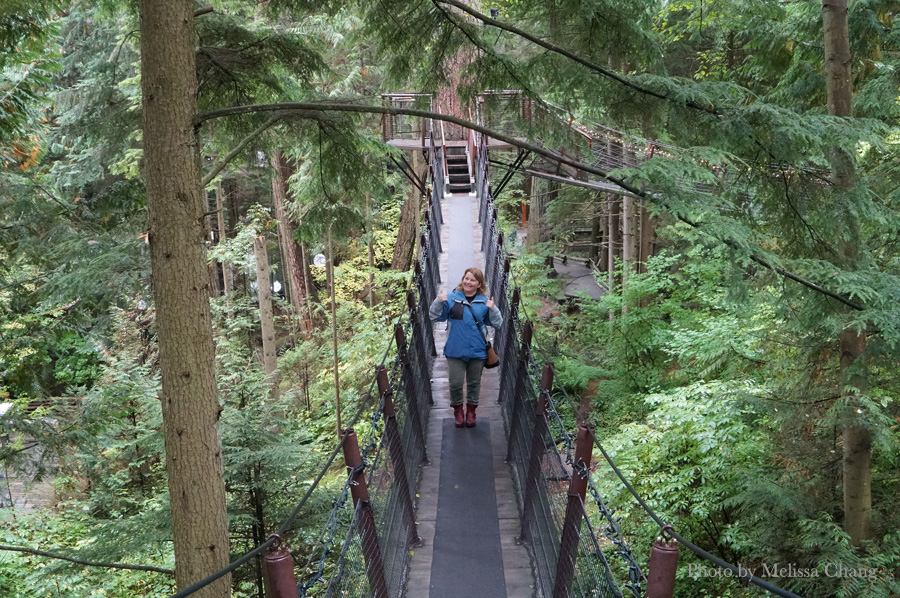 Christine between the trees.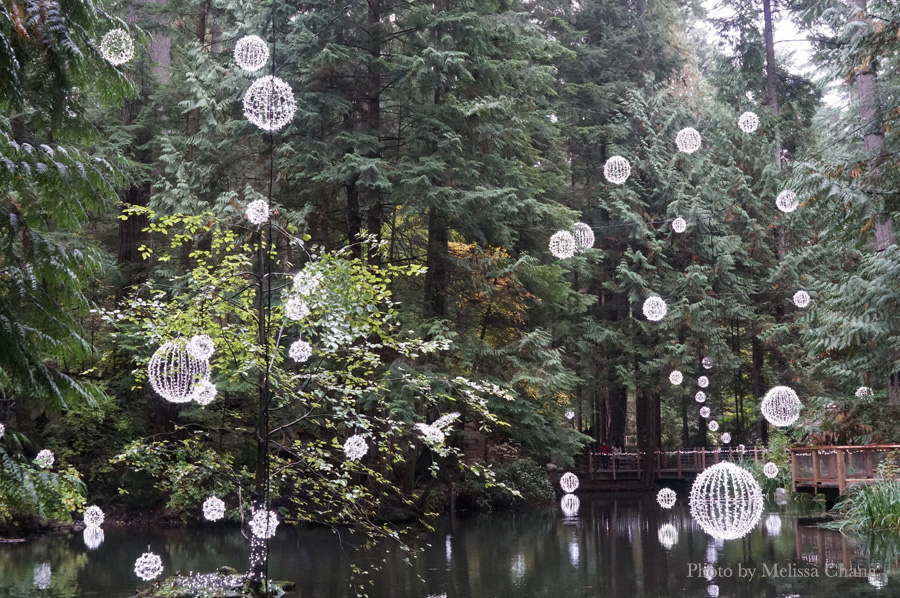 When we got there, they had just started decorating for Christmas, but if you are on your way now, they've probably got all the decorations and lights up. I'll bet this pond looks spectacular at night!
Capilano Suspension Bridge Park
3735 Capilano Rd.
North Vancouver, BC
Canada V7R 4J1
604-985-7474
That was my super quick trip to Vancouver, but I got most of the touristy stuff out of the way so I can simply eat my way through the city when I go back. Mahalo to Christine Campbell for being the hostess with the mostest! If you're looking for an Airbnb in Vancouver, hit her up, here. Up next: Eating my way through Calgary!
To see all of my photos from this day, click here. To see all my photos from this trip, click here.