The Descendants Win Golden Globe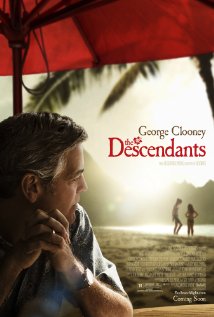 The Descendants defeated five other contenders for a Best Picture win at the Golden Globes, while George Clooney scooped a Best Actor Golden Globe for his performance as Matt King in that film.
Best film of 2011? I knew that it was getting great reviews, but always felt like the critics had seen a different movie than the one I saw. It was OK, not bad as a drama, but not great; mainly notable for not actually screwing up its presentation of Hawaii. Golden Globes are bestowed by the Hollywood Foreign Press Assoc., comprised of working journalists who cover Hollywood from 55-odd foreign countries and I think the Hawaii setting, and how it was handled, cinched it for them. A lot of us kamaaina went to The Descendants and were relieved to see a major Hollywood movie treat us with respect and treat the Islands as a real place, with real problems, even if those problems seemed mainly confined to old money Punahou alumni. We were relieved, but I think this was catnip for critics and foreign journalists, for whom the idea that life in Hawaii can be as difficult as life anywhere was some sort of earth shattering revelation.
Absent that element, what we got in The Descendants was a fairly unremarkable soap opera of inheritances and infidelity that never quite delivered the emotional punch it could have. Indie film quirks abound, though I was glad to see director/screenwriter Alexander Payne dial this quality down from his unwatchably smug wine-snob film, Sideways, which was 2004's catnip for critics.
For me, The Descendants inability to really land its emotional punch at the end boiled down to George Clooney himself in the lead, and it's odd that he's won a Golden Globe as Best Actor for this film. Does anyone ever really forget that they're watching George Clooney in any George Clooney movie? When his Descendants character, Matt King, is beset by woe and angst, it often falls flat. I'm looking at the screen thinking, "Come on, he's George Clooney! He'll be fine!"
Having said that, there was a sequence where Clooney transcended his own innate coolness. When his teenage daughter tells him at home that his comatose wife has been cheating on him, Matt King realizes that his friends must have known about this. He decides to run to their house down the street to confront them. That's when he goes to the door and has a totally natural, local moment of fumbling to get his shoes on in a hurry. You've done this yourself; you've seen it happen. You've got to get somewhere in a hurry, maybe under emotional duress, but there's that moment where you've got to dig your shoes or slippahs out from under everyone else's at the door. That moment, and his subsequent dorky, panicked run to the neighbor's house, felt genuine. Revisit it at about 1:15 in the trailer.
My own movie critic thoughts aside, congrats to everyone on the win. No doubt about it, it's great to see something sincerely of the Islands get rewarded. Author Kaui Hart Hemmings, who wrote the original novel, should be thrilled and proud.
So, readers, what was your reaction to The Descendants? Loved it? Hated it? Appeared in it? Let us know!
Related Links:
Kaui Hart Hemmings beats literary odds
The Descendants: Behind the Scenes
Hawaii at the Movies
Hollywood in Hawaii
Other Links:
Oahu and Kauai Filming Locations
Hawaii homes used in The Descendants