The Cure at Blaisdell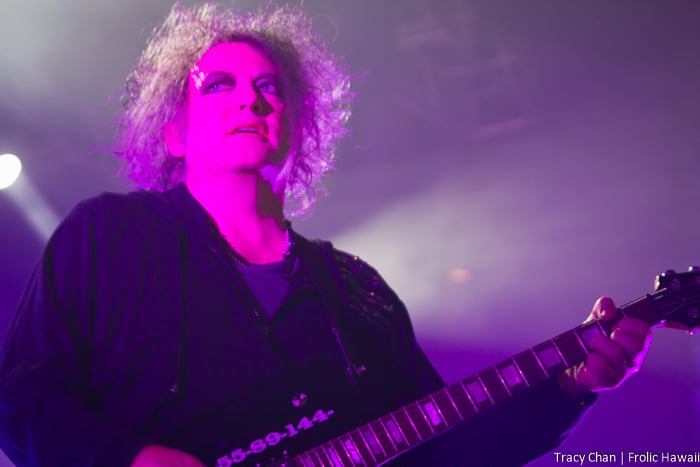 It's hard to believe The Cure has been around for 37 years now, but the legendary band's hits are, if anything, just as beloved today as they were in the 80s. Robert Smith (voice/guitar), Simon Gallup (bass), Jason Cooper (drums), Roger O'Donnell (keys) and Reeves Gabrels (guitar) delivered Saturday night at Blaisdell.
After their three-hour Honolulu debut in 2013, it's no surprise that tickets sold so fast for Saturday that a Sunday show was added. With about 6,000 people in attendance Saturday, the atmosphere was still surprisingly personal. People danced in the aisles and relived their memories associated with the songs.
Classics like "Pictures of You," "Lovesong," "Just Like Heaven" and "Friday I'm in Love" got enthusiastic receptions – and although the crowd didn't respond as well to the B-sides, rare tracks and two new songs on the repertoire, the diversity displayed in this lineup was an improvement over 2013's show.
One thing the band is known for is really giving fans their money's worth. While most visiting acts will only play about an hour set, The Cure delivered a solid two hours and 45 minutes of music – 33 songs total – all skillfully and professionally executed. About half of that was planned encores – four mini-sets that topped the last Honolulu show's two encores and ended with an energetic rendition of "Boys Don't Cry."
Opening was local act Ivory City, who won the spot through an audition and succeeded in filling the vast arena with their catchy indie-pop-electronica sound.