The Coffice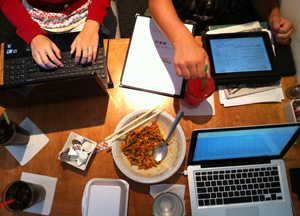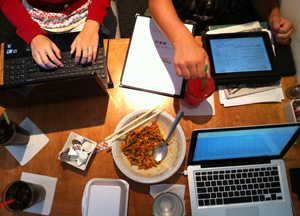 Note: This blog post is repurposed from its original by Sam Title of www.TheCoffice.biz. You can read it by clicking here.
It's been about two years since I unintentionally left Corporate America to become a white-collar migrant worker. At first, I did everything people suggested for working from a home office: I would get ready to go to work every day, I'd have "work" clothes, and tried to be disciplined. It was okay. Just okay.
But as time passed, it really got too quiet. Home officers say there are too many distractions in the house, but I don't know if that's what it was for me. I like to have the buzz of people about me, even if they're not talking to me, and just be able to feed off their energy.
I needed to find places that had free wifi (although I now carry my own, thanks to Oceanic's OCMobile), ample free parking, comfortable seating, and refreshments. A place that provides electricity is a plus, so I can stay as long as possible.
Recently, though, I've found many other independent practitioners, all from different lines of work, doing the same thing. We get together and work, and we work hard. And in between, we'll look up and be social for a bit, before putting our noses back to the grindstone. We're respectful of each other's need for concentration, but appreciate the opportunity to bounce ideas off someone with fresh perspective.
Thanks to my friend Rick Nakama, I now know that this is the global phenomenon known as The Coffice.
"Coffice" is a conjunction of the words "coffee" and "office," a term to describe the local coffee shop that is utilized as a place for performing daily work-related tasks; a location for non-office (or occasional office) dwelling workers to create nontraditional work environments in which to conduct their business.
In the August issue of Hawaii Business magazine, Beverly Creamer wrote an article about the "new" cofficing phenomenon. Yes, that's me on the cover, and I'm tooting my horn because I actually started my career at Hawaii Business, back when it was located on 825 Keeaumoku St. above Saigon Passion II. Who knew that I'd one day be in the magazine?
So. Here are some fun, quirky (yet typical) scenes from my coffice, usually at Yogurstory, and some of the people I see:
A day at the Coffice
My favorite coffice spots — all with free wifi and parking — include Yogurstory, Petals & Beans, Morning Glass Cafe, Starbucks, and client venues like Blue Hawaii Lifestyle and Good to Grill. Some friends like Glazer's, which I've never been to, or Kissaten, which is open 24 hours (but the wifi situation has changed). Where do you like to coffice?
p.s. Just a note to my friends who still don't understand that I have a job: This is my job.