The Bar Method arrives in Honolulu
I admit… I'm exactly who barre classes are aimed at — women wanting to be toned without getting too buffed, those who prefer working out in studios, preferably nicer ones, and don't mind paying for workouts that yield results.
I grew up more of an outdoor sporty person, playing tennis and running. But my 40+ body no longer can handle the stress of long-distance pavement pounding or whacking backhands in 80-degree temps, so over the last decade, I've steered myself to the less punishing Pilates and yoga. I've been open to expanding my fitness horizons, but CrossFit… No. And Zumba… You haven't seen me dance.
Elaina Olson, right, worked at The Bar Method's San Francisco headquarters and then moved to Hawaii to open the Honolulu studio.
So, when I received an email about the new The Bar Method Honolulu — a San Francisco-based company with franchised locations across the country — I was intrigued. Barre (as in ballet barre) classes have long been popular in big fitness epicenters like Los Angeles, San Francisco and New York. But now these buzzed-about body sculpting sessions are emerging across Honolulu, attracting followers with the premise that barre exercising can lead to lean, graceful dancer bodies. A ballet dancer's body? Really? Okay, I'm in.
Located at 2758 S. King St., in a Moiliili strip mall above Honey Glazed Hams, The Bar Method Honolulu is owned and run by Elaina Olson, a sharp, put-together Seattle native who gained her barre knowledge working at at The Bar Method's San Francisco headquarters. What's obvious after meeting Olson and taking class there three times (with two different instructors) is that she knows the business of barre. Even after only a month of being open, the studio runs with precision and has been adding classes to meet the high demand.
First off: This is about as far removed from your stinky, sweaty gym as possible. It's more like a fitness spa, with Lululemon-clad staff and clients, a spotless locker room and a waiting area replete with a Keurig, scented candles and magazines for browsing. The studio itself is carpeted (a plush, white carpet) with mirrors and ballet barres against the walls. Socks are required to prevent sliding, and various equipment (mats, hand weights, balls and straps) are incorporated throughout class.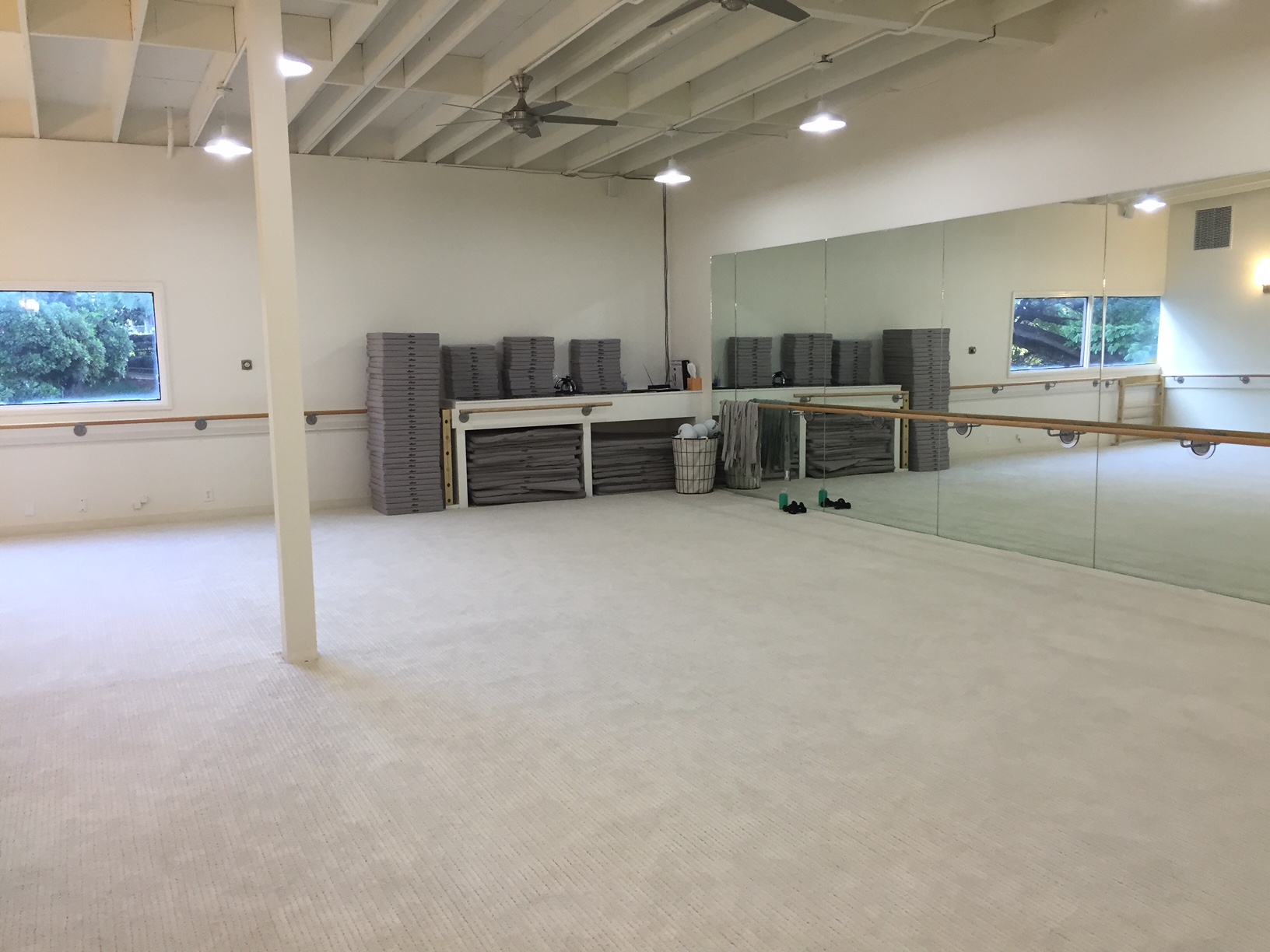 Girlish, yes. But the workout is solid. The hour-long classes, offered throughout the day Monday through Saturday, are taught by confident, well-trained instructors, who have the routines down pat and make frequent corrections, referring to each person by name. Each class consists of a series of intense, low-impact movements that target the whole body — shoulders, triceps, biceps, core, hamstrings, butt, calves and more. Prior to my first session, I had the misconception that barre class would incorporate ballet, but there's no dancing, turning, leaping or anything of the sort. Basically, you do lots of reps of various movements, some traditional like bicep curls and pushups, but others that involve the barre. One seated exercise, for instance, requires you to leverage your weight against the barre to lift your legs and work your core. Overall, there are similarities to Pilates, but with more burn.
"Mind over body" is the motto, and surprisingly the hour goes by very fast. There are no breaks; you just flow from one exercise to another. I have to warn you. There is pain, mostly from the prolonged repetition of the movements, but it's not masochistic. And I didn't sweat much, even though my muscles ached. By the end, I was tired, but invigorated. I didn't look any more like a ballet dancer than when I started class, but I'll take the mental high.
I suspect classes will become increasingly crowded as more people learn about the benefits of the barre, but The Bar Method is not cheap. Classes run $24 for a single session. You can also purchase a series of five and 10 classes for $110 and $210, or take advantage of a new student offer of unlimited classes for 30 days for $100.
The Bar Method Honolulu
2758 S. King St.
808-798-8449
honolulu.barmethod.com