The Baker Dudes' New Downtown Bakery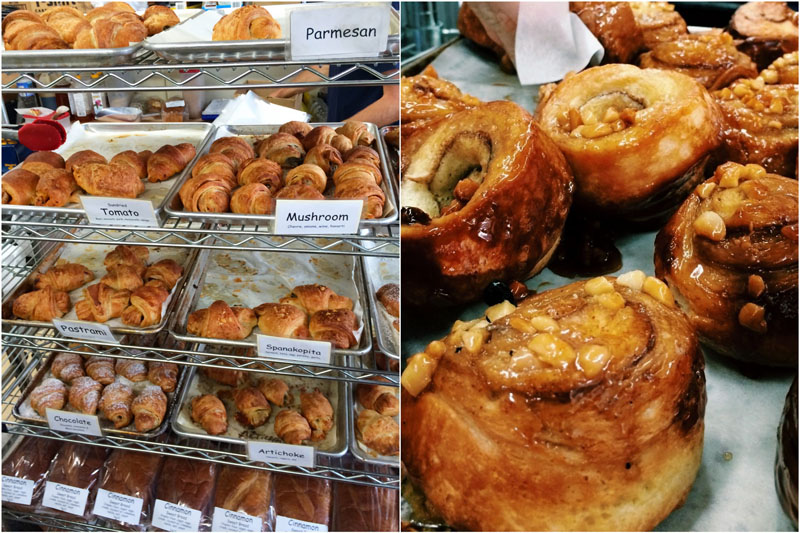 The Baker Dudes get points for even being able to bake at all. Between baking out of the back of a pick-up truck at farmers' markets and now baking out of their new closet-like location on Alakea Street, the dudes' stamina and ability to bake under the most imperfect conditions gets our respect.
After two years on the farmers market circuit, the bakers from the North Shore have made a non-mobile home for themselves on Alakea Street—a tiny little space where four commercial ovens line the back wall, leaving just enough room for a few bakers' racks that act as retail shelves and maybe—maybe—space for two people to stand very still and order from one of the dudes who moves carefully back and forth in the very narrow gap between the hot ovens and the shelves of baked goods, filling paper bags with pastries and loaves of bread.
We first met the Baker Dudes at the Sunday Kailua Farmers' Market, where they do actually bake on site, in an oven that arrives at the market on the back of a truck. It's Bakery: Impossible, if Robert Irvine made croissants. Even with their new downtown location, the Dudes can still be found at markets islandwide.
Baking up everything from sourdough boules, plain and flavored (the sun-dried tomato and asiago cheese is our favorite) to sweet bread to quick breads (skip those) to scones and cookies, the Dudes turn out baked goods at factory speeds and in fairly large quantities. Twice we've arrived late in the day (by bakery standards) and both times we've had an impressive variety of goods to choose from.
The sourdough loaves are much more dense and doughy and soft-crusted than the classic rustic loaf—it's kind of like bread-machine bread. The Dudes' signature pastry are their stuffed croissants, and though they're more like Pillsbury crescent rolls than their more refined French counterparts, it's hard to turn down layers of buttery crust filled with ham and cheese or chocolate. But even standing among towering racks of warm stuffed crescents, if we're going to carbo-binge with the Baker Dudes, it's going to be with their macadamia sticky buns. The gooey, sticky, nutty glaze all wrapped up in rolls of soft and squishy sweet bread? We'll take that any way they'll give it to us. Even from the back of a truck.
Baker Dudes, 919 Alakea St., 6 a.m. (until they sell out) Monday through Friday, loaves of bread from $6, pastries from $2.50
Baker Dudes can also be found at the Ward, Kailua, Pearlridge and Haleiwa farmers' markets.