The 7 Best Happy Hour Specials on O'ahu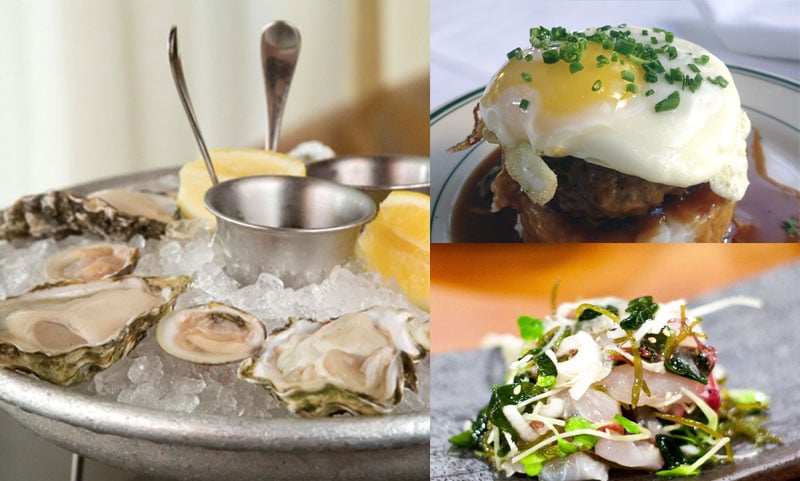 It's called "happy hour" for a reason. Here's our go-to list of the places that make us the happiest, from great cocktails to cheap beer to good food. Get out and get happy.
Cactus
If you're happiest on the Windward side, our favorite place for a cocktail and a few great appetizers is at Cactus in Kailua. Their signature frozen margaritas and frozen sangria are both $6, a pint of Dos Equis is a mere two bucks and everything on the happy hour menu is $1-$10. We suggest the super addictive fry bread ($2 during happy hour).
767 Kailua Rd., happy hour: 3:30 to 5:30 p.m. daily
Maile's Thai Bistro
When we're out east, we make a point to stay there until we've ordered at least a couple of domestic drafts at Maile's Thai Bistro, because for $2.50 a glass, there's no better reason to hang out in Hawai'i Kai. Plus, the Thai-inspired pupu menu (everything is $6 or less) is a nice change from the French fries and nachos we usually go for during happy hour.
Hawai'i Kai Towne Center, 333 Keāhole Dr., happy hour: 3 to 6 p.m. daily
Vino Italian Tapas and Wine Bar
This one's short but sweet. One hour, half off all food, and you must sit at the bar. The bar seats fill up fast, but we're down for a challenge, especially if it includes the roasted cauliflower and brie.
Restaurant Row, 500 Ala Moana Blvd., happy hour: 5:30 to 6:30 p.m. Wednesday to Saturday
Kincaid's
Sometimes we just want to get happy at a place that's been doing it right for years. Kincaid's offers a pau hana and late-night happy hour every day with $6 cocktails and $4 wines and beers. Bring on the crab dip and the baked brie, with a side of gin and tonic.
Ward Warehouse, 1050 Ala Moana Blvd., happy hour: 3 to 7 p.m. and 9 to 10 p.m. Sunday through Thursday, 9 p.m. to 12 a.m. Friday and Saturday
Wolfgang's Steakhouse
An hour is actually seven and a half hours in Wolfgang's time, and if we could stay there the entire time drinking $7 martinis and eating $7 burgers, sliders and mini loco mocos, we would. We love the cool darkness of the bar that feels like it's worlds away from our real lives. Happy, happy, happy.
Royal Hawaiian Shopping Center, 2201 Kalākaua Ave., happy hour: 11 to 6:30 p.m. daily
BLT Steak
There's one really good reason to get to Waikīkī for happy hour (besides Wolfgang's): the raw bar at BLT Steak. And it's less than $15. Not into seafood? Get the BLT Sloppy Joes ($14), a beautiful mash up of short ribs, bacon, barbecue sauce and French fries.
223 Saratoga Road, happy hour: 4:30 to 6:30 p.m. daily
Wada
Everything is between $3 to $5 on Wada's happy hour menu, which offers izakaya-style eats like crispy mochi sticks (like a fried spring roll of mochi and mentaiko) and salt poke (raw seasonal fish seasoned simply so it shines). Finish with the Wada shiso gohan (hot rice mixed with minced beef tongue and shiso). With sake at $3, too, it doesn't get any better.
611 Kapahulu Ave., happy hour 4 to 6 p.m. and 9 to 11 p.m. Tuesday through Sunday