The 2014 Na Hoku Hanohano Awards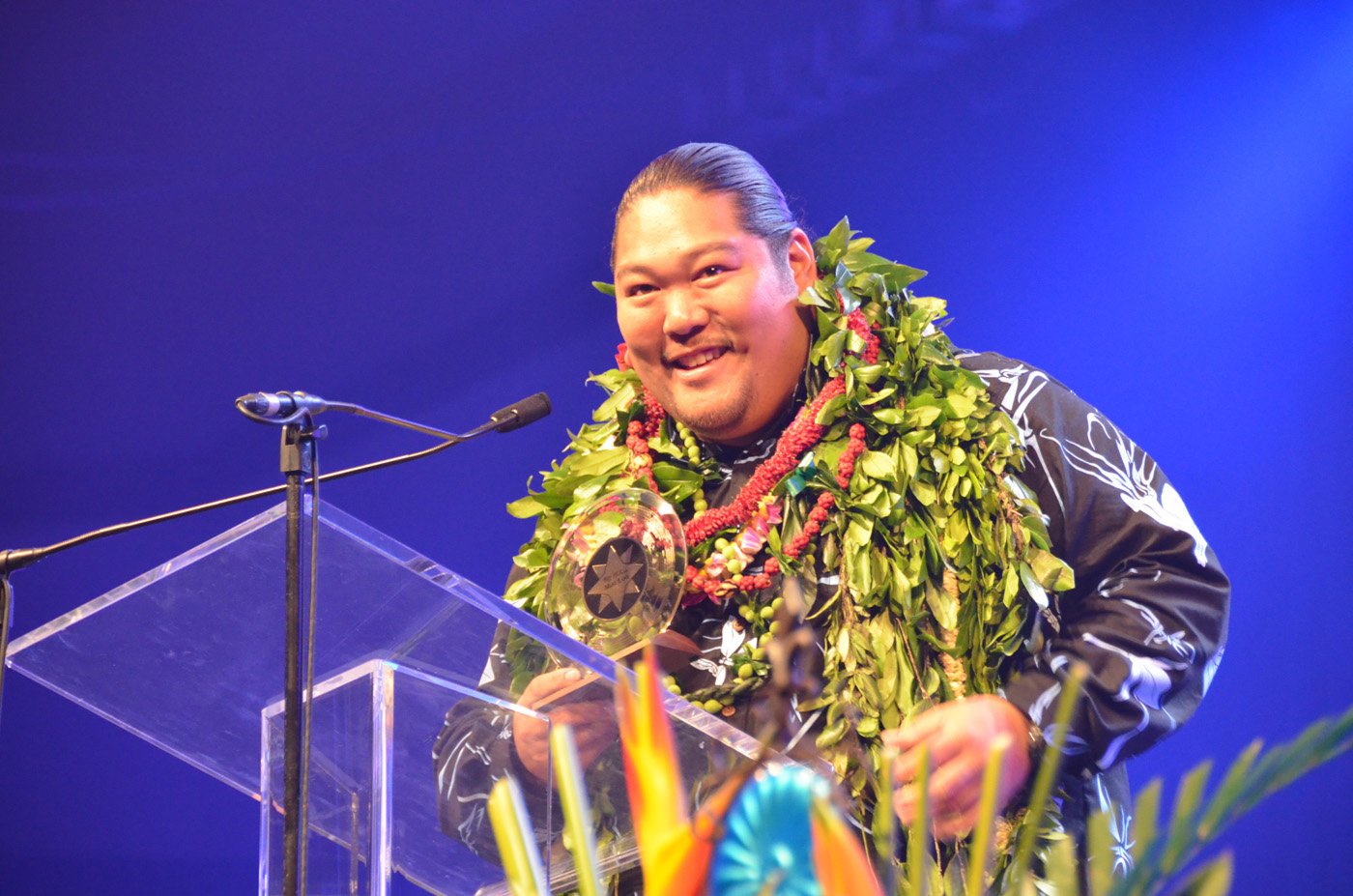 It was a star-studded night at the annual Na Hoku Hanohano awards, the most prestigious celebration of Hawaii's music. Some of the highlights included Hulu Lindsey winning Female Vocalist of the Year, her first Hoku award in her 55-year career; Mark Yamanaka winning five Hokus, including Male Vocalist of the year (tied with Kamaka Kukona, who took three awards); and reggae band The Green taking home three Hokus, including Favorite Artist of the Year.
Many of the featured performances were collaborations on style, such as Yoza's number with Willie K and Henry Kapono's song with Jake Shimabukuro. One of the most emotional performances, however, was Kawena Mechler's hula to "Kawena," a song written for her by the late Chino Montero that was nominated for Song of The Year (sung by Manoa DNA and Friends of Chino Montero).
Female vocalist of the year: Hulu Lindsey, "A He Leo Wale No E" (Kahulu)
Male vocalist (tie): Kamaka Kukona, "Hanu 'A'ala" (Hanu); Mark Yamanaka, "Lei Maile" (Hulu Kupuna)
Group: The Green, "Hawai'i '13" (Easy Star)
Most promising artist: Kamaka Kukona, "Hanu 'A'ala" (Hanu)
Favorite entertainer: The Green
Album: "Lei Maile," Mark Yamanaka (Hulu Kupuna), producers Kale Chang, Mark Yamanaka, Kellen Paik and Kalikolihau Hannahs Paik
EP (extended play): "Napili," Waipuna (Poki)
Single: "Maui Under Moonlight," Mark Yamanaka (Hulu Kupuna)
Song (composer's award): "E Ku'u Lei, My Love," Kuana Torres Kahele, from "E Ku'u Lei, My Love," Kuana Torres Kahele and Maila Gibson (Kuana Torres Kahele)
Instrumental composition: "Napili Bay," by David Kamakahi and Herb Ohta Jr., from "Napili," Waipuna (Poki)
Alternative album: "Just Dream," Amanda Frazier (Amanda Frazier)
Anthology album (producers award): "Eia," Natalie Ai Kamauu (Keko), producers Dave Tucciarone, Iolani Kamauu and Natalie Ai Kamauu
Christmas album: "Lei Kulaia," Napua (Pihana)
Compilation album (producer's award): "The Haumana" soundtrack, various artists (Koops2), producers Shawn Pimental and Keo Woolford
Contemporary album: "Cast Your Cares," Kapena De Lima (KDE)
Hawaiian-music album: "Lei Maile," Mark Yamanaka (Hulu Kupuna)
Hip-hop album: "The Akira Project," The Akira Project ('Aumakua)
Instrumental album: "Stainless: Steel Guitar Stylings of Greg Sardinha," Greg Sardinha (Keala)
Island music album: "Bumbye," Kupaoa (Hulu Kupuna)
Jazz album: "A Hui Hou: Until We Meet Again," Hula Honeys (Community)
Music video/DVD: "Let's Play Music: Slack Key With Cyril Pahinui & Friends," various artists (Pacific Islanders/'Oiwi), producers Na'alehu Anthony and Cyril Pahinui
R&B album: "Yoza," Yoza (Yoza)
Reggae album: "Hawai'i '13," The Green (Easy Star)
Religious album: "Hope is Alive," New Hope Oahu with Pastor Wayne Cordeiro (Dream)
Rock album: "Dangerous Crossing," Stuart Hollinger (Keala)
Slack-key album: "Slack Key Travels," Jeff Peterson (Peterson)
Ukulele album: "Pure 'Ukulele," Herb Ohta Jr. (Lele)
Graphics (designer's award): Daryl Fujiwara for "Hanu 'A'ala," Kamaka Kukona (Hanu)
Liner notes: Kale Chang and Kalikolihau Hannahs for "Lei Maile," Mark Yamanaka (Hulu Kupuna)
Haku mele (composer's award): "Bumbye," Puakea Nogelmeier, from "Bumbye," Kupaoa (Hulu Kapuna)
Hawaiian-language performance: Kupaoa, "Bumbye" (Hulu Kupuna)
Engineering: Lawrence Yurong, "Na'auao" by Sean Na'auao (Mountain Apple)
International recognition album: "Moe'uhane," Hoene (Hoene)
Ki Ho'alu Foundation Legacy Award: Yuuki "Alani" Yamauchi
Some of the pre-event festivities:
Manoa DNA And Friends of Chino Montero (featuring Kawena Mechler)
Yoza and Willie K performing at the Hokus