That's natto my Tokyo Hot Dog!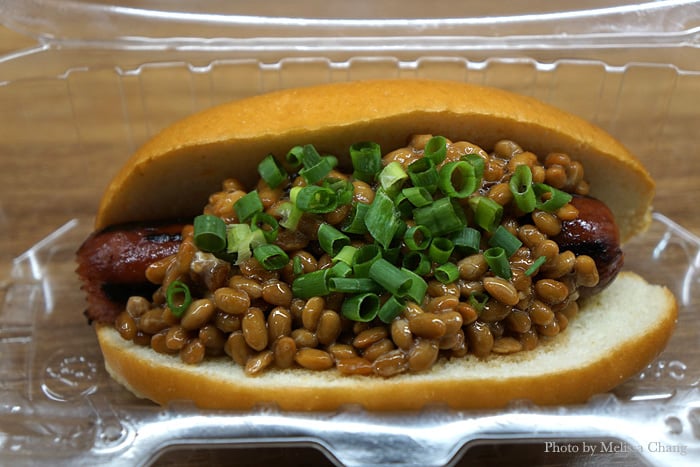 I finally made it to the new Shirokiya Japan Village Walk, just to meet one of the owners of Tokyo Hot Dog, Akihiro Hironishi. Thomas and Maka already got a taste when they previewed the whole food court, but I wanted to see what kind of unique toppings this particular venue offered, especially since it's the only hot dog spot in a room full of bentos and bowls.
Aki, as he likes to be called, and his partner Tien-Hao Wei, operate a company called Meat Hero from Japan. They specialize in beef bowl restaurants, which you can find near Asakusa, and Tokyo Hot Dog is their first wiener venture.
The menu and sample display of their unique dogs.
Of course, since International Natto Day is coming up, their natto dog caught my eye. Aki immediately ordered one for me to try, although he admitted that he was perplexed to see that local people really were into the stinky bean.
The verdict? Their natto is a little more moist and refined, since it's from Japan — it's not gritty like the Shirakiku brand at local supermarkets. The taste is mild, so first-timers might be able to take a bite. It's also not too stringy, so you won't have to wash your face after eating this. Yeah, you hard core natto eaters know what I mean. I liked that the bun, which is from La Tour, added sweetness; the bread is firm, so it doesn't fall apart while you're eating.
At this writing, they are considering a special, extra-long natto dog to celebrate International Natto Day. Maybe I'll see you there for lunch?
Now, they do have other dogs for normal folks … Aki, being from Japan, can't understand why local people love the yakisoba dog, their best seller. Hawaii people have a thing for carbs, so what's more perfect than noodles in a bun? They fry up Sun Noodle yakisoba, then pile it over the hot dog with nori, mayo and ginger. It tastes like an okazuya plate in every bite.
There are no surprises with the kim chee dog, which has a generous pile of spicy cabbage and nori burying the hot dog. It's spicy, but not too spicy, so almost anyone can eat it.
OK, so take a break and look to the left of the hot dog booth. Way left. Meat Hero also owns Mei-Ko En beef bowls, which are very popular with the Shirokiya crowd. It's very simple, just a lot of seasoned, paper-thin beef atop a bowl of rice.
Since they already have the beef and they know it's popular, they created a gyu-don hot dog. Whereas the yakisoba dog was carbs on carbs, here you get meat on meat. The gyu-don is salty-sweet (skewing more salty) and for lack of a better word, the meat is fluffy. When you order it, you'll see — since it's sliced thin, it doesn't feel heavy when you eat it and doesn't feel over-filling. In fact, it practically melts in your mouth. If I wasn't eating hot dogs, I'd probably go for the bowl next time.
Tokyo Hot Dogs are pretty reasonable meals at $4.99 to $7.99, and they are mighty tasty. Usually when you have food that's more of a novelty, they fall short on flavor, but these dogs stand up to the hype and are very satisfying.
…especially the natto dog. Wink.