Thanksgiving recipes from Hawaii chefs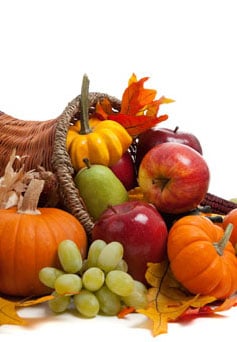 In a web-exclusive, three chefs shared their Thanksgiving recipes. James Donahue of Wolfgang's Steakhouse lets us in on his (formerly) secret roast turkey recipe, Mark Noguchi (Pili Hawaii, Taste) has a kabocha and brisket stew, and Sam Choy gives instructions on how to cook his Portuguese sausage stuffing. If you want to add these dishes to your Thanksgiving feast, definitely start shopping for ingredients now. The turkey needs some lead time, and both the stew and stuffing can be made ahead of time and reheated the day of to cut down on last-minute Thanksgiving stress.
Thanksgiving is one of my favorite meals to cook, but if the thought of time in the kitchen makes all thanks shrivel up and die within you, you can taste all these chef's cooking on Thanksgiving:
– Wolfgang's offers a traditional Thanksgiving dinner with roast turkey ($49.95, reservations 922-3600)
– Mark Noguchi, Alex Le of The Pig and the Lady, and Chris Sy of the BreadShop are putting together an everything-but-the-turkey takeout Thanksgiving for four ($80, pre-order online at eventbrite.com/event/4819524327?ref=ebtn)
– Sam Choy's Breakfast, Lunch and Crab offers brunch and dinner Thanksgiving buffets ($32.95 brunch/$36.95 dinner, samchoyhawaii.com/thanksgiving-buffet-2011/)
Need more ideas for Thanksgiving dining or reinforcements for cooking at home? See these Thanksgiving options for brunch, dinner and takeout feasts.