Thanks, readers for showing the way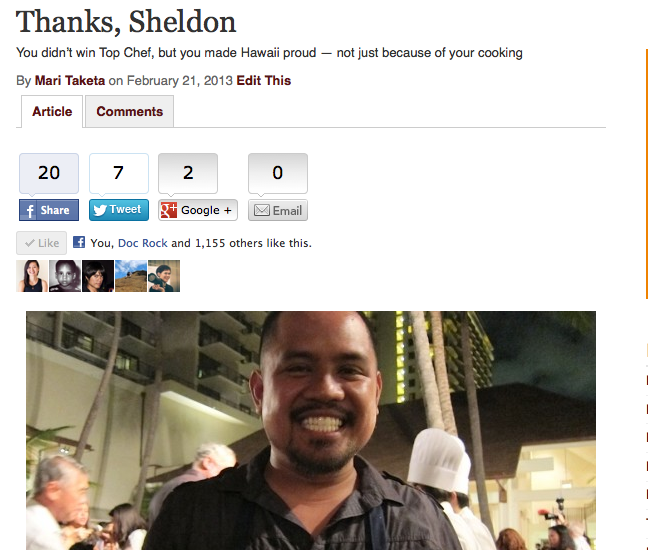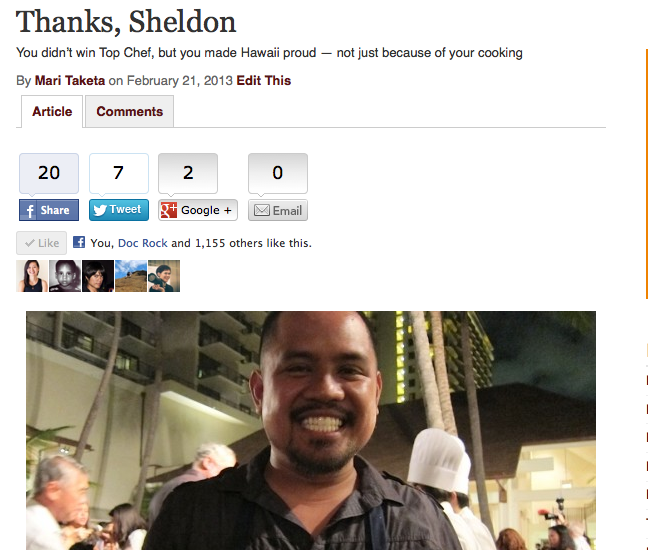 It's been awhile since I've blogged from behind the scenes of Nonstop Honolulu, not because of lack of activity, but because there's been a tornado of changes, ups and downs, periods of great enthusiasm followed by moments of doubt about whether an independent upstart like Nonstop can succeed in a corporate-dominated media world.
But I felt compelled to write last week, specifically after Mari Taketa's piece about "Top Chef" finalist Sheldon Simeon. I learned a lot not just about Sheldon from Mari's post, but about the power of writing from the heart, the amazing reach of social media and the niche that Nonstop can fill.
Mari's letter to Sheldon gave a great recap of the Maui chef's thrilling run to the show's finale, but that wasn't the reason the post went viral and received 1,159 Facebook likes (a record for us). In a very eloquent way, Mari shared how Sheldon moved her — how his enthusiasm to represent Hawaii on a popular national TV show made her feel proud, not just about our food and culture, but our way of being. She appreciated that he fearlessly stepped up to showcase dishes like adobo and sinigang, and she wanted him to know that despite not winning the top prize, what he did mattered.
With all the "likes" on the post, it's clear a lot of people agreed with Mari, that she somehow expressed what needed to be said to Sheldon on behalf of Hawaii.
The traditional media approach to a story like this would be to instruct a reporter to write a piece about what happened, how Sheldon fared, what unfolded on the show. Just the facts would suffice. But Mari decided to write this story because she choked up. She'd been watching the show all season, and after Sheldon was sent home, she kept thinking about his thank you to the judges, where, despite visible disappointment, he said he was happy he got to cook for Hawaii. By the time Mari watched the finale on tape, it was after midnight. She got out of bed to craft her letter and finished at 3 a.m.
A few hours after the post was published, Sheldon's wife, Janice, read it and created a link on her Facebook page, tagging Sheldon and instructing him to "stop moping around" and read the post to remember how awesome he is. As more people saw the letter from numerous social media shares, the "likes" kept ticking up. Later that day, Sheldon tweeted out a link to his 4,300 plus followers. After that tweet, the Facebook likes went up in dramatic fashion. Three hundred likes turned into 600, then 700, then 800. By Friday mid-morning, it was at 1,000 likes, and kept going up even two days after it was published.
Facebook likes are hardly the end-all metric for media success. But in this era of social media, it would be foolish not to regard them as a gauge of what stories have impact, or are embraced by readers. We need to care if readers are entertained, informed, motivated or moved, and if they are, we should figure out why and replicate it.
Personally, all this just reaffirmed something I've known for awhile, but am now absolutely convinced of. It's a new era for media, and people don't really want writers to be robots, churning out so-called objective stories when it's clear everyone has strong opinions and feelings. I know it's difficult for media outlets covering politics, news and such, since objectivity still must be attempted. But as an entertainment and lifestyle website, Nonstop can take more liberties. That doesn't mean being less accurate, but more emboldened to share our opinions, experiences and emotions.
Nonstop has no corporate ties. No one is telling us what to do or forcing rules on us. And our readers, not just in the case of Mari's stories, but with numerous other past posts, have clearly relayed that they prefer us to be non-traditional, and to freely share our humor, emotions and insights. If we truly aspire to be an alternative media, we have to step confidently in that space and provide something worthwhile — different, unconventional, but perhaps even more meaningful.