Terry's Place and the Underground Chefs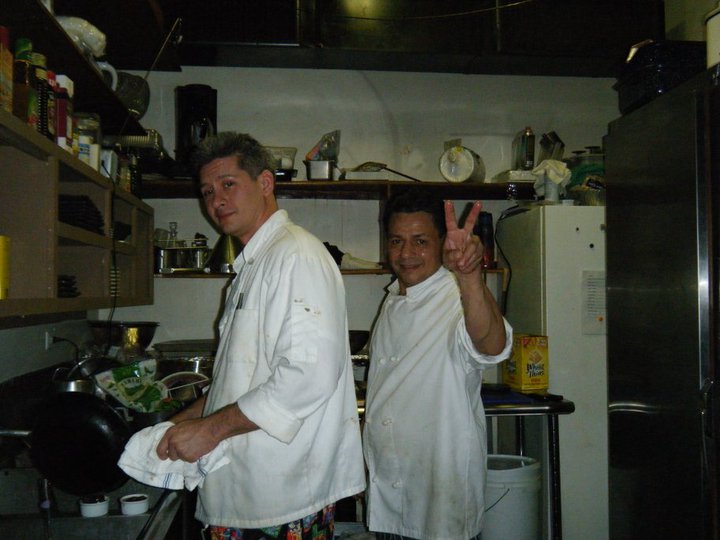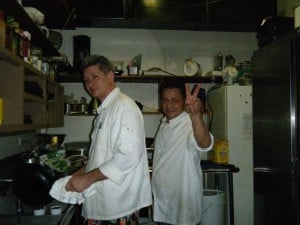 Back in the 90s, I was a banquet waitress at the Hawaiian Regent (the predecessor to the Waikiki Marriott) to supplement my income as a vice president at a PR agency. On nights when a lot of us were off, we would sometimes go to Paul & Terry's Place in the Chinese Cultural Plaza for cheap drinks, darts, and karaoke. It was a super laid-back, hole-in-the-wall joint that was kind of a hidden gem. Oh, yeah, and did I mention cheap drinks?
Well, fast forward: Paul has retired, and Terry Kakazu re-named the bar Terry's Place a few months ago. She also brought in a couple of chefs who wanted to experiment with menu items (pictured at right). I can't mention their names because they work at other places, but Terry did let me grab this shot off that fabulous resource for investigative reporting—Facebook. So if you've seen them around town, you know who these semi-secret, self-titled "underground chefs" are.
I recently went to Terry's Place to meet some friends and was surprised to find out that the place had been in business for 21 years. I was even more surprised to find that Terry vaguely remembered who I was, pegging the years I used to come in, and that I was with the Hawaiian Regent crew. Here are some highlights:
P1110072
At first glance, Terry's Place is the same hole-in-the-wall that I knew 15 years ago. But if you sit with your bottle of HASR wine and plate of rib eye steak, you'll see it's matured with underlying sparks of sophistication. Kind of like me.
Terry's Place
100 N. Beretania St. #207 (in the Chinese Cultural Plaza)
(808) 533-2322
========
You can read all of Melissa's blogs at www.nonstophonolulu.com/urbanmixplate. Follow Melissa on Twitter@Melissa808, on Foursquare as Melissa808, or email at Melissa@nonstophonolulu.com.
My recent blog posts:
What's your passion?
Hawaii: In Real Life at Padovani's Chocolates
Black Friday aftermath
Happy Thanksgiving
Introducing Hawaii: In Real Life
Visiting the Waialua cacao farm
It's super sake week!
Breakfast at Eggs n' Things
Stewing for a good cause
Sushi Surfer Sliders and more