Tasting weird Asian snacks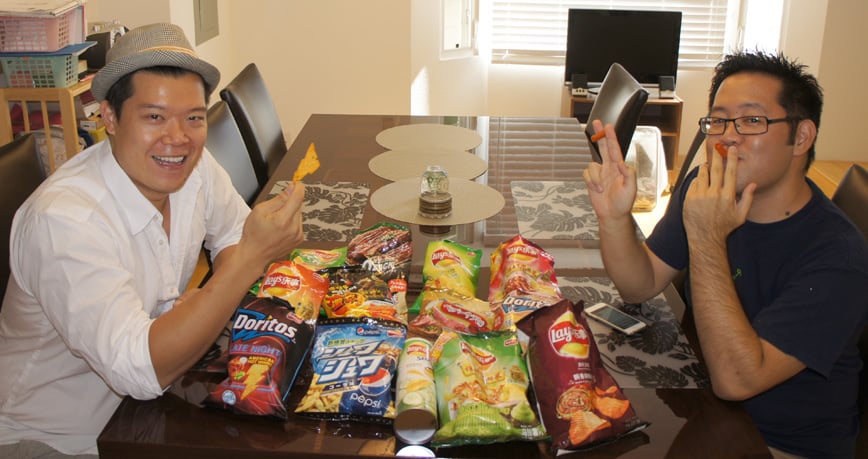 As you know, I went to Taiwan, China, and Japan recently, and the trips were so close together that I was able to stockpile a nice collection of Asian snacks for omiyage in a short period. And not just any snacks — while you can find green tea Kit Kats, cod roe-flavored candies, and other items featured in my last trip to Lawsons in Fukuoka, I wanted to push the envelope and get things you may have never seen before or were too scared to buy.
I'll admit, I was egged on by Beach House at the Moana chef Will Chen (@WillChen79) and processed food blogger Marvin Nitta (@Theimpulsivebuy), who followed my adventures on instagram. So of course, when I finished my trips, I met them at The Impulsive Buy Snack Lab to sample the good, the bad, and the weird. It's doubly interesting because these guys have palates from opposite ends of the spectrum.
This video of our deluxe gourmet tasting is long, but it's meant to be a guide for you to bookmark and review before you go on your next trip, so you know what to look for and how these things taste. Whether you're on Hawaiian Airlines' direct flights to Taiwan, the upcoming route to Beijing, or on H.I.S. charters to Japan, now you know what to buy to amaze your friends with your bizarre omiyage. You're welcome.
Big thanks to my niece, Cymri Chang, for helping me acquire the Chinese snacks, and to Will Chen and Marvin Nitta for lending their astute tasting abilities to this video. Also thanks to Hawaiian Airlines for taking me to Taiwan in the first place, and to H.I.S. for the trip to Osaka.