Tasting the 'aina: Kona coffee and chocolate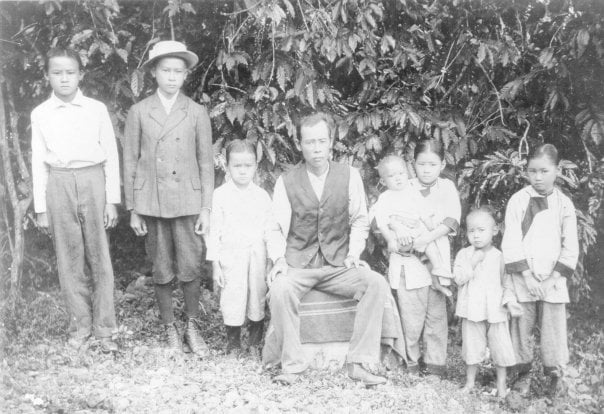 This blog post had some technical difficulties on the back end, which makes it a little late! Back to our regular programming:
One of the highlights of the trip was a hands-on trek to a chocolate and coffee farm, up in the mountains overlooking all of the Kona area. This is a showcase of Kamehameha Schools' lands and partners in the farm-to-table initiative, showing how people are truly making local, sustainable products that are viewed by the world as high-quality items. The Original Hawaiian Chocolate Factory is the nation's first "tree to bar" operation, where Bob and Pam Cooper have been growing their own cacao since they bought the farm in 1997. Bob was determined to keep this operation "made in Hawaii," so after testing his beans with a world-renowned chocolate institute and finding he had a superior bean, he got a loan from the state Department of Business and Economic Development and got equipment and a micro-processing facility. You'll see more in the gallery below.
Before heading out to see the big farms, we took a detour on Donkey Mill Road, one of Kamehameha Schools' ag/residential developments. Many of the people in this area live on "gentleman farmers" plots, which are small, non-operative farms that don't supply products to the masses. They provide extra income for hobby farmers that live there, so you might find a gem of a boutique farmer growing a small, single-estate crop. The exception is a man named John Perry, who leased 400 acres at the end of this road, and planted 280 acres with 500 to 700 coffee trees per acre. His coffee, Kona Gold, now has the contract for all Costco stores west of the Mississippi. We didn't get out to take photos, but I thought I'd share that as a neat success story.
For me, the trip to the UCC Coffee farm was educational on many levels. Peggy Smith gave us a very thorough tour, explaining coffee growing, processing and roasting and some of the back stories of the farm and the area. As far as farm-to-table goes, I don't even need to tell you how superior Kona coffee is to anything else in the world. I'm sure it tastes great in other cities, but getting Kona coffee fresh from the farmer is magical. (I have been drinking my Kona coffee from this tour since I returned home, and today had to drink instant coffee in a pinch and almost gagged. And I'm not even a coffee connoisseur. I'm ruined.)
From a personal standpoint, I'm often referring to my mother's side of my roots, which originated in Kona in the late 1800s. Her family — also Changs, but Hakka — came to Kona from China to become migrant coffee pickers. They were very poor, but they probably came to achieve the American Dream for their family. And, once their children moved off the farm to Honolulu and San Francisco, the wheels of progress left those plantation days far behind. I always wonder what they might think if they saw what their grandchildren, great-grandchildren, and great-great-grandchildren had become? Not one of us knows how to pick coffee. But now, at least, I know how to roast my own beans.
Touring Big Island agriculture
One minute video: How to roast your own coffee.
Educational video: Tour of the UCC Coffee farm and facilities (includes my coffee roasting video at the end).
Up next: culture, history, and more locavore eats.