Tasting new desserts at MW Restaurant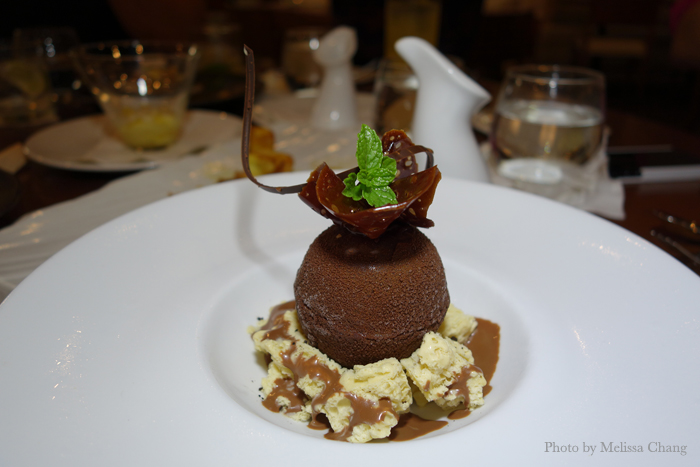 It's no secret that one of my favorite things to do is stalk Michelle Karr-Ueoka of MW Restaurant. I love her desserts so much, I once snuck under the ropes when I saw her serving pineapple shave ice in the VIP section at an event, just to steal a bite. You can also see my article on her in this month's Edible Hawaiian Islands magazine, now out on the streets. So you can imagine how excited I was to have her invite me and some friends to try some of her new desserts.
I'm not the only fan of her stuff: Her brother Jay said that someone came in and had a five-course dinner, all off the dessert menu. That's hard core.
If you've never been to MW Restaurant, my advice is to leave room for the end. Michelle's lineup is always full of intense flavors, along with great combinations of textures. But, enough talking. Here's what's on the menu:
I'll start with my favorite of the night, the strawberry shave ice (this is a mini size). From the bottom to the top, you get haupia tapioca, strawberry kanten, mochi ice cream, strawberry-yuzu sorbet, and shaved "hibiscus strawerr." She froze the strawberries and shaved them for more intense flavor. First reaction: Someone get me a bucket of this to take home!
Another of my favorites was the bananas foster, an artful plate of malasada bread pudding, banana carpaccio, and dolce de leche. The malasada bread pudding by itself is so good, but combined with everything else, it's fantastic. And not too heavy, either.
This is Michelle's version of tiramisu, with Waialua chocolate and Kona coffee. It is a mocha bombe, with liquid chocolate, crispy rice, aerated frozen coffee, and Kahlua chocolate soup. Need I say more?
You may remember we featured a kabocha cheesecake brûlée in one of our holiday roundups. Well, it was supposed to only be available during the holidays, but so many people came in looking for it that they had to extend its time with the restaurant. During this holiday photo shoot, I remember I was full from lunch but couldn't stop eating this thing. It's addicting!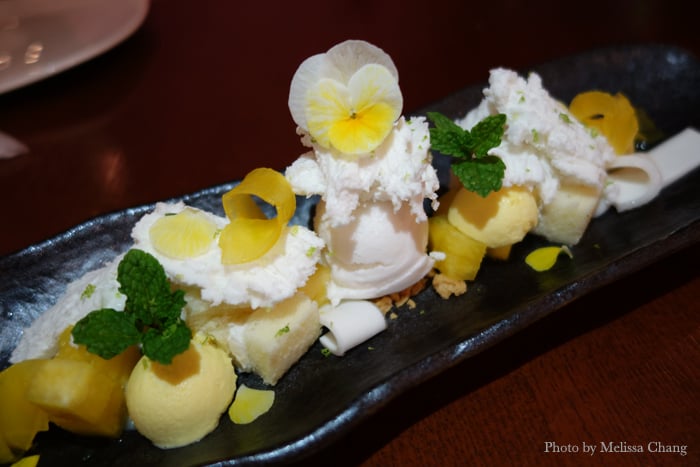 This gorgeous plate is a "coconut cake," comprised of haupia cake, kafir lime coconut pudding, coconut snow, haupia, and ribbons of compressed pineapple. The creamy coconut with the pineapple is a classic tropical combination, and very light.
I think this was a mini version of the lemon meringue. If you're a lemon lover, this is for you! It's very tart, but the meringue — which has a bit of custard in it — helps to mellow it out.
And, last but not least, pineapple upside down cake. The braised pineapple is juicy (or at least, tastes it), and the rum cake is full of browned butter flavor. The tuile is just more browned butter layering in your mouth. Get some yogurt sorbet and Hawaiian hearts of palm in the same bite for the best effect.
Michelle still has her classics on the menu, like the MW candy bar and the MW doughnuts. To see the full list of desserts, click here.
By the way, MW Restaurant is having a "Chocolate Cafe" on Sunday, January 25, from 4 to 8 p.m. in their new private dining room. Items are $3 to $18 and will feature Hawaii chocolate in both sweet and savory dishes.
MW Restaurant
1538 Kapiolani Blvd.
808-955-6505