Tasting Moiliili's new burger joint
Betty's Burger Joint brings smash burgers to Puck's Alley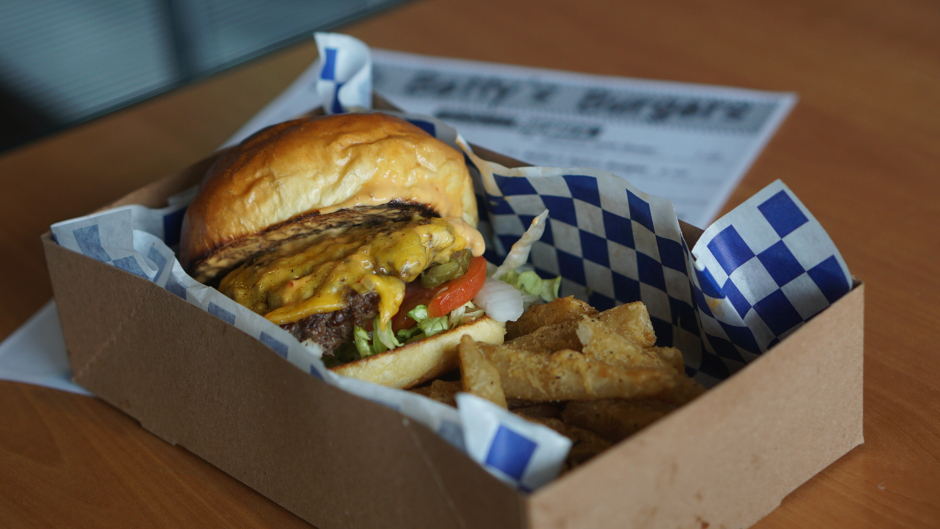 The new year has brought a new burger joint to Puck's Alley where Greek Corner used to be. Moe Morrison of neighboring Study Hall opened Betty's Burger Joint, a retro burger dive featuring smash burgers at retro prices. Burgers start at $4.99 for a quarter-pound beef patty with lettuce and house BB sauce, and max out at $8.25 for a double patty with cheese, lettuce, tomato, pickle, onion and BB sauce — all on fresh Liliha Bakery buns they buy daily.
See also: The 22 best burgers on Oahu: Foodmap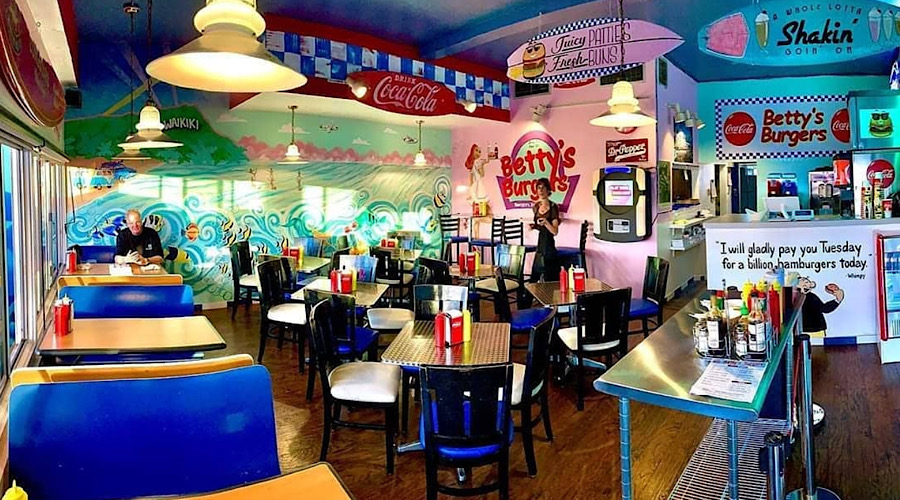 Study Hall and Betty's Burger Joint are tributes to Morrison's study hall teacher, who inspired him when he was growing up in the '50s. Betty's is modeled after popular West Coast burger joints that Morrison loved. The decor is old-school with Coca-Cola signage, hanging surfboards, a wave mural and even a jukebox. The menu is simple, sticking with the burger joint staples of burgers, fries, onion rings and shakes, and they do have some salads.
I order Betty's Deluxe with Cheese ($6.25) — a single patty with lettuce, tomato, pickle, onions and BB sauce with a side of fries ($2.49). The burger is good: Seared crisp and topped with fresh crunchy vegetables on a fluffy grilled bun, all the textures and flavors are right. There is a proper bun-to-patty ratio with a yummy mayo-based secret sauce. Though it may not be the best burger I've had in my life, for value and taste, I'm definitely coming back for more.
See also: You may want to eat at Chinatown's new burger bar Daley
The fries … yaas! These aren't shoestrings — they are coated thick fries with a seasoning that's similar to curly fries. Ask for extra crisp so they stay crunchy even after you've finished your burger. Didn't get to try the onion rings, but if these fries are any indication, I'll be scarfing those down soon.
Parking is available at Puck's Alley with validation.
Betty's Burger Joint
Puck's Alley
1019 University Ave.
Moiliili
762-0099
Daily 11 a.m. – 9 p.m.