Taste of Ag at HiSAM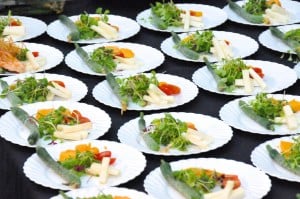 The Hawaii Farm Bureau Federation gathered ingredients from 14 local farms to showcase the diversity of Hawaii's agriculture at Wednesday's Taste of Ag event held at the Hawaii State Art Museum. Chef Hiroshi Fukui, with the assistance of students from Waipahu High School's culinary program, prepared a great array of dishes that highlighted the freshness and flavors of locally grown products.
Participating farms included Fat Law's Farm, Ho Farms, Nozawa Farms, Kats Higa Farm, Keawa Nui Farms, Koguchi Farm, Kula Country Farms, Marine AgriFuture, Naked Cow Dairy, Nalo Farm, North Shore Aquafarm, Okabe Farm, Shinsato Farm and Wailea Agricultural Group.