Tanioka's poke, bentos and fried chicken are now at Ala Moana Center
Yes there's a line, but selection and prices are different at this three-month pop-up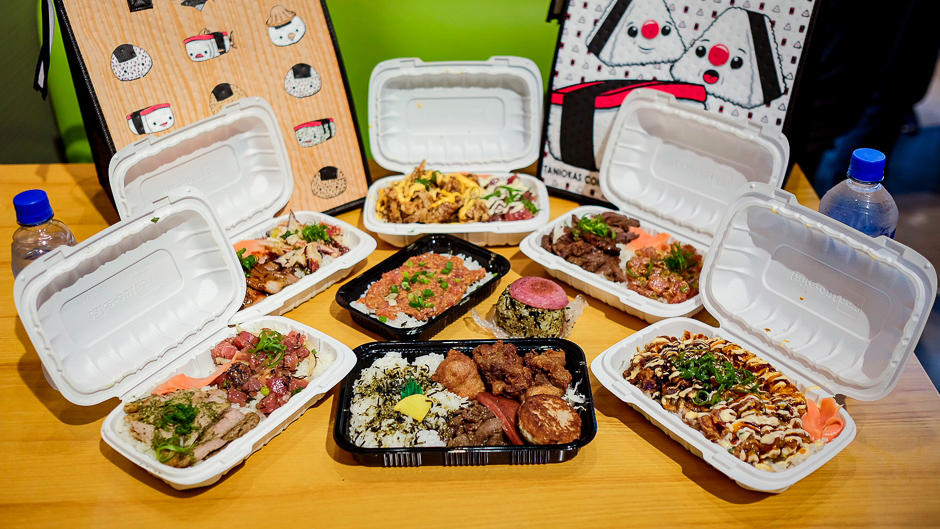 Note: The pop-up finished its run at the end of 2019.
You're wondering if your favorite bento is on the shelf. You're praying they didn't forget the ahi patty and Goteborg musubis. And please, oh please, let there be fried chicken. Tanioka's Seafoods & Catering, the venerable poke shop from Waipahu, opened its three-month pop-up at Ala Moana Center on Tuesday with many of its most popular items, though not a la carte like you're accustomed to.
The pop-up lets you mix and match 11 items including fried chicken, pesto-marinated pork and six of their most popular pokes in a create-your-own poke bowl or mixed plate lunch. One choice is $10.95 and two choices are $15.95; both come with rice or salad and a saucy topping. The only way to satisfy your Tanioka's mochiko chicken craving is to get the Ala Moana exclusive bento for $9.95; it also includes furikake rice, ahi patty, teri pork and Spam. The tempura and spicy ahi combo bowl, the most popular item at Waipahu, comes to town with a $3 surcharge. Small spicy ahi and sushi rice trays are $9.95 at Ala Moana, a $2 bump. Prices for Spam, Goteborg and ahi patty musubi remain the same at $2.50, $1.95 and $2.99, respectively.
See also: Foodflash: Tanioka's Seafoods coming to Ala Moana Center
If you're coming to the Tanioka's pop-up, just expect to pay a few extra bucks for your meal and write it off as the price of convenience. I mean, you remember how long the drive to Waipahu is, right?
Tanioka's pop-up at Ala Moana Center
Mall level 2, between Jamba Juice and Zara (former Ninja Sushi)
1450 Ala Moana Blvd.
Daily 11 a.m.-2 p.m., until further notice