Talk story with Jack in the Box CEO Lenny Comma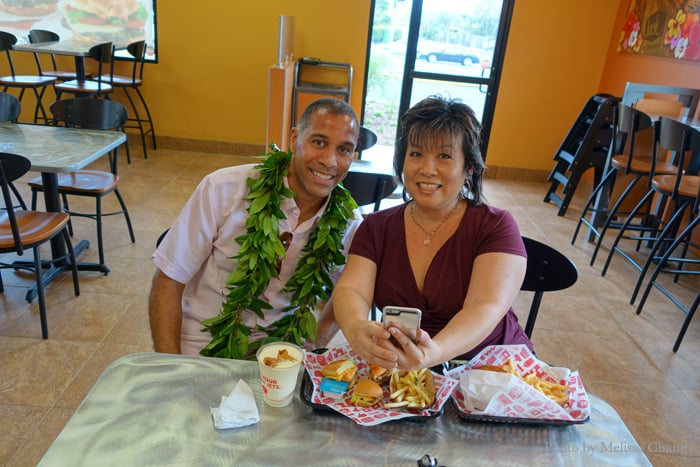 Fast food isn't normally in my blog repertoire, but when I heard Jack in the Box Chairman and CEO Lenny Comma was in town for the grand opening of their latest restaurant, there was no question I had to drive outside of my five-mile radius to meet him.
The Niu Valley Shopping Center Jack in the Box opens today, the 29th in Hawaii. Not just that, it is the biggest Jack in the Box in the state and features state-of-the-art menu boards by Pacific Digital Signs. (Comma was so impressed, that at the end of the day he made sure to get a card from Jason Kama at PDS.)
You all know about Jack in the Box, and they're always rolling out new items, so there's not much on the regular menu that I can really tell you that you don't already know. But in keeping with the theme of my hidden menu series, Comma wanted to show me some items from what they call their "underground menu" — off-menu winning combos that were created by them or their customers.
Since they launched their Buttery Jack yesterday — the cheeseburger topped with garlic herb butter — you can ask for that butter on your fries to make garlic fries. I tried it, and it was not bad! The guy next to me liked it so much, he put in a second order to take home.
You know how people always say that to make things better, you have to put an egg on it? You can add a fried egg to anything on the menu (for an extra charge, of course) and it will take your sandwich to another level. We also tried the sriracha fish sandwich, which was one of my favorites, and Comma said he orders his breakfast burritos with sriracha sauce all the time.
One of Comma's favorite combos is the vanilla shake with a side of churros. Dip and eat. Actually, you can make your own combo from anything they have on the menu, either manually or with a special order (depending on what it is).
Here's my little talk story time with Comma yesterday, as we talked about the underground menu as well as the healthy side of Jack in the Box. You'll notice that he's pretty young for a CEO, so I wanted to get some advice from him on what people should do to succeed in their careers. (Warning, the background noise gets louder towards the end. But wait until the end to see what his favorite Hawaii food is.)
If you couldn't hear, his basic advice was threefold:
One, be honest.
Two, have integrity.
Three, be yourself — don't try to be something you're not. This is something I learned the hard way, myself, when I had a boss who insisted I be a leader and was unhappy because he couldn't understand that I'm more of a connector. And from my end as a boss, I was disappointed in an assistant who lied on her resume and said she had various skills, only to find she couldn't do most of what she said.He expanded on the leadership role, explaining that it's a role as a "servant-leader," and you should take the lead if you sincerely care about other people. He said that he tries to bring great people into the company, and nurture them to be the best they can be; if someone has difficulty at work, he has to help navigate them on the best path that optimizes their skills.
Great advice, and something that makes me feel good about the company.
What do you think? What are your favorite Jack in the Box secret menu combos?