Surf Fans Will See Lots More Action on the World Surf League Tour in 2020 and Going Forward
Can we all agree we've missed local sports? Then here's three cheers for surfing, Hawai'i's international sport and pastime.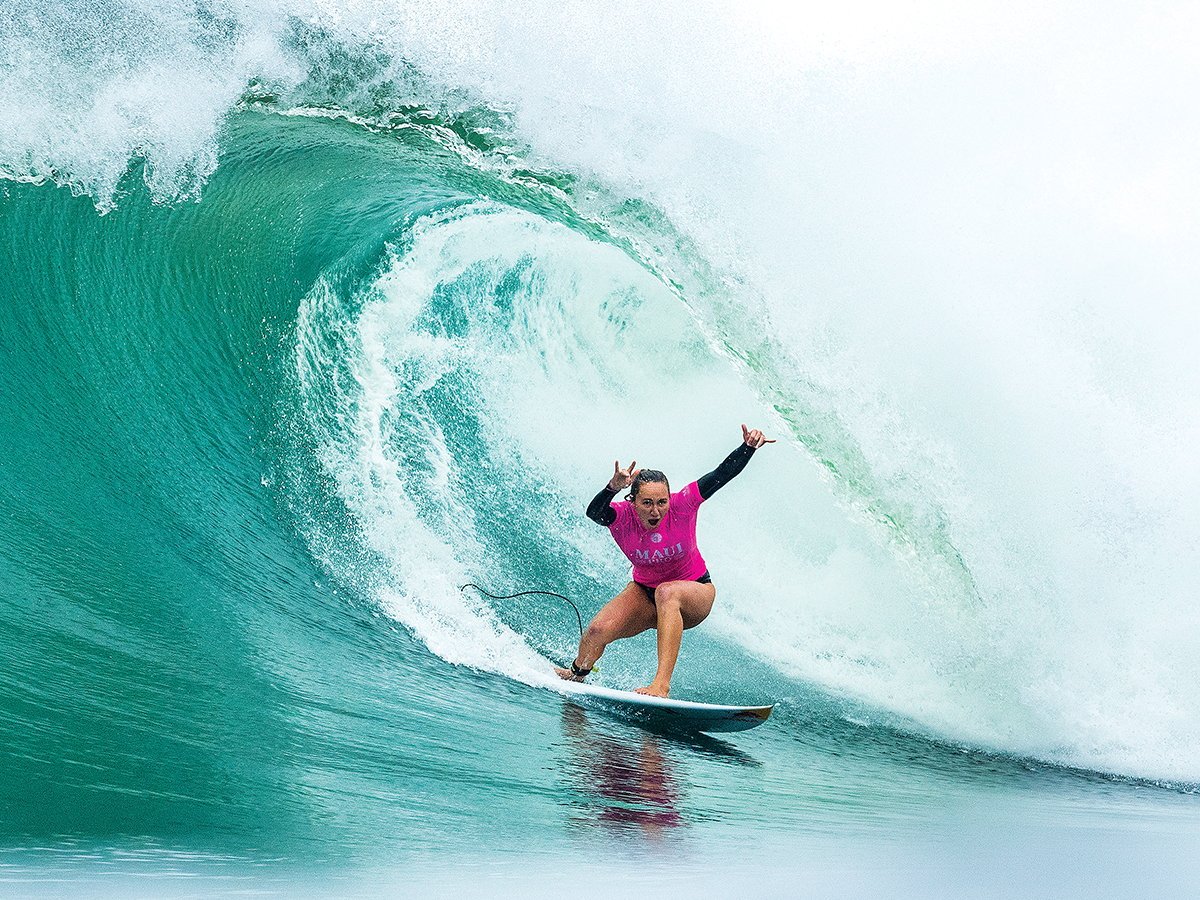 The 2021 World Surf League tour is scheduled to start in December on Maui at Honolua Bay (Dec. 4–15), where Carissa Moore (above) won her fourth world title last December and also clinched a U.S. women's Olympic berth. The men's tour is set to launch at Pipeline on the North Shore from Dec. 8–15, where John John Florence, our Olympic men's qualifier, resumes his first full season after an injury in 2019. And a format switch-up will mean more drama for watchers.
Tears and Champagne flowed last December when Hawai'i's Carissa Moore won her second world title at the Lululemon Maui Pro at Honolua Bay. But where Moore heard she clinched her crown probably looked downmarket and anticlimactic to the casual viewer: a cramped dark corner of a locker room. That's where Moore had retreated after winning her first heats, preferring not to watch the quarterfinal heat pitting Stephanie Gilmore against her last remaining rival for the title, Caroline Marks.
Moore dissolved into tears of joy when shouts from the beach told her Marks had lost. Thanks to a tour whose titles are awarded based on cumulative points, no head-to-head battle is required at the final event of the year. For Moore's fans, her crown was all that mattered; for fans of sports spectacles, though, it felt like a boxing championship settled by a DQ at weigh-in.
SEE ALSO: Hawai'i's World Champion Surfer Carissa Moore Wants You to Feel More Love and Aloha. Her First Film Shows What That Looks Like
The men's tour a week later at Pipeline provided a perfect contrast. At the start of a finals crammed into one day due to swell conditions, five surfers had a title shot. After a day of nail-biter heats, exuberant frosted-permed Italo Ferreira and brooding Gabriel Medina faced off in barreling Pipe, giving fans a glorious exhibition of can-you-top-this power and creativity that Ferreira won in the last seconds.
It was the first head-to-head faceoff since 2003 and made the World Surf League's new CEO, Erik Logan, believe he'd seen the future: "One of my first conversations I had with Pat O'Connell, our director of competitions, was we've got to get what we just saw and get it every year—and get it right," recalls Logan. "Everything starts with how we crown the world champion. We worked backward from there."
The WSL already had been thinking about a new approach when, says Logan, "obviously COVID happens. We went into hiatus, but in early April I took on the idea of moving the sport forward and doing it now."
SEE ALSO: Ticket to Tokyo: John John Florence Is Going to the Olympics—Even After Gabriel Medina Ended His Comeback at the Billabong Pipe Masters
At present, 2021 will kick off where the tour normally ends—with the women on Maui and the men on O'ahu's North Shore. Points will accrue to a last tour stop, currently Tahiti's monster wave, Teahupo'o. Then the top five finishers will head to a to-be-determined site for a one-day faceoff. "Once you get into the top five it's anybody's to win," says Logan.
Where will that final be? Logan smiles. "If we look at it globally, the options are vast." For 2022, assuming a vaccine and a return to flying, the WSL will jack up the drama by instituting a midseason cut that reduces both men's and women's fields by half. That turns it into two mini-seasons, guaranteed white-knucklers for surfers and fans alike. The change-up could even benefit Hawai'i surfers, who could get a jump on the year on a familiar wave.
Logan's coup brings to mind a quote attributed serially to Niccolò Machiavelli; Winston Churchill; and Rahm Emanuel, President Barack Obama's chief of staff during the Great Recession: "Never waste a good crisis."
Watch WSL events live at worldsurfleague.com or on OC16; they're also archived.