Supporting Kapolei restaurants just got a huge incentive
Get food from Kapolei eateries 8 times this month and you could win a $200 gift card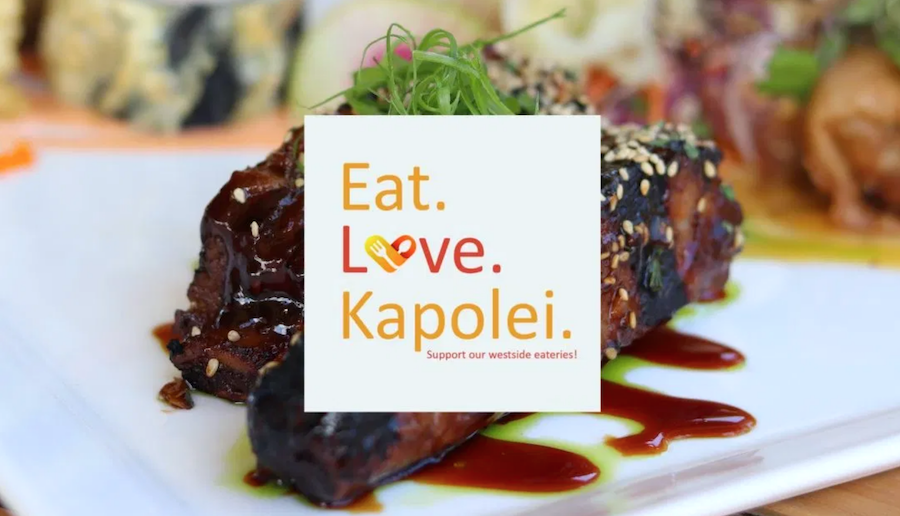 Kapolei, you not only have restaurants that make townies jealous, you now have a community effort to keep them in business. Eat. Love. Kapolei is an ongoing drive through July 31 to support local eateries to help them stay open.
Here's the deal: Dine at or get takeout from west side restaurants eight times this month and post your photos or video on social media, and you'll be entered to win a $200 gift card from the Kapolei eatery of your choice, plus other gift cards from neighborhood businesses. You can post on Facebook, Instagram, Twitter, Tiktok, or Snapchat using the hashtag #eatlovekapolei. That's it.
The permanent closure of Plantation Tavern, a Kapolei favorite that before the pandemic served up hundreds of meals on Friday nights, was a jolt to the food scene. It helped spark the drive by the Kapolei Chamber of Commerce and digital brand Howzit Kapolei. "On the west side, we know how to come together as a community to support each other," the chamber's executive director Kiran Polk said in a press release. "We love to eat and in these challenging times we will eat to love on our restaurant scene."
The Frolic team is no stranger to one of the hottest restaurant districts in the state. You can see new spots we've covered recently at the bottom of this post. Meanwhile, check out Howzit Kapolei's list of who's open in the area.
"The Kapolei food scene has slowly grown over the past 10 years and boomed in 2019 with the opening of local favorites Mad Bene and Moani Island Bistro & Bar," Howzit publisher Seth Kolloen said. "There's so many more choices now compared to 10 or even five years ago, and we don't want to lose that."
See also:
Sneak peek at Foodland's first in-store restaurant
Kapolei gets a new ramen and izakaya spot
Mad Bene's legit East Coast Italian is the best thing in Kapolei
Cafe Duck Butt opens DB Grill in Kapolei
Young's Fish Market opens in Kapolei