Summer preview: Best bon dance eats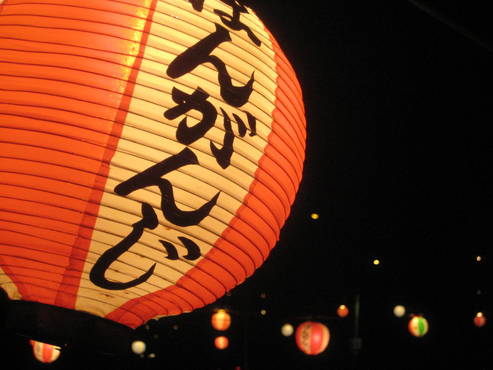 Summer's not summer in Hawaii without the sounds of drums and flutes and the scents of beef sticks and andagi wafting across neighborhoods. But what, now? Blueberry andagi? Waffle dogs? Okinawan gumbo?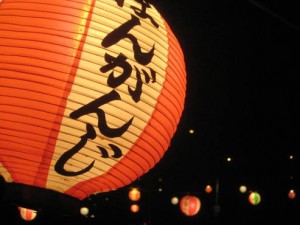 That's right, bon dance food has evolved way beyond saimin and shave ice. While almost every temple sells S&S in a cup and the other old standards you grew up with, at least three this year are offering versions of flying saucers, the famed Kauai sandwich of sloppy joe beef sealed between slices of white bread and grilled to a crisp (one of them, Ewa Hongwanji, already held its bon dance, as did Honpa Hongwanji in the video above, which kicked off the town season last weekend). One temple is experimenting with ala carte Hawaiian food. Another has School Street's famed Shimazu dishing up gourmet shave ice.
With more Buddhist temples stepping up food offerings to compete for the crowds, Nonstop did a quick survey of those with the best buzz, and compiled this preview of best bon dance eats for the 2011 season.
BTW, all bon dances are free. No dress code. Cash only. Bringing your own beach chair optional. And rubber slippers OK.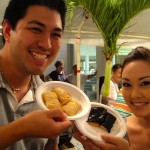 July 1-2 Moiliili Hongwanji, 902 University Ave., 949-1659 — Japan-style chili, yakitori, several kinds of andagi
July 2 Kaneohe Higashi Hongwanji, 45-520 Keaahala Road, 247-2661
July 8-9 Koboji Shingon Mission, 1223 N. School St., 841-7033
July 8-9 Waipahu Hongwanji, 94-821 Kuhaulua St., 677-4221
July 15-16 Haleiwa Shingon Mission, 66-469 Paala Road, 637-4423
July 15-16 Rissho Kosei Kai, 2280 Auhuhu St., 455-3212 — oden, mochi, ice cream bowls
July 15-16 Shinshu Kyokai Mission, 1631 S. Beretania St., 973-0150
July 16 Waianae Hongwanji, 85-762 Old Government Road, 677-4221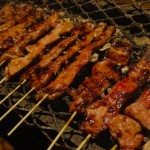 July 22-23 Higashi Hongwanji Hawaii Betsuin, 1685 Alaneo St., 531-9088 — Shimazu shave ice, several kinds of andagi
July 22-23 Jikoen Hongwanji Buddhist Temple, 1731 N. School St., 845-3422 — Lumpia (Friday only), Okinawan chicken rice soup, kalbi plate
July 22-23 Wahiawa Ryusenji Soto Mission, 164 California Ave., 622-1429 — different kinds of andagi, teri beef sticks
July 22-23 Haleiwa Jodo Mission, 66-279 Haleiwa Road, 637-4382
July 29-30 Palolo Hongwanji, 1641 Palolo Ave., 732-1491 — yakisoba, dango, somen salad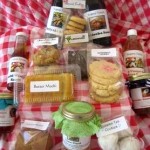 Aug. 5-6 Manoa Koganji, 2869 Oahu Ave., 988-4905 — shoyu-grilled corn, spare rib plate, country store
Aug. 5-6 Waipahu Soto Zen Temple Taiyoji, 94-413 Waipahu St., 671-3103
Aug. 6 Waialua Hongwanji, 67-313 Kealohanui St., 637-4395 — potluck plate lunches, Waialua-style flying saucers
Aug. 12-13 Shingon Shu Hawaii, 915 Sheridan St., 941-5663 — lau lau, lomi salmon, kalua pig
Aug. 12-13 Pearl City Hongwanji, 858 2nd St., 455-1680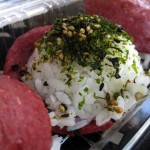 Aug. 12-13 Soto Mission of Aiea-Taiheiji, 99-045 Kauhale St., 488-6794 — Goteborg sausage rice cups, Kauai-style flying saucers
Aug. 19-20 Jodo Mission of Hawaii, 1429 Makiki St., 949-3995 — Barbecue beef sticks in special sauce, grilled dango
Aug. 19-20 Mililani Hongwanji, 95-257 Kaloapau St., 625-0925 — chicken hekka plate, kalua pig cabbage/mustard cabbage plate
Aug. 19-20 Soto Mission of Hawaii Shoboji, 1708 Nuuanu Ave., 537-9409
Aug. 27 Aiea Hongwanji, 99-186 Puakala St., 487-2626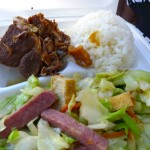 Aug. 27 Nichiren Mission of Hawaii, 33 Pulelehua Way, 595-3517
Aug. 27 Kapahulu Senior Center, 3410 Campbell Ave., 737-1748
Sept. 3 Okinawan Festival Bon Dance, Kapiolani Park, 676-5400 — pig's feet soup, champuru stir-fry, andadog (most food booths close before bon dance)
Sept. 17 Autumn Dance Matsuri at Hawaii Okinawa Center, 94-587 Ukee St., 676-5400
Video bon dance photos courtesy of Luke Takayama