Summer movie preview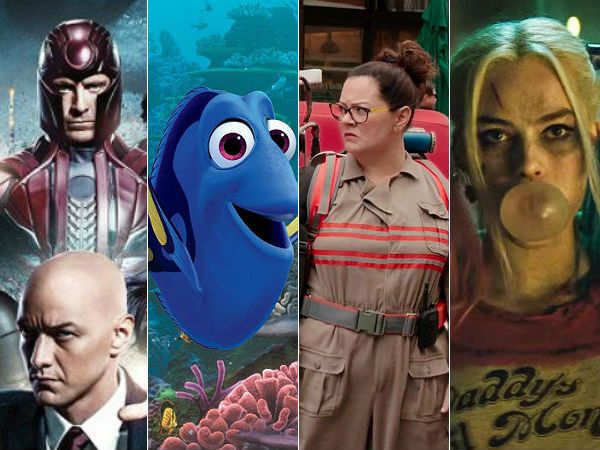 Summer. Time for the beach, drinking during the day and partying through the night. Also time for some of the most entertaining films of the year. So get ready to turn that brain off at the door and munch down on buckets of kakimochi popcorn: The summer movie season is here.
"Captain America: Civil War" got the season off to a huge start a few weeks ago. What else can we look forward to? The usual summer staples – sequels, comic book films and lots of good times. Here's a look at the films that will be gracing the big screen.
Comic Book Films
"X-Men: Apocalypse" – May 27
It's hard to believe that this is already the sixth entry in the X-Men franchise. Director Bryan Singer righted the ship with "X-Men: Days of Future Past" and now introduces one of the X-Men's most formidable villains, Apocalypse, in all his blue-and-purple glory. With the inclusion of popular characters Psylocke and Jubilee and the return of Nightcrawler, Storm and Angel, "X-Men: Apocalypse" is sure to be another crowdpleaser.

"Teenage Mutant Ninja Turtles 2" – June 3
Honestly, I couldn't even finish the first film. It was just too crazy with Michael Bayhem. But it definitely found its audience and I guess if you liked the first one, you're looking forward to this one.

"Suicide Squad" – August 5
"Batman v. Superman: Dawn of Justice" made tons of money but still left a bitter taste with most comic book fans. With the success of "Captain America: Civil War," is the DCU feeling even more pressure for "Suicide Squad" to succeed? Star power definitely helps with Will Smith, Margot Robbie and Jared Leto taking major lead roles, but let's not forget: Jai Courtney is in this. SMH.

Sequels
"Now You See Me 2" – June 10
The first film was a pleasant surprise that I thoroughly enjoyed, especially since I love magic and having the wool pulled over my eyes. Isla Fisher is out for the sequel but the tricks in the trailer look even cooler this time around and come on, Harry Potter himself is in this! But I still can't believe they're not calling this sequel "Now You Don't."

"Independence Day: Resurgance" – June 24
The original "Independence Day" is one of my favorite summer films ever. Now, exactly 20 years later, let's see if the story and characters hold up.

"Star Trek Beyond" – July 22
Former "Fast and Furious" director Justin Lin takes over the beloved franchise and fans are cautiously optimistic. I'm not a huge Trekkie but I'm positive that Lin will bring the crazy action scenes he's famous for, and that's good enough for me. Please, don't even start about unrealistic stunts in a film set in space.

"Jason Bourne" – July 29
Shouldn't this guy know who he is by now? I'm not as enthralled by the Bourne films as others but they have been passable action fare. Looks like Matt Damon got big and buff for the role. I'm just glad Julia Stiles and her snaggle teeth are working again.

For the Kiddies
"Finding Dory" – June 17
I have yet to see "Finding Nemo" and I don't really plan on seeing it. Ever. Sorry, but I'm not five. Still, it was a huge hit so it was only a matter of time. After all, Pixar made a sequel to "Cars," for goodness sake.

"The BFG" – July 1
Steven Spielberg directing another fantasy film? Tickets now! Spielberg finally gives up with his history lesson films and goes back to his "E.T." roots. I cannot wait.

Pete's Dragon" – August 12
Is this the one about smoking weed? No wait, that's "Puff the Magic Dragon." Whatevs. Trailer looks exactly like "The Jungle Book" to me.

Make Me Laugh
"Central Intelligence" – June 17
All you need is a little (Kevin) Hart and a big (Duane) Johnson. Genius marketing. Teaming these two was brilliant and as a huge fan of buddy cop films, this is on my list of most highly anticipated films.

"Ghostbusters" – July 15
The trailer has over 800,000 dislikes on YouTube. That should give you a good idea of how much this reboot is hated. Same story, but this time with a big dose of estrogen. I'm curious enough to go check this one out but I have a feeling it'll be one of the biggest flops of the year.

"Mike and Dave Need Wedding Dates" – July 8
Zac Efron's abs. Anna Kendrick's cutie patootie face. And it's filmed in Hawaii! What more could you want? Hmm … how about some realistic portrayals of the local population in a major Hollywood film? Nah, that's too far-fetched.

Smaller Films
"The Shallows" – June 29
Blake Lively. In a bikini. Fighting off a killer shark. Sounds like a perfect film to me.

"The Founder" – August 5
A film about the man who created the largest fast food franchise in the world. And also the man responsible for my obesity.