Stunning Spectacle Awaits at "Beyond Monet"
Starting June 15, attendees will bathe in an immersive visual overlay of 400 of the artist's paintings in all their subtle, sometimes trippy, glory.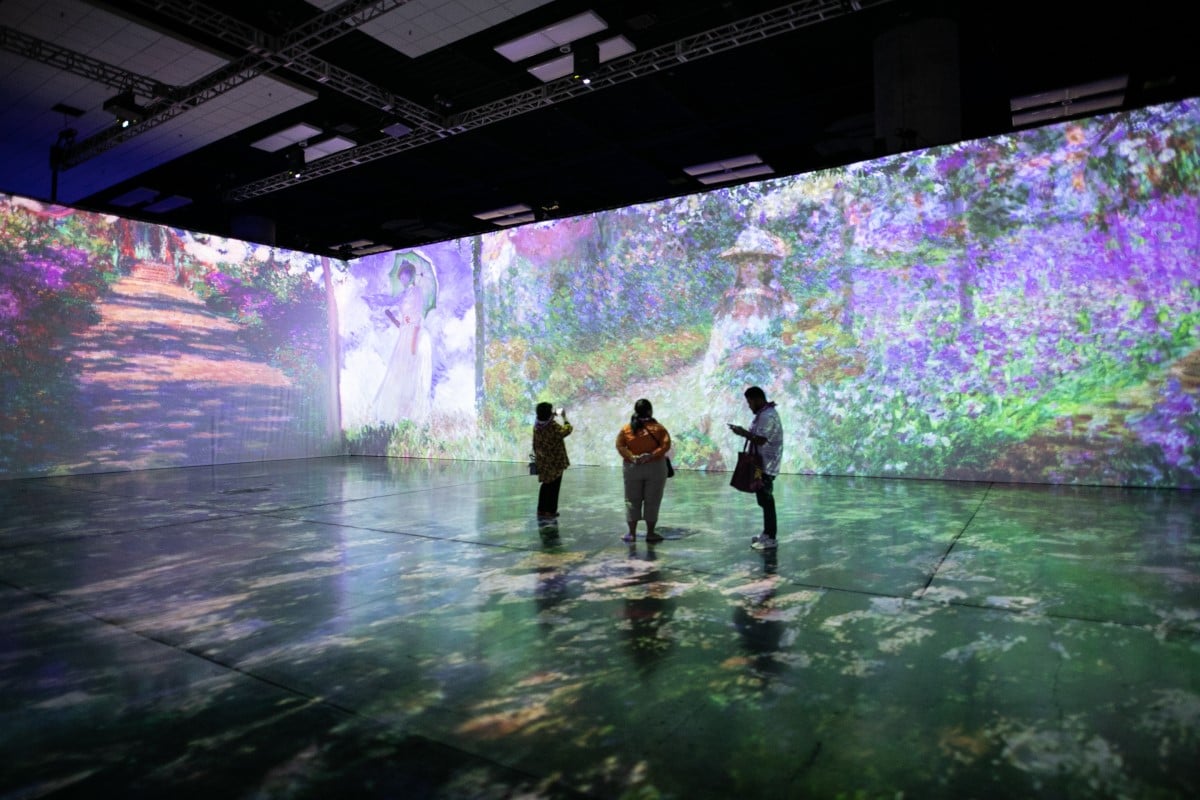 I t's a 27-hour trip from Honolulu to Giverny, France, where Claude Monet settled in 1880 and spent the next 45 years perfecting his garden, his pond of lilies and his vibrating, closed-brush technique that makes his work dissolve and re-form before your eyes. But from June 15 through July 31, the team that brought you Beyond Van Gogh will transform the Hawai'i Convention Center into a retinal projection of Monet's painterly paradise. The Beyond Monet exhibit follows his groundbreaking visual experiments. Like a cruise ship through an art museum, the experience will set your whole world in motion and supply meaningful context and explanations for the stunning spectacle.
Here's the backstory on Monet to help you thoroughly appreciate this unique experience.
Monet the Maverick
Monet and other breakaway artists of his time freed Western art from traditional subject matters (depictions of kings, idealized fantasies of Greece and Rome, biblical allegories, etc.), and defied the bureaucrats in charge, who had been shutting out artists from the annual Paris Salon if they dared to deviate from the approved style and subjects.
When Monet came onto the scene in 1860, his work—and that of other young rebels, including Pierre-Auguste Renoir, Alfred Sisley and Jean Frédéric Bazille—explored natural light, landscapes and real people. And it was all roundly rejected. This led to the famous Salon des Refusés (Salon of the Refused), the first state-sponsored, alt-art exhibit in history.
Monet wanted a revolution in the essentials: light, texture and movement. It's this that makes him a perfect choice for an immersive exhibit. Making discoveries and refining techniques as he traveled from place to place, Monet took art to places so pure that he's now considered the bridge to abstract expressionism.
Impressionism: Making Art for Everyone
The Salon des Refusés was expected to draw public mockery. Instead, people flocked to it. This led to a middle-class market for art whose collectors could feel as radical and brave as the band of outsiders. All the movement lacked was a name. In 1872, Monet's painting entitled "Impressions" was picked out by a critic and ridiculed as an example of impressionism. Modern art had its standard-bearer and was off to the races.
Beyond Monet will have works that enclose the viewer in his progression and breakthroughs, from within his point of view. Because he was a stupendously talented painter, even many of his early paintings resonate like masterworks. By the time the exhibition viewer has floated serenely to the last of his great achievements, those Sensurround paintings of lily ponds at Giverny, we're breathing as one with Monet.
Monet's genius at inverting the typical spatial arrangement of a painting makes Giverny a fitting crescendo. Instead of seeing a hierarchy of sky, horizon, landscape and foreground, you're plunged into a blurry indistinct vibration with no horizon or perimeter. It can take a while to realize you're staring into a reflection, and from there, it's a process of sailing deep into the watery mirror and deconstructing what you find. Beyond Monet takes particular advantage of this shifting perspective.
We'll also see the intensely vibrating seascapes Monet painted on the Breton island of Belle Ile, where he had a key transformation. In 1879, he'd come to a crossroads personally, financially and as a painter. His wife and former model, Camille, was dying. His original dealer had withdrawn from the business. Paintings had been seized to satisfy debt.
The virtuosic paintings stand out: Poppies (1873), Madame Monet and Her Son (1875) and the Turneresque Vértheuil in the Fog (1879). The haunting Camille Monet on Her Deathbed (1879) shows her face in a cloud of what looks like white cobwebs, clasped hands clutching a white camellia. It conveys uncharacteristic emotion: anguish, grief.
In 1886, Monet married his patron's wife, Alice. After searching for a landing spot with their large, blended family as an entourage, he settled the brood in Giverny, and set off for the wilds of Belle Ile—in this case, a 10-mile stretch of cliff and moor called The Terrible Coast. "It's sinister, diabolical, but superb," he wrote to Alice.
In four months, Monet produced 38 paintings that embody his breakthrough into realms of light and space. Losing the horizon, diving deep into the surface and the brushstroke, giving up traditional narrative subjects and "story," Monet turned the viewer's eye into an active participant, a questing jitterbugging dance of light and subtle effects.
Today, thousands of tourists make the pilgrimage to Giverny and Belle Ile to stand where Monet stood, facing his easel and making his art. Beyond Monet is the closest we in Honolulu can get to those places, and the notable museum collections of Monet's work. In the heat of a summer's day, I can't think of a better escape.
Tickets for Beyond Monet range from $34.99 ($18.99 for those 12-15) to $73.99 for a VIP ticket. For more info and tickets, visit: monethonolulu.com